Time: 4:00–6:00pm
Location: Dodge 622 on Columbia's Morningside Campus
We are pleased to welcome Nicola Hein for a talk titled, "Transforming Improvisation?"
In this talk I will discuss whether musical improvisation can be "transformed" and, if so, what the outlooks of such a transformation would be. The question will be approached from theoretical, empirical and subjective perspectives. The developed concept of transformation will work with specific forms of musical improvisation and investigate possibilities, traditions and contemporary tendencies of their inter- and transdisciplinary applications.
To develop this perspective, I explore three questions:
1. What does it mean to transform improvsation ? (Theoretical)
2. Which kind of developments can be seen in improvised music ? Which developments are common and which are less common forms of transformation? (Empirical)
3. How do I deal with these perspectives in my own work ? (Subjective)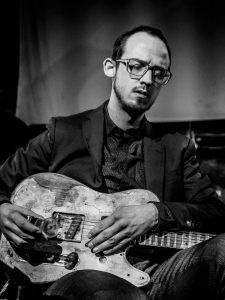 Nicola L. Hein (*1988) guitarist, composer, philosopher and sound artist.
Studies: Jazz Music (B. A.), Philosophy / German Studies (B. A.), Sound Art Composition (M. A.).
Currently Visiting Scholar at Columbia University, New York.
As a musician, Hein mainly works in the area of improvised / contemporary music and jazz.
The starting point of his sonic language extends current playing techniques with a wide range of idiosyncratic sounds and techniques. As a sound artist and composer, he works both in the fields of installation and performance, with a strong focus on interdisciplinary collaborations and the creation of
(performatively usable) sound sculptures. His philosophical work involves the aesthetic reflection and
processing of different philosophical theories, and writing theoretical works in the field of philosophy of music and aesthetics.
Concert tours to: France, Switzerland, Norway, Sweden,
Denmark, UK, USA, Hong Kong, Singapore, Tanzania, Hungary,

Austria, Spain, Portugal, Japan, Taiwan, Netherlands, Belgium,
Luxembourg, Poland, Italy, Malaysia, South Korea etc.
Worked with: Evan Parker, Phil Minton, John Russell, Paul Lytton,
Rudi Mahall, Tobias Delius, Christian Lillinger, Burkhard Beins, John Butcher, Axel Dörner,
Mazen Kerbaj, Thomas Lehn, Wilbert de Joode, Nate Wooley, Miya Masaoka, Ute Wassermann,
Tristan Honsinger, Fred Lonberg-Holm, Michael Thieke, Sofia Jernberg, Audrey Chen,
Peter Jacquemyn, Alfred Zimmerlin etc.
photo: Peter Gannushkin