This ambitious showcase of inverted photographs, painstakingly crafted lithographs set inside laser-engraved wood structures, spiraling electron orbits, silly putty, and color studies, delights despite its incoherence. The German-born artist, Kiki Smith, gives us a series of six etchings whose protagonist is the goat moth, an image that was inspired during her sojourn in Catskill, NY. In this set of etchings, Smith demonstrates the simple beauty of creating multiple iterations, with slight variations, of the same image. She once said, "I think there's a spiritual power in repetition, a devotional quality, like saying rosaries."
In Good Day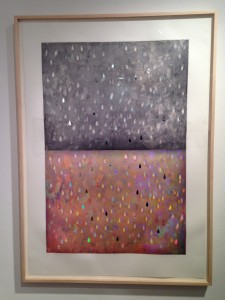 and Esperanza, Smith employs a favorite printmaking technique, etching using two acid-resistant materials, aquatint and soap ground, to create irregular, subdued tones of gold, orange, pink, and blue-purple. A clever use of holographic paper transforms the print into a collage of shimmering raindrops that does, as its title suggests, make for a good day.
Before visiting the gallery, take a moment and stop by the sixth floor of the Columbia Alumni Center to view one of Kiki Smith's first projects at the LeRoy Neiman Center, Moon Three, a photogravure triptych of floating moons above a richly inked black background. An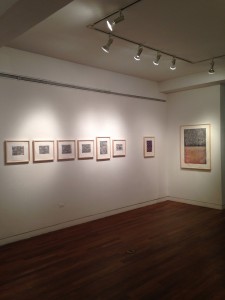 d when you're there, please straighten out the pictures; they're always crooked.
New Prints at the LeRoy Neiman Gallery features six artists, including Smith. The gallery is part of the LeRoy Neiman Center for Print Studies, established in 1998 with an endowment gift from LeRoy and Janet Neiman to promote printmaking through education, production and exhibition of prints. The exhibition is on view now through March 24 in Dodge Hall. Gallery hours are Monday through Friday, 9 a.m. to 5 p.m. and closed on Saturday and Sunday.
Contributor: Paolo Santonocito, assistant director for the Engineering Fund, SEAS