On a rainy February 2, I along with other members of CloEve Demmer's  team made a trip to SoHo to attend the Founders Series workshop featuring Jamie Hodari '04CC at the Columbia Startup Lab. After hearing about Columbia Entrepreneurship at the last Prospect Roundtable and seeing the event opportunity featured in Jerry's Picks, my curiosity piqued and I was inspired to learn more.
Some context: our team has realized the benefit of experiencing Columbia and knowing what new and amazing things are happening here. We have kicked off our "team field trips" at the Startup Lab. Using Jerry's Picks as a resource for events we hope that this becomes a regular opportunity.
Prior to the workshop we were treated to a tour by Hayley Katz, coordinator for the Startup Lab. Hayley enlightened us on the Startup Labs selection process and highlighted various entrepreneurial projects that our talented Columbians are leading.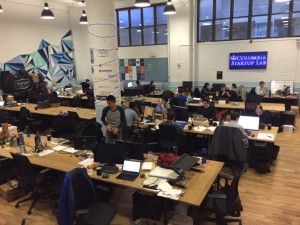 The energy at the lab is palpable! At 5,100 square feet with more than 40 startups from all around campus, the lab serves as a true testament to Columbia's commitment to collaboration and to supporting the flourishing entrepreneurial community. This is the result of a unique partnership between the deans of Columbia College, the Business School, Engineering, Law, and the School of International and Public Affairs.
Jamie Hodari '04CC, co-founder and co-CEO of Industrious, was the speaker of the n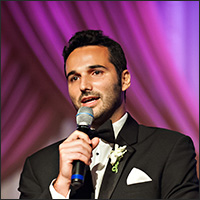 ight. He shared firsthand knowledge of what it takes to make it in the startup world. Prior to Industrious, Hodari was the co-founder and CEO of Kepler, a rapidly growing experimental university that Scientific American called a "daring global experiment" to bring "top-tier instruction to the neediest parts of the planet."
Jackie Morton attended joined us that night and shared that she "really enjoyed seeing such a cool place and hearing the presentation by such a successful young man, who tied in raising money for his ventures with fundraising for nonprofits."
Hayley mentioned several exciting events on the horizon for Columbia Entrepreneurship, including the #StartupColumbia Festival, April 28-29, a two-day conference that highlights Columbia's global entrepreneurship community. Read more here.
Thanks to Hayley and to Chris McGarry who helped organize the tour for our team and to all the amazing people who joined us!
The Lab welcomes the alumni and development community to learn more about the space.  If you are interested in organizing a tour or for more information, please contact Hayley Katz at [email protected].
Contributor: Fritzie Dizon, assistant director at the Office of Gift Planning