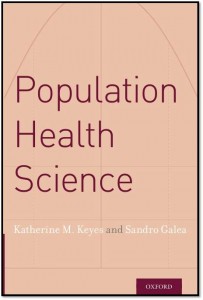 The book, Population Health Sciences, by Katherine Keyes and Sandro Galea will be coming out soon and will be available at the 2016 EpiCongress in Miami Florida. It is available for pre-order at the Oxford University Press website with a 30% discount if you use the code AMPROMD9.
The book formalizes an emerging discipline at the crossroads of social and medical sciences, demography, and economics–an emerging approach to population studies that represents a seismic shift in how traditional health sciences measure and observe health events.  Julie Gerberding, former Director of the U.S. CDC writes about the book:
Improving the health of populations is an urgent global social, economic, and humanitarian imperative for governments and health systems responsible for allocating increasingly scarce health resources.  Until recently, the population health science essential to understanding and prioritizing population health policies and interventions have not kept up with the accelerating demand for decision support.  In "Population Health Science", Keyes and Galea have created  a major milestone in this emergent discipline, and the textbook should be required introductory reading for students in public health, health policy, health economics, behavioral sciences, and related fields.  This not a repackaging of traditional public health methodologies.  Rather, it is an emergent discussion of nine unifying theoretical principles of population health science, complete with excellent case studies, that will extend and inform the practice of both public health and preventative medicine.  By establishing a deeper understanding of the causality of population health and the trade-offs inherent in efforts to "shift the curve", students and practitioners will have new tools for assessing, prioritizing, and predicting the outcome of health investments.