Throughout his career as a distinguished cardiologist and medical educator, the late Dr. Clyde Wu '56PS was aware of the great potential of international cooperation. It is no surprise, he played a pivotal role in building Columbia's relationship with China—and the world.
On March 31, President Lee Bollinger and Lee Goldman, MD, chief executive of Columbia University Medical Center, co-hosted the official launch of the Wu Family China Center. Dr. Wu and his wife Helen (also deceased) established the Center, and committed to providing it with an endowment of at least $10 million through their own philanthropy and that of their large extended family. The Center will feature joint pilot research projects and exchanges of faculty and fellows between Columbia and Zhejiang University School of Medicine.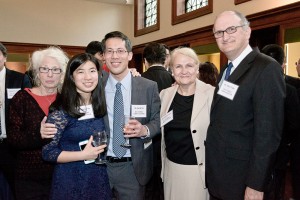 Much of Clyde and Helen Wu's large extended family was on hand at Low Library to celebrate the Wu Family China Center's launch. Wu family members in attendance included granddaughter Maddie Wu and son Dr. David Wu (shown second and third from left).
"They were a source of joy, a source of constant support, and some of the loveliest people I ever met," President Bollinger said of Clyde and Helen in his opening remarks.
"The Wu Global Center is the crowning glory of Clyde and Helen's largesse," said P. Roy Vagelos '54PS, chair of the Columbia University Medical Center's Board of Advisors.
Dr. Wu was born in Hong Kong in 1931. His family moved to China's heartland during World War II, escaping Japanese occupation. He travelled to America to study medicine. In 1956, Wu was one of two Asian students to graduate from the College of Physicians and Surgeons. 
Lady Ivy Wu, Dr. Wu's sister-in-law and a member of the Center's Board of Overseers (shown left), presented Henry Kissinger with the inaugural Dr. Clyde and Mrs. Helen Wu Distinguished Award for International Understanding at the event. As national security advisor under Richard Nixon, Kissinger travelled to China in 1971 and helped open diplomatic relations between the countries for the first time in 23 years.
Anke Nolting, associate dean and executive director of alumni relations at the CUMC, will serve as inaugural director of the Wu Center. "America and China have much to learn from each other," she said, "and I cannot imagine any better partners to engage in this dialogue than P&S and Zhejiang University School of Medicine."
For Clyde and Helen Wu, the Center is the legacy of a long and close relationship with Columbia. Dr. Wu served as a member of the University's Board of Trustees and as vice chair of the Medical Center Board of Advisors. He and Helen established the Clyde and Helen Wu Center for Molecular Cardiology, five Clyde and Helen Wu Professorships, and supported the construction of the new Medical and Graduate Education Building.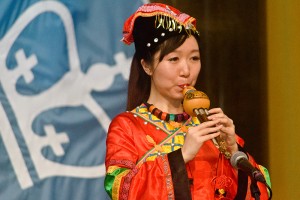 Now, the Wu Family Center they envisioned will further strengthen Columbia's relationship with China.
"We spread the good word and planted the seeds," Dr. Wu said of his vision for the Center. "Now the time has come for others to plough the field and reap the fruits."
Photos by Ricky Owens