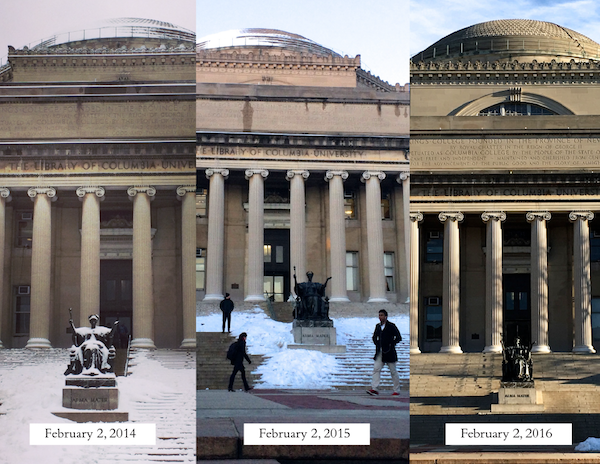 Lin Lan, associate director for CAA marketing and digital initiatives
Big Idea: Climate Change
Why I chose this photo: "I've been at the CAA for nearly three years, and I take a lot of photos of campus for the CAA's social media accounts. When I was looking through my photos to submit for this contest, I realized that I took nearly identical photos of campus on the same date (ironically, on Groundhog Day) for the past three years—with one glaring difference in each progressive photo—lack of snow.
I know that a specific date in time doesn't necessarily present definitive evidence of climate change, but there is no doubt that our world is warming. 2015 was the warmest year on record, surpassing the previous record set the year before in 2014, and 2016 is shaping up to be even hotter. I'm tremendously glad and grateful that Columbia is taking a stand on issues of climate change, understanding its risks and threats, and forging the path for a sustainable planet."
View the Flickr feed here.