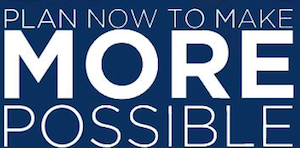 Do you know what the two largest gifts made during The Columbia Campaign—and in the 262-year history of the University—have in common? Planned giving.
The transformative gifts from John Kluge '37CC ($400M) and Dawn Greene and the Jerome L. Greene Foundation (more than $200M) are two extraordinary examples of planned giving at Columbia.
As we count down to a new campaign, Amelia Alverson has noted that "our goal is to unlock unrealized gift potential across the spectrum of prospects at Columbia."  Gift planning options may allow fundraisers to incorporate the smartest, most effective strategies in their everyday dealings with potential and current donors.
Susan Feagin's associates from John Brown Limited (JBL)—Craig Smith and Dan Shephard—will be conducting intensive sessions for all front-line fundraisers to maximize the effectiveness of gift conversations.
      Principal Gift Prospect Managers – May 2-3

      School and Unit Chief Development Officers – May 4-5

      Major Gift Prospect Managers – May 9-10 and July 28-29

      Annual Giving Prospect Managers – January 10-11, 2017
The focus will be on learning by doing, using tried and true methods for introducing conversations and inspiring generosity, and case studies to explore what planned giving options (deferred and outright) work—for whom, why, and when. The tool-building and skills-honing will continue throughout the year, with Craig and Dan from JBL returning nearly monthly to facilitate 90-minute follow-up sessions to the original seminars.
According to Ryan Hart, executive director of gift planning, "Together, we—front-line fundraisers and the Office of Gift Planning team—will explore elegant solutions to suit every donor's particular philanthropic and financial needs."
The end game: creating gift opportunities for donors to embrace, feeling energized and excited that they are doing more for Columbia and for the world than they (or we) ever thought possible.