Exploring Rome with new eyes
Rome is possibly the #1 city in the world for numbers of tour guides and tour companies. At every corner and step, you bump into amazing monuments and churches. Most visitors follow the direction of the mainstream that takes them to the Colosseum and Vatican City. Nothing wrong about the Colosseum and Vatican City. In fact, they are amazing places.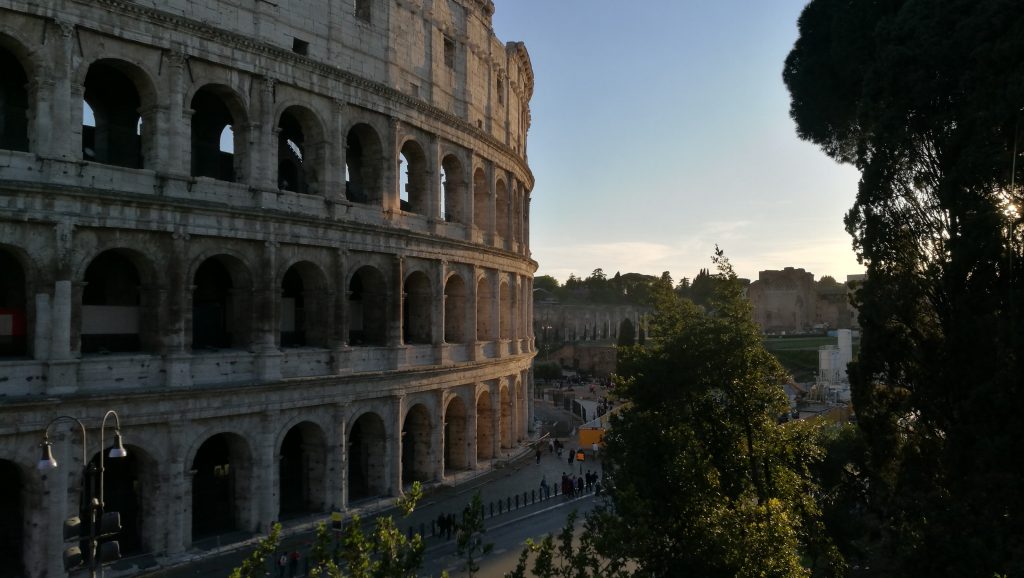 But if you are in Rome for the second time, or more than one day, you might want to try something different, something really — really! — unique. We tried a Caravaggio tour with Roma Experience, with access to the restoration lab responsible for fixing some of the paintings of the maestro. I will never stop to say thank you!
Conflating the new and the tradition
It is hard to find in Rome something new and traditional at the same time. An Italian tour company, Roma Experience, has succeeded not only in designing Rome tour that perfectly integrate these opposites, but also a Rome tour that is really stunning and — I promise — absolutely unmissable. Not an easy task in an oversaturated market such as that of Rome walks and experiences. The downside is the cost. I was so lucky to be invited to such an amazing experience. And I almost had tears in my eyes. I was moved and excited and stunned. Like a kid in a candy shop. Except that here every candy might cost a million dollars!
A Rome walk the steps of Caravaggio
The small square in front of the church of St Augustine in Campo Marzio gives access to the homonymous church of St Augustine, but also to the Biblioteca Angelica, one of the greatest collections of manuscripts and cinquecentine. I had the pleasure of working in this library during the days — well, years — of my Ph.D. at Columbia University. At that time I was investigating an obscure friar who believed that Boniface VIII, pope from 1294-1303, was the Antichrist. That is another story altogether, but it renders well the idea of how lively and dense with history can some obscure corners of Rome be. This is where we meet Francesca, our tour guide.
Francesca is one of the employed tour guides of Roma Experience. The passion for her job, for Rome and, above all, for art history exudes from her aura before she even starts talking. And when she does she switches from jokes to perfect art explanation with perfectly natural Roman temper. Her voice is calm and soothing. She talks of Caravaggio like one of her dear friends. You feel reassured and ready to embark in this art immersion on the path of Caravaggio, with a sense of gratefulness and marvel ingrained to your chest.
Basilica of St Augustine
Francesca asks us to look up and point at the facade of St Augustine. We are actually looking at the Colosseum. The facade was built in 1483 — 537 years ago! — using the travertine marble coming from the Colosseum. That was far from unusual. In fact, the whole ancient city, the Roman Forum and the Colosseum itself have been pillaged by the architects of popes and cardinals to build their own city. The churches in Rome are more than 900! After some consideration on this number, we finally enter the church. We find ourselves immersed in dump darkness. Like traveling back in time.
Pilgrim's Madonna
Treasures are always hidden in secret places. Caravaggio's painting of the Madonna dei Pellegrini is a hidden treasure too, but one that is easily accessible to those who know where to look. In a dark corner of a dark church, we see the famous painting, hanging from the wall of the Cavalletti Chapel since 1604 — do your math.
A young attractive woman, dressed in a loose red dress, stands by the door sill as the pilgrims knee in front of her and the child she holds in her arms. The dirty feet of the two beggars seem to break through the frame. They are in our space, we are in theirs. Coeval paintings of Madonna with Child portray the Virgin amongst angels and saints. Caravaggio stages her amongst tired mendicants, of which we are part of. If this wasn't enough, the features of the Virgin Mary are those of one of Caravaggio's beloved girlfriends, Maddalena Antognetti, a prostitute. This is one the paintings brought back to life by the restoration lab we visited at the end of the tour.

St Louis of the French
The next step on our tour is St Louis of the French. The impression I have entering this church is opposite to the one I had entering St Augustine. As much as St Augustine was dark and meditative, St Louis is bright and triumphant. Once inside, surrounded by the gaudy decoration of the baroque, Francesca leads us to a hidden chapel where we find not one but three — three! — paintings of the maestro: Caravaggio. It's the famous Cycle of St Mathew, which includes The Calling of St Mathew, St Mathew, and the Angel, and finally the Martyrdom of St Mathew.
The impression is so strong that I was literally left without words. After all, I wasn't meant to speak at all. In fact, it was a pleasure listening to Francesca as she unfolded all her Caravaggesque wisdom before these amazing masterpieces. I will not even try to summarize her knowledge here in two lines. This is a task that extends beyond the limits of this blog post, but what I can promise is that the ecstatic experience is amazing.
A Rome tour visit to a top restoration lab
At this point, I am already stunned at the sheer quantity of amazing art I have seen. But the best part of my Rome tour was yet to come. As we leave St Louis of the French we direct ourselves towards the Pantheon. We pass by this amazing 2,000+ years old building, perfectly preserved, and Francesca leads us down one of the many narrow winding streets of Rome city center. We enter inside an elegant courtyard where all of a sudden a door opens as if the door itself knew what to do. It's the entrance of the restoration lab. Arianna, the manager of the lab is an Italian young woman with a near-native control of English. She is smiling and genuinely happy to see us. In fact, she is enthusiastic. Who wouldn't? Her workplace is a triumph of art and beauty at its highest level. She invites us in and from the moment on, we are like in a dream.
Meeting the restorers of Caravaggio
Now, imagine you enter a place where canvasses of Renaissance artists are hanging and leaning everywhere, and you walk around them like you walk in a room full of old friends. The artworks were so precious that I was afraid of even moving. For the first fifteen minutes, I would stand still like a statue. Then I relaxed and I — all of us, in fact — could feel the strangest magnetic field in the room, relaxing and exciting at the same time. I realize how different is to see beautiful paintings in a museum and to see them here. It is almost as if you can talk to them and listen to them. Almost, as if you could touch them. In fact, you could.
Healing wounds
Daniela, one of the owners of the lab, shows us how to clean a painting. A small section if selected and cleaned right before your eyes. You literally see the centenary yellowish patina dissolve and liberate the power and glamour of the original colors. It happens right there in front of you! I think I held my breath for five minutes. I have learned so many things during this experience. The most shocking thing I have learned is that, during the whole process of restoration, cleaning is considered a much more advanced skill than retouching. I thought it was the opposite.
Retouching a painting
I assumed it would require amazing skills and courage to pass the brush where Caravaggio or Raphael already passed before yours. But that's not the case, as cleaning is more destructive than coloring anew. So, young restorers retouch the colors, experienced ones clean the paintings. While there, Chiara, one of the young apprentices in the studio, was retouching the colors of this amazing painting by Italian artist Andrea del Sarto.
Technology in art
Restorers avail themselves with the most advanced technology available. Microscopes, UV lamps, safe chemicals, and whatnot. We also had the chance to test some of this technology, and literally, we saw everything in a different light.
An aperitif with Caravaggio in Rome
Our tour ended with vino bianco and snacks in the restoration lab, together with the restorers, surrounded by unique and priceless works of art. I could not think of a more perfect ending for an amazing day. I thought I had seen much in the Eternal City but this was indeed a unique Rome tour that I will remember forever and totally recommend to anyone going to Rome for more than one day! Restoration Lab Tour.