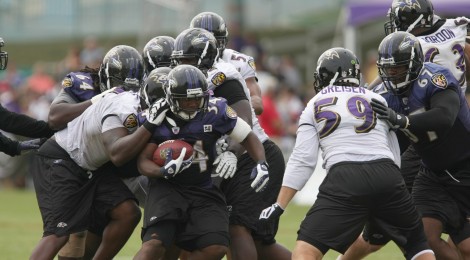 The NFL has recently received criticism from both the media and the public for its lenient handling of perpetrators of domestic violence. This criticism is largely in response to the incident involving former Baltimore Ravens running back Ray Rice, who was arrested and indicted for third-degree aggravated assault for brutally attacking his fiancé in a casino elevator.[1] In response, the NFL launched an anti-domestic violence campaign and increased the presumptive penalty for first-time offenders of domestic violence. Yet, only some months after being suspended indefinitely by the NFL, today Ray Rice is a free agent and eligible to sign to an NFL team for the 2015 season.[2] To understand how Ray Rice went from the harshest punishment a player could receive to no punishment whatsoever; one must examine the legal framework of the NFL's collective bargaining agreement.
The legal document outlining previously negotiated terms and conditions for employment, the collective bargaining agreement (CBA), gives the commissioner of the NFL broad authority for disciplinary action. Every NFL player, as well as every MLB and NBA player, signs a contract that includes an arbitration provision. This provision prevents a player from filing lawsuits against the league for contract disputes, and effectively requires players to partially surrender their rights to due process.[3]While constitutional due process protections do not extend to private conduct,[4] in cases of disputes pertaining to discipline or contracts, private arbitrators analyze the extent to which a commissioner acts with fairness and consistency with past practice.[5]
While many CBAs contain arbitration provisions, the NFL's goes a step further in reference to appeals. Under Article XI of the NFL's CBA, "action taken against a player by the Commissioner for conduct detrimental to the integrity of, or public confidence in, the game of professional football" may only be appealed to the commissioner.[6] Unlike the NBA and the MLB, there is no independent party to review, or challenge, the NFL commissioner's disciplinary action for off-field conduct. Essentially, in the event of an appeal, the NFL commissioner, Roger Goodell, will determine whether punishment for off-field conduct is consistent with his own past practice.
However, the case of Ray Rice was an exception to this norm. In this case, due to a technical breach of the CBA by Roger Goodell, an independent arbitrator was introduced. According to Article XLVI, Section 4, neither the commissioner nor a club may "discipline a player twice for the same act or conduct."[7] The NFL Player's Association used this section as the basis to involve a private arbitrator following Goodell's decision to increase Ray Rice's initial two game suspension and fine of $529,411.24 to the harsher penalty of indefinite suspension.[8]
During arbitration the two main points of dispute were the absence of the just cause standard in Article XLVI of the NFL's CBA, which outlines the commissioner's authority in matters of discipline, as well as the extent to which Ray Rice was dishonest in his narrative account of the assault. The absent standard discussed, the just cause standard,refers to a certain set of requirements an employer must meet to justify discipline or discharge of an employee. The arbitrator, formal federal judge Barbara S. Jones, determined that a just cause standard was purposefully absent in the article of the NFL's CBA dealing with league discipline (Article XLVI).[9] Absent of a just cause provision, the burden did not fall on Roger Goodell to prove whether he had reasonable and lawful grounds to suspend Ray Rice indefinitely, but rather, it fell to Ray Rice to prove his initial description was not purposefully misleading.Jones found that Ray Rice was not dishonest in his initial account, and as a result, overturned Rice's indefinite suspension due to the league's violation of Article XLVI, Section 4, wherein a player cannot be punished twice for the same infraction.
The NFL is obliged to adhere to its CBA, yet neither the public good nor the league's brand is served by disciplinary outcomes that turn on procedural technicalities rather than the actualmisconduct. To serve the public good as well as the due process rights of any individual player, the NFL could avoid further disputes by either implementing a just cause provision in Article XLVI, or integrating a league-wide personal conduct policy into its CBA with express disciplinary guidelines. By integrating a just cause provision and league guidelines into the CBA, players would be alerted to the consequences of their actions and such an alert might serve as a pro-active deterrent to domestic abuse. Furthermore, explicit disciplinary guidelines would check capricious implementation of commissioner authority and protect the due process rights of players.
Currently, the NFL has not expressed whether they intend to alter articles of the NFL's CBA pertaining to domestic violence. However, the NFL and its franchise owners have had talks on changing the NFL's conduct policy. Additionally it seems as if the league and the NFLPA wish to reduce Roger Goodell's scope of power in relation to matters of breached off-field conduct. In fact, as recently as February 26th of this year, the current executive director of the NFLPA stated "neutral arbitration is good for our players, good for the owners and good for our game."[10] Next season will be heavily focused on off-field conduct discipline, and neutral arbitrators will serve a more important role in disciplinary appeals going forward. At this moment, potential changes to the NFL's off field conduct policy are unknown. However, if the NFL wishes to exist as a league that can successfully balance both the due process rights of its players and public opinion, it should implement league-wide legally binding content in its CBA, specifically in provisions pertaining to off-field conduct.
[1] Hensley, Jamison, et al. "Ravens' Ray Rice Indicted."ESPN. Espn.go.com, March 28th 2014. Web.http://espn.go.com/nfl/story/_/id/10684250/ray-rice-baltimore-ravens-indicted-aggravated-assault
[2] Belson, Ken. "Ray Rice Wins Reinstatement to N.F.L." The New York Times. November 28th 2014. Web.http://www.nytimes.com/2014/11/29/sports/football/ray-rice-suspension-overturned-in-arbitration.html
[3] Bennett, Charles. "Ray Rice And All Other NFL Players Gave Up Their Due Process Rights."The Sports Agent Blog. September 9th 2014. Web.
http://sportsagentblog.com/2014/09/09/ray-rice-and-all-other-nfl-players-gave-up-their-due-process-rights/
[4] Supra note 3
[5] Gibeaut, John. "When Pros turn Cons." American Bar Association Journal. Vol.86, No.7. July 2000. Web.
http://www.jstor.org/stable/27841587, 103.
[6]Withers, Bethany P. "The Integrity of the Game: Professional Athletes and Domestic Violence" Harvard Law School Journal of Sports & Entertainment Law. Vol.1, No.1. Spring 2010. Web.
http://harvardjsel.com/wp-content/uploads/2010/04/JSEL-Withers.pdf, 157.
[7]https://nfllabor.files.wordpress.com/2010/01/collective-bargaining-agreement-2011-2020.pdf,206. (NFL CBA)
[8] Zaslow, Levi S. "The Legal Appeal of the Ray Rice Appeal: Despite a Broken Process, Ray Rice's Indefinite Suspension Should Be Reversed on Appeal." JGL Law Blog. September 18th, 2014. Web.  http://www.jgllaw.com/blog/legal-appeal-ray-rice-appeal-despite-broken-process-indefinite-suspension
[9] Jones, Barbara S. "In the Matter of Ray Rice." Zuckerman Spaeder LLP. November 28th, 2014. Web. http://espn.go.com/pdf/2014/1128/141128_rice-summary.pdf, 7.
[10] Belson, Ken. "Judge Overturns Suspension of Adrian Peterson." New York Times. February 26th 2015. Web.  http://www.nytimes.com/2015/02/27/sports/football/adrian-petersons-suspension-is-overturned.html