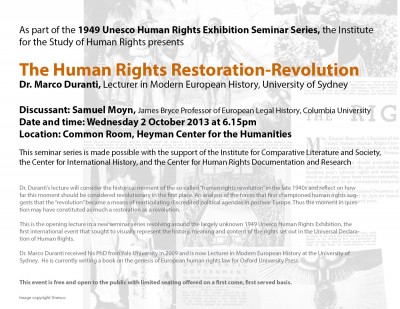 As part of the 1949 Unesco Human Rights Exhibition seminar series, the Institute for the Study of Human Rights is proud to present
The Human Rights Restoration-Revolution, a talk by Dr. Marco Duranti (Lecturer in Modern European History at the University of Sydney).
Discussant: Samuel Moyn (James Bryce Professor of European Legal History, Columbia University)
Date and time: Wednesday 2 October 2013 at 6.15pm
Location: Second Floor Common Room, Heyman Center for the Humanities
With Unesco's 1949 Human Rights Exhibition as its point of departure, this talk will consider the historical moment of the so-called "human rights revolution" in the late 1940s. Dr. Duranti's analysis of the forces that first championed human rights invites a reflection on how far this moment should be considered revolutionary in the first place. Instead, Dr. Duranti suggests that the human rights became a means of rearticulating discredited political agendas in postwar Europe, and thus the moment in question may have constituted as much a restoration as a revolution.
This is the opening lecture in a new seminar series revolving around the largely unknown 1949 Unesco Human Rights Exhibition – the first international event that sought to visually represent the history, meaning and content of the rights set out in the UDHR. The series will seek to explore the exhibition's themes through the research of human rights scholars from various disciplines in an open and interactive setting, leading up to a new display of the exhibition archive at Columbia University's Buell Hall Gallery in April 2014.
Dr. Marco Duranti received his PhD from Yale University in 2009 and now teaches history at the University of Sydney. He is currently writing a book on the genesis of European human rights law for Oxford University Press.
This seminar series is made possible with the support of the Institute for Comparative Literature and Society, the Center for International History, and the Center for Human Rights Documentation and Research.
The event is free and open to the public with limited seating offered. Find directions here.