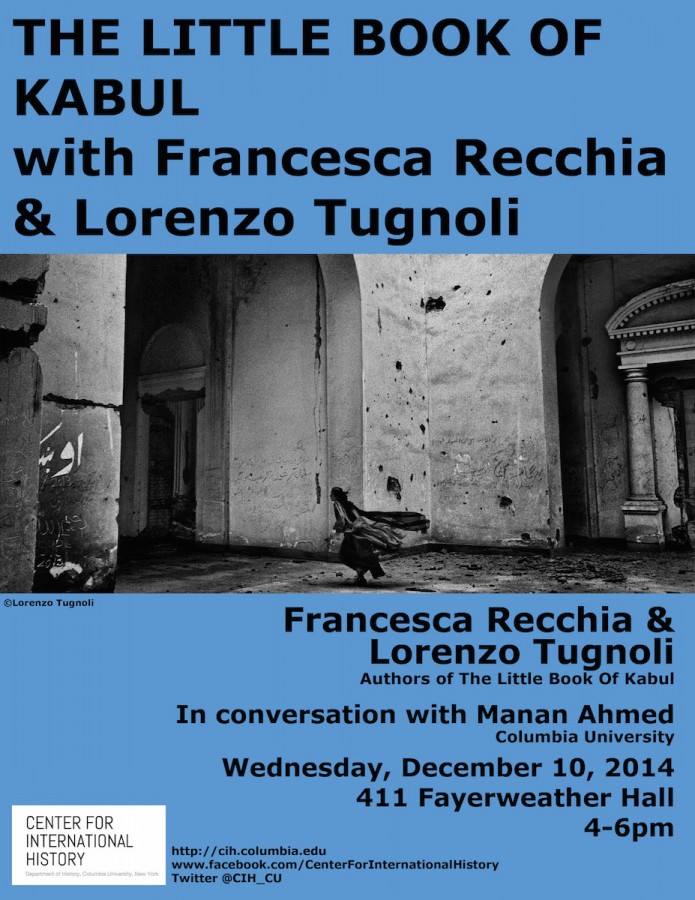 Join us for an in depth look into The Little Book of Kabul, with authors,​ Dr. Francesca Recchia & Lorenzo Tugnoli, in conversation with Professor Manan Ahmed, Columbia University.

Wednesday, December 10th
411 Fayerweather
4:15 – 5:45pm 

The Little Book of Kabul, is a book project that depicts a portrait of Kabul through the daily activities of a number of artists who live in the city. With an evocative tone, it focuses on the tiny details that escape grand narratives. Colours and gestures, smells and accents. In 20 short stories and 47 black and white photographs, The Little Book of Kabul dives into the lives of the three main characters exploring what it means to be an artist in Kabul and hence unveiling the beauty and brutality of the city.

Dr. Francesca Recchia is an independent researcher and writer who has worked and taught in different parts of the world, including India, Iraq, Afghanistan, Pakistan, Palestine. She is interested in the geopolitical dimension of cultural processes and in recent years has focused her research on urban transformations and creative practices in countries in conflict. She was the director of the 4th Afghanistan Contemporary Art Prize and is the author of three books, The Little Book of Kabul (with Lorenzo Tugnoli), Picnic in a Minefield and Devices for Political Action (with a photo-essay by Leo Novel).
Lorenzo Tugnoli is a documentary photographer based in Kabul. His work has been published by The New York Times, Le Monde, Newsweek, Time Magazine, Wired, The New Republic, The Atlantic, Der Spiegel as well as several Italian magazines. He is a regular contributor of the The Washington Post and The Wall Street Journal.
​Read more about the 
Little Book of Kabul, 
here
.
​Read more about the Center for International History 
here
.