By Jillian Carson, Student at Columbia University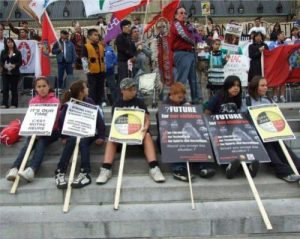 Rights violations and struggles in developed countries are regularly overlooked as human rights issues. In Canada, human rights claims are consistently re-framed as purely political or constitutional in nature, denying the violation of rights at home that would be openly criticized abroad. In response to the growing influence of human rights abroad, First Nations youth in Canada are becoming increasingly aware of the language and mechanisms of the human rights system and how this international body of rights affects their lives at home. First Nations youth have been especially active in raising awareness about education rights and the rights of the child.
In June of this year, young First Nations students, and non-Native Canadian youth from Quebec launched a report aimed at bringing attention to the lack of culturally based, equitable education for First Nations students in Canada. The report will be submitted to the Committee on the Rights of the Child along with Canada's periodic review as a state party to the Convention on the Rights of the Child. This report is indicative of a growing awareness of human rights among youth.
Shannen's Dream
The initiative began with First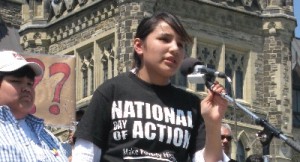 Nations education youth activist Shannen Koostachin, a student from the Attawapiskat First Nation in northern Ontario and founder of the Shannen's Dream campaign.  In 2008, fed up with the deplorable conditions of her school at Attawapiskat, Shannen helped organize the Attawapiskat School Campaign which raised awareness among Native and non-Native youth about the condition of the school on her reserve. She convened a group of students from Attawapiskat First Nation and Kitigan Zibi Anishinabeg First Nation called the 'Dream Team', who have helped this campaign grow to include children across Canada forced to learn in uninhabitable, underfunded and unsafe schools.
Chelsea Edwards, spokesperson for Shannen's Dream commented that, "Shannen's Dream is now the biggest movement for children by children in Canadian history, to ensure that equitable funding, proper resources and facilities are accessible to children, right where they are."
Sadly, Shannen was killed in a car accident in May 2010 at age 15, but her message has reached youth across Canada. Students in Quebec, supported by the First Nations Child and Family Caring Society of Canada and the Office of the Provincial Advocate for Children and Youth, have kept Shannen's dream alive and endeavor to send her message to the United Nations.
View the clip below to learn more about Shannen and the issues she was fighting for:
[youtube]http://www.youtube.com/watch?v=rT0VK0E1Sf0[/youtube]
Taking a dream to the United Nations

Released in June, "Our Dreams Matter Too" is an alternate report by to the Committee on the Rights of the Child on the occasion of Canada's periodic review. Canada ratified the Convention on the Rights of the Child in December of 1991. The Convention recognizes the equality of all human beings and protects against all forms of discrimination. Beyond these human rights principles, Article 3.3 ensures that institutions, services and facilities be responsible for the care and protection of children. It requires competent standards be set for health, safety, building capacity and supervision. Even more specific to the cause of First Nations in Canada, Article 28 and 29 protect the human right to education based on equality, accessibility, safety and respect for languages, cultural identity and human rights.
The Auditor General of Canada has repeatedly called for equity and improvement in education and education policy but the government's response remains piecemeal and inadequate. In their report, First Nations youth appeal to the United Nations saying, "As children and youth, we continue to write letters to the Government but nothing changes. The discrimination and denial of our rights continues".
Some of the policy and funding deficiencies highlighted by this report include the fact that First Nations children receive $2000 – $3000 less per child than a student at a provincial school and receive little or no funding for things like books, teachers and other essential equipment and personnel at their schools.
Executive Director of the First Nations Child and Family Caring Society of Canada, Cindy Blackstock explains, "First Nations and non-Aboriginal children are taking action creating the largest child lead reconciliation movement in Canada that puts culturally based equity at the center." Not only are children understanding the discrimination present in current education funding and policy; with inspiration from Shannen and their peers they are taking real action to bring attention to their rights, the rights of people across Canada and the importance of human rights awareness at home.
Jillian is a Human Rights Masters Student at Columbia University. Her Masters program concentrates on Indigenous Rights, more specifically the right to education for First Nations in Canada and reconciliation processes in settler colonial nations. Jillian is also involved in disability rights in education research and advocacy in New York City.