Shandiz, Mashhad:
Shandiz province is known as a popular tourism destination among iranians, which is located near to holy mashhad. This area has interesting places, historical remnants and recreational centers, we recommend you to visit. We also mention Padideh Shandiz complex and its facilities in this subject. Undoubtedly you will experience pure moments in the verdurous parks and villages of Shandiz. Therefore if you want to go to Mshhad, now buy bus ticket or airplane ticket and do not miss interesting places in Shandiz.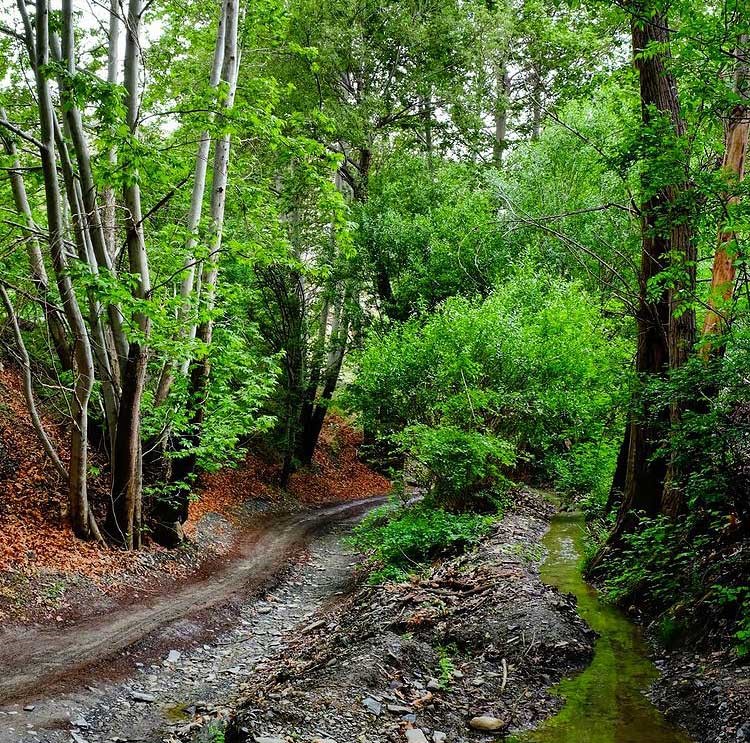 Where is Shandiz mashhad?
For traveling to Shandiz you need to go to Khorasan first. After going a short distance from Vakil Abad boulevard you will arrive there. Shandiz location is as follows:
Miyanvelayat vill, from north
Neyshabour province, from south
Torghabe Shandiz province, from east
Golmakan located at Golbahar province, from west
There are 3 ways to go to Shandiz from Mashhad that in order are 38,45,48 kms long, so we consider the distance of Mashhad to Shandiz to be 38 kms and inform you to how go there.
You need to pass kalantari highway(kalantari highway of Mashhad) to visit interesting places in Shandiz. After that go to Vakil abad highway, finally after passing a short distance you are arrived. The time interval between Mashhad and Shandiz is 45 to 50 minutes.
Sbandiz forest park
One of the interesting places of Shandiz is boustane tabiate pardis or pardis forest park. The area is surronded by tall trees and lush greenery, the cool and airy weather tells a good evening. If you go alittle further you see flowing rivers that are in tune with the sound of sparrows. Generally rivers of Shandiz originate from Binaloud mountain range(Bame khorasan). In addition of jaunt , photography, relaxing in arbours and group games , you are able to use welfare services in this park. Shandiz forest park facilities:
Barbecue
prayer room
play ground for children
supermarkets and different stores
parking
places to stay
Shirbad ski run
Since the Shirbad ski run is located at the end of Binaloud valley, it is not far from Shandiz. Therefore this area is one of the interesting places of Shandiz and we counsel you to visit there at least once. Undoubtedly you will feel a dreamy experience admist the snow and welfare services make you feel well. This area will be an exciting area not only for skiers but also for snow lovers, it has unparalleled landscape. Shirbad ski run is snow covered not only in cold months but also all the year. Shirbad ski run facilities:
renting all the equipments neededfor skiing
stylish suites for relaxing and overnight stays
night slopes and night skiing facilities
training for beginners
sledding, telesage, exciting ride with snowmobile and snowtruck
cafe, restaurant, prayer room and other welfare services
Shandiz mountain park and mountain bike park
Mountain park is one of the charming spaces of Shandiz that delights every traveler. There is also another area for jaunt that you can ride bicycle. This area is named mountain bike parkand is near to Shandiz restaurant so it is known as a place with many facilities.
Shandiz municipality museum
If you decide to have a literary and cultural experience, do not forget the Shandiz municipality museum. This place is also known as exhibition of historical and cultural monuments of Shsndiz municipality and many magnificent works are preserved in it. You can see different petroglyphs, paintings, slates and old sculptures in this museum. You just need to visit Shandiz mountain park and have pyre moments there. You can use ghasedak24 to buy ticket in the shortest time possible. The price of all tickets bus,train,airplane is listed on this site.
Razavi Astronomy Observatory
You will enjoy this complex If you are interested in study and watch galaxies, stars, planets and all which is in the sky. Tbis area is one of the best areas of Shandiz and allows you to see the stars through a telescope. There is also a skycraper which is so attractive for students.
Padideh Shandiz
Padideh Shandiz tourism complex is one of the best recreation centers in iran and the most popular tourism destination among iranians.just look at  facilities of this complex to know why this place is so famous. Padideh Shandiz area is 506 thousand square meters where many buildings and shopping centers have been built.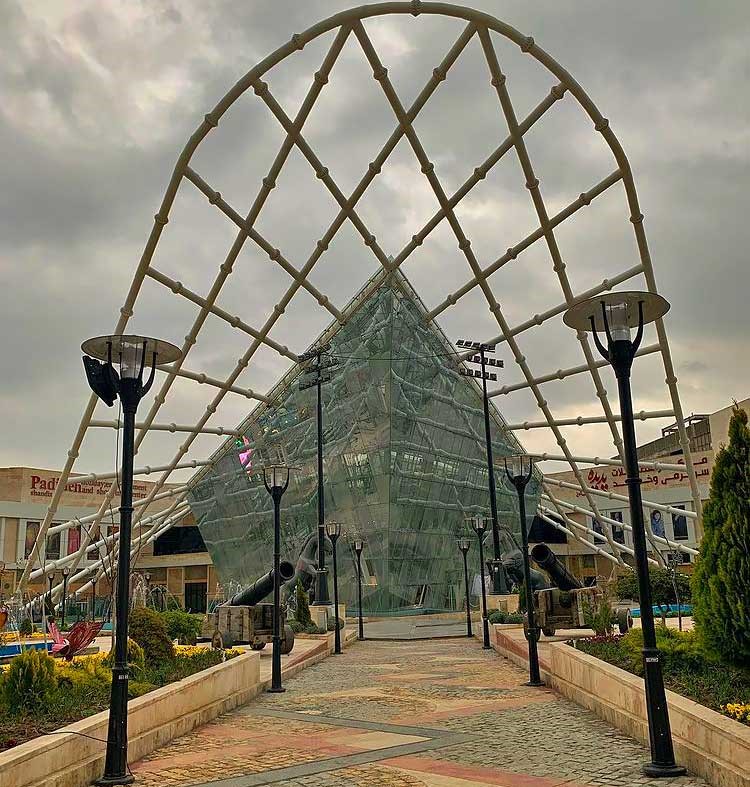 Here are some of Padideh Shandiz facilities:
Padideh Shandiz hotel, mashhad (five stars hotel)
Padideh Shandiz shopping center including: restaurant, cafe, parking, selling all kinds of brands, …
Padide Shandiz restaurant including green space and comfortable arbours( with two modern and classic layouts)
amusement complex and water park
large cultural complex, training center and also holding ceremonies, celebrations and holidays.
office complex for enterprises(international and national)
ice skiing track
Zoshk village
One of the most interesting places of Shandiz is boiling springs of szeshk village. This place is known by its boiling springs, flowing rivers and verdurous area. Generally this village has been one of the summer types of Shandiz with cool climate and the best cool destinations in the summer. You can also go there in autumn and winter and enjoy the freshness of weather. Also in this area, cherry, apricot, peach and pear trees grow and make the area more beautiful and colorful. You can buy fruits in coordination with the owner and take to your xity as souvenir. In this village there is special local zeshk bread, try it.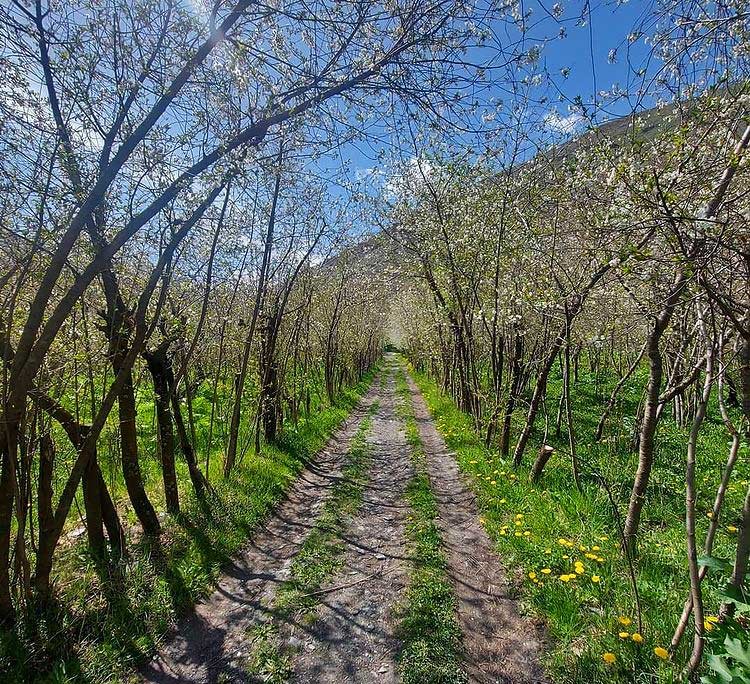 Abar_deh village
When you enter to Abar_deh, you do not need to be familiar with its sights, rather the stepped structure of this village attracts you and you will be entertained by its beautiful scenery for hours. As  the zeshk river passes through this village and creats a charming atmosphere with its tall and fruitful trees, we definitely recommend visiting Abar_deh.
Khorasan province has other cities and places of interest in addition of Shandiz which are attractive and fun for every traveler. So If you want to travel to mashhad you can buy airplane ticket, train ticket and Mashhad bus ticket ghasedak24. Also to staying in mashhad you can see Ghasedake24 and find out the price of booking a hotel in Mashhad. In this site there are various types of staying which we can mention Mashhad Apartment hotel and Mashhad cheap hotel. For international flights it is better to think about insurance before traveling and get tickets from reputable sites like Ghasedake24. This site supports travelers around the clock.