A milkshake (sometimes simply called a shake) is a sweet drink made by blending milk, ice cream, and flavorings or sweeteners such as butterscotch, caramel sauce, chocolate syrup, fruit syrup, or whole fruit into a thick, sweet, cold mixture. It may also be made using a base made from non-dairy products, including plant milks such as almond milk, coconut milk, or soy milk.
Milkshakes originated in the United States around the turn of the 20th century, and grew in popularity following the introduction of electric blenders in the subsequent two decades. They became a common part of youth popular culture, as ice cream shops were a culturally acceptable meeting place for youth, and milkshakes became symbolic of the innocence of youth.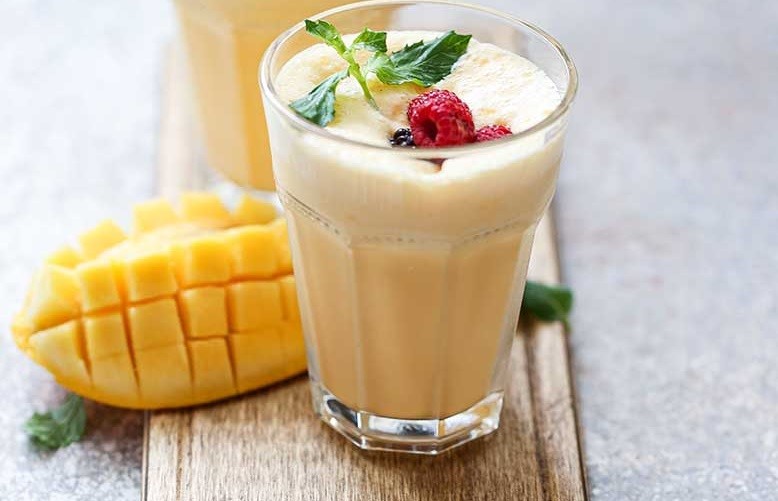 History of Milkshake
When the term "milkshake" was first used in print in 1885, milkshakes were an alcoholic whiskey drink that has been described as a "sturdy, healthful eggnog type of drink, with eggs, whiskey, etc., served as a tonic as well as a treat". However, by 1900, the term referred to "wholesome drinks made with chocolate, strawberry, or vanilla syrups." By the "early 1900s people were asking for the new treat, often with ice cream." By the 1930s, milkshakes were a popular drink at malt shops, which were the "typical soda fountain of the period … used by students as a meeting place or hangout."
The history of the electric blender, malted milk drinks, and milkshakes are interconnected. Before the widespread availability of electric blenders, milkshake-type drinks were more like eggnog, or they were a hand-shaken mixture of crushed ice and milk, sugar, and flavorings. Hamilton Beach introduced its Cyclone Drink Mixer in 1910, and it was widely used in soda fountains.
Ingredients
1 cup mango
1 cup vanilla ice cream
1 cup milk
Instructions
Step 1
First, put the mango cubes in a blender. Then add ice cream and milk and mix for 1 to 2 minutes.
Step 2
Pour milkshake into a glass and top with fresh berries and whipped cream.
Reference: 20 Homemade Milkshake Recipes