August 9, 2022: Tory Lynch Thesis Defense
Tory Lynch successfully defended her doctoral dissertation 'Quantifying the effect of extreme and seasonal floods on waterborne infectious disease in the United States'.   Congratulations Dr. Lynch!
July 26, 2022: Stephen Lewandowski Thesis Defense
Stephen Lewandowski successfully defended his doctoral dissertation 'Observed Impacts of Environmental Conditions on Heat Illness Morbidity in the Military'.   Congratulations Dr. Lewandowski!
August 1, 2021: Transitions
Two longstanding members of our group are moving on to new and exciting positions.  Dr. Sen Pei, who has been with us since 2015, begins as an assistant professor in our department.  And Brittany Shea leaves her position with the GCCHE to begin doctoral studies in our department.  Congratulations to both of you!  We are lucky to have you sticking around!
July 1, 2021: Israel Ukawuba Thesis Defense
Israel Ukawuba successfully defended his doctoral dissertation 'Use of climate in a simple entomological framework to improve dynamic simulation and forecast of malaria transmission'.   Congratulations Dr. Ukawuba!
June 11, 2020: Sarah Kramer Thesis Defense
Sarah Kramer successfully defended her doctoral dissertation 'Forecasting influenza in Europe and globally: the role of absolute humidity and human travel, and the potential for use in public health decision making'.   Congratulations Dr. Kramer!
February-July 2020: COVID-19
Our group has provided extensive modeling support to the New York City, New York State, the CDC and the White House Task Force.  Interviews with various print, radio, podcast and television outlets regarding the pandemic are listed here.
September 5, 2019: Sarah Kramer F31 Fellowship
Sarah Kramer was awarded an F31 fellowship through the NIAID for: Forecasting International Transmission of Influenza: Development and Validation of a Global Model.  Congratulations Sarah!
April 4, 2019: Alex Heaney Thesis Defense
Alex Heaney successfully defended her doctoral dissertation 'Predicting Under-5 Diarrhea Outbreaks in Botswana'.  Alex will be moving to the University of California, Berkeley to begin a postdoc in May.  Congratulations Dr. Heaney!
December 18, 2018: Simulating Nosocomial MRSA Transmission
eLife published a paper led by Sen Pei and featured the article with a digest.  The paper details a suite of new methods for modeling antimicrobial resistant bacteria in hospital settings and using those models to develop improved, more cost effective control of these pathogens.
October 22, 2018: Global Health Justice and Governance
Jeff Shaman participated in a panel discussion for the launch of the new initiative on Global Health Justice and Governance.
October 15, 2018: ISDS 2018 Award for Outstanding Research in Biosurveillance
The International Society for Disease Surveillance awarded our paper 'Forecasting the spatial transmission of influenza in the United States', led by Dr. Sen Pei, first prize for scientific achievement for 2018.
October 8, 2018: Climate and Health Education
The New York Times published a letter to the editor by Jeff Shaman regarding the need for climate and health education and training.
August 31, 2018: Rotavirus Vaccination
A nice invited commentary accompanied an article of ours in JAMA Network Open discussing the success and need for more comprehensive rotavirus vaccination.
April 3-5, 2018: Annual MIDAS Meeting
Ten of us attended the annual meeting the NIH MIDAS Program.  Sen Pei gave a talk on simulation and inference of the colonization, importation and nosocomial transmission of Methicillin-Resistant Staphylococcus aureus.  Ruthie Birger, Nick DeFelice, Marta Galanti, Sasi Kandula, Sarah Kramer, Israel Ukawuba, Teresa Yamana, Wan Yang each presented posters on diseases ranging from HIV to influenza to West Nile virus to measles.
March 22, 2018: Fractal Media Video
Check out the new Fractal Media video on flu forecasting!
December 10-December 15, 2017: AGU Fall Meeting
Jeffrey Shaman gave two talks–one on the use of absolute humidity conditions to improve influenza forecast, the other on the use of temperature conditions to improve West Nile virus forecast at the annual meeting of the American Geophysical Union in New Orleans.
November 29-December 1, 2017: Epidemics 6
Eight of us went to the Epidemics 6 conference in Sitges, Spain.  Wan Yang gave a talk on the geospatial characteristics of measles transmission in China; Nick DeFelice spoke about West Nile virus forecast; Sen Pei spoke about spatial-temporal forecast of influenza; and Jeffrey Shaman presented work on the Virome of Manhattan.  Four presented posters: Minhaz Ud-Dean gave a theoretical analysis on the effect of air  flow on airborne virus transmission; Marta Galanti presented work incorporating vaccine effectiveness and antigenic advancement into influenza forecast; Ruthie Birger presented findings on asymptomatic respiratory virus shedding rates; and Teresa Yamana presented work on superensemble forecast of influenza.  A good time was had by all and there were many discussions of the merits of Spanish food.
November 10, 2017: Sigma Xi Symposium
Jeffrey Shaman gave a keynote address at the Sigma Xi Symposium on Atmospheric Chemistry, Climate and Health in Raleigh, NC.  He spoke on Simulation and Forecast of Infectious Disease: Environmental Determinants and Transmission Dynamics.
November 4-8, 2017: APHA Annual Meeting
Brittany Shea and Jeffrey Shaman attended the annual meeting of the American Public Health Associate in Atlanta, GA.  Brittany talked up and disseminated information on the Global Consortium on Climate and Health Education, and Jeff gave a presentation on the objectives of the consortium.
September 18, 2017: Fulbright in India
Zachary Burt begins a 9-month Fulbright in India.  He will be working on projects examine the effects of weather and monsoon variability on water and sanitation services, health and willingness-to-pay.
June 24-27, 2017: EEID Annual Meeting
Ruthie Birger attended the annual Ecology and Evolution of Infectious Disease meeting in Santa Barbara, CA.   She presented work on asymptomatic summertime shedding of respiratory viruses.
June 7, 2017: Eliza Little Thesis Defense
Eliza Little successfully defended her doctoral dissertation 'The Influence of Climate and Socio-Ecological Factors on Invasive Mosquito Vectors in the Northeastern US: Assessing Risk of Local Arboviral Transmission'.  Eliza begins work as a postdoctoral associate at the Connecticut Agricultural Experiment Station as part of the Northeast Regional Center for Excellence in Vector-Borne Diseases.  Congratulations Dr. Little!
May 2017: Sanitation in Rwanda
Zachary Burt traveled to Rwanda to work with Pivot Works, a local start-up generating revenue from resource reuse in the sanitation sector. He helped design a willingness-to-pay study for fecal sludge collection services and collected data for a lifecycle assessment of greenhouse gas emissions associated with the sanitation process. He plans to collaborate with researchers from NYU and UC Berkeley to create a framework for an optimization model of non-sewered sanitation.
May 22-24, 2017: Climate: Annual MI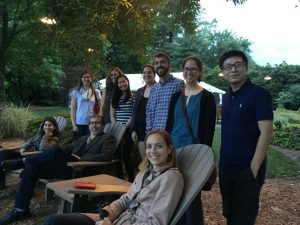 DAS Meeting
Twelve (!) of us attended the annual MIDAS program meeting in Atlanta, GA.  Sen Pei gave an oral presentation on a new method for forecasting the spatial movement of infectious diseases, and Sasi Kandula spoke about our operational, real-time influenza forecast website.  Ruthie Birger, Nick DeFelice, Julia Reis, Teresa Yamana and Wan Yang gave poster presentations on a variety of modeling and forecasting topics (respectively: HCV/HIV, WNV, RSV, influenza and measles).  We even had some time to chill as a group in a garden by the river (Wan is taking the photograph).
April 24, 2017: Climate: What's at Stake for Your Health
Jeffrey Shaman talks about climate change and human health for StatNews.  In the video he discusses how human civilization and development have relied on and been the beneficiaries of a relatively stable period of climate.  But the climate system is now shifting radically and will profoundly affect human health and wellbeing.
March 22, 2017: Flu-dunnit?
Jeffrey Shaman is interviewed on the WNYC Only Human podcast Flu-dunnit?  The story follows the staff of Only Human for 10 weeks as they participate in a respiratory virus study that combines elements of the Virome of Manhattan project and Rumi Chunara's (NYU) GoViral project.
March, 2017: Conservation Savings Credits
Zachary Burt traveled to Marrakech, Morocco in early March to launch a pilot program of water Conservation Savings Credits (CSC). With CSCs, utility customers receive cash for each cubic meter of water usage reduction. In contract to raising utility prices, CSCs avoid political backlash and minimize negative impacts on affordability through monetary rewards while encouraging conservation. Collaborators include Professor Peter Rogers of Harvard University, social-enterprise start-up AquaShares, and the Marrakech water utility.
January 24, 2017: Taste of Science
Jeffrey Shaman drank beer and spoke about influenza to an enthusiastic and mostly sober audience at Ryan's Daughter on NYC's Upper East Side.  The event was part of the Taste of Science series, which puts science in a bar setting.
December 12-16, 2016: Annual Meeting of the American Geophysical Union
Melissa Gervais presented her research on the Impacts of the North Atlantic Warming Hold on Atmospheric Circulation at the annual meeting of the American Geophysical Union.
November 30, 2016: Neighborhood Level Flu Forecast
A study of ours, published in PLOS Computational Biology and led by Wan Yang, describes granular prediction of influenza within New York City at both the borough and neighborhood scale.  See the press release here.  Also find a Scientific American podcast about the work.
June 28, 2016: Only Human Swabbing
Colleague Paul Planet and Jeffrey Shaman enrolled and swabbed WNYC's Mary Harris, host of Only Human, at the American Museum of Natural History.  The event was part of the Healthy Microbiome study at the museum, part of the Virome of Manhattan project.  See the podcast here.
May 23-24, 2016: MIDAS Meeting
Nine of us (!) attended the annual MIDAS meeting, held this year in Reston, VA.  Teresa Yamana spoke on superensemble forecast of infectious disease.  Nick DeFelice, Eliza Little, Sen Pei, Julia Reis and Wan Yang all presented recent findings on infectious disease forecast.
May 20, 2016: Ashlinn Quinn Thesis Defense!
Ashlinn Quinn successfully presented and defended her doctoral dissertation 'Modifiable Risk in a Changing Climate: Linking household-level temperature, humidity, and air pollution to population health'.  Congratulations Dr. Quinn!
May 14-15, 2016: Microbe Swabbing at the AMNH
We're kicking off our citizen science swabbing at the American Museum of Natural History, in conjunction with their exhibit on the micro biome (The Secret World Inside You).  Come join us Saturdays and Sundays through July 31, 2016 for educational activities and to get swabbed for science.
April 21-22, 2016: Influenza Forecast Workshop 
Our group organized a workshop–Preparing for and Responding to Influenza Outbreaks: Healthcare Preparedness and a Role for Influenza Forecast–held on the Columbia University campus.  Participants represented CDC, ASPR, military, hospital coalitions and healthcare facilities.  The agenda focused on the role and need for analytics and forecasts in managing patient surges at hospital facilities.  Jeffrey Shaman, Sasi Kandula, Alex Heaney and Haruka Morita presented at the workshop.
March 11-13, 2016: Big Data Tsunami 
Teresa Yamana participated in a workshop entitled Big Data Tsunami at the Interface of Statistics, Environmental Sciences and Beyond held at the Banff International Research Station (BIRS).  Dr. Yamana presented on the superensemble prediction of infectious disease.
February 8-10, 2016: DTRA Technical Interchange Meeting
Two of us attended and presented at the annual DTRA-sponsored technical interchange meeting in Falls Church, VA.  Sasi Kandula and Jeffrey Shaman presented on group developments in infectious disease forecasting and operational forecast.
January 19, 2016: CDC Predict the Flu Challenge
Our team co-won the CDC predict the flu challenge for the 2014-2015 season!  Read the CDC Announcement.
December 13-17, 2015: AGU Annual Meeting
Two of us attended and presented at the annual fall meeting of the American Geophysical Union in San Francisco.  Teresa Yamana presented work on the real-time forecast of Dengue and spoke about simulating malaria transmission in West Africa.  Jeffrey Shaman presented on the superposition of eastward and westward Rossby waves in response to localized forcing and spoke about the forecast of infectious disease.
December 1-4, 2015: Epidemics5 Meeting
Four of us attended and presented at the Epidemics5 meeting in Clearwater Beach Florida. Wan Yang spoke on the inference of seasonal and pandemic influenza epidemiological characteristics and presented work on influenza prediction in Hong Kong and a space reprobing method for improved data assimilation.  Nicholas DeFelice presented on the retrospective forecast of West Nile virus; Julia Reis presented a system for the inference and forecast of respiratory syncytial virus; and Teresa Yamana presented a system for superensemble prediction of Dengue.
October 28, 2015: ASTMH Meeting
Two of us attended and presented at the annual meeting of the American Society of Tropical Medicine and Hygiene in Philadelphia.  Ashlinn Quinn spoke on her work studying the effects of household air pollution on health.  Jeffrey Shaman spoke on climate and tropical infectious disease.
October 16, 2015: Science Friday
Jeffrey Shaman appeared on Science Friday to talk about influenza forecasting with Ira Flatow.  Listen to the conversation.
September 21, 2015: Dengue Forecast
Teresa Yamana and Jeffrey Shaman attended a Dengue forecast meeting at the White House.  Teresa Yamana presented our group's Dengue forecasting approach; Jeffrey Shaman participated in a panel discussion on challenges in forecasting.
August 30-September 3, 2015: ISEE Conference
Three group members attended the 27th Conference of the International Society for Environmental Epidemiology in Sao Paulo, Brazil.  Jennifer Nguyen presented three papers, including work on meteorological conditions and influenza-related ER visits; Ashlinn Quinn spoke about residential temperature, humidity and heat stress symptoms; and Julia Reis presented the development of a new forecast system for respiratory syncytial virus.
July 30, 2015: Hong Kong Flu Forecasts
Publication of work, led by Wan Yang, on forecasting influenza in Hong Kong has garnered press coverage, including the Washington Post, The Guardian, and an interview with Dr. Yang on Hong Kong radio.
June 5, 2015: CEHNM Annual Retreat
Jennifer Nguyen and Jeffrey Shaman attended and spoke at the annual meeting for the Center for Environmental Health in Northern Manhattan. Jennifer Nguyen spoke about Weather Variability, Influenza and Cardiovascular Mortality in NYC and Jeffrey Shaman spoke on Forecasting Infectious Disease Outbreaks.
May 14-15, 2015: Climate and Health Meeting
Two of us attended a meeting on Human Health in the Face of Climate Change: Science, Medicine and Adaptation in Barcelona.  The meeting was sponsored by the Caixa Foundation and the New York Academy of Sciences. Alex Heaney presented a poster (Climate Driven Migration: Understanding Health Perceptions and Help Seeking Behaviors of Maasai Migrants) and Jeffrey Shaman gave a talk (Forecasting Infectious Disease Outbreaks).
April 28-30, 2015: MIDAS Program Meeting
Five of us attended the annual MIDAS NIH program meeting in Atlanta.  Wan Yang gave a talk (Transmission Network of the 2014-15 Ebola Epidemic in Sierra Leone) and Eliza Little (Mapping and Modeling Socio-ecological Drivers of Mosquito-Borne Disease Risk in the Urban Environment) and Julia Reis (An Association between the Onset of Respiratory Syncytial Virus Outbreaks and Anomalous Temperature and Humidity in the United States) presented posters.
March 23-25, 2015: RAPIDD Workshop on Ebola Forecasting Approaches
Three of us attended a RAPIDD workshop on Ebola forecasting at the NIH in Bethesda, MD.  Wan Yang (Comparison of Non-Ordinary-Differential Equation (NODE) and ODE Models for Forecast of the Ebola Outbreak) and Jeffrey Shaman (Forecasting Cases in the West African Ebola Outbreak) both gave talks.
November 2-6, 2014: Conference Presentation
Eliza Little presented her work (Validation of a Predictive Model: Environmental influences on the prevalence of West Nile Virus in Culex mosquitoes, Long Island, New York) at the 63rd annual meeting of the American Society of Tropical Medicine and Hygiene in New Orleans.
September, 2014: Ebola Prediction
Our group began modeling and forecasting Ebola in early August; however, we did not begin publicly posting these forecasts until September 10, 2014.  The New York Times included a link to the forecasts in the September 12, 2014, Denise Grady article U.S. Scientists See Long Fight Against Ebola.   The outbreak is unprecedented in its size and penetration into densely populated urban areas.  Many more resources, including doctors, nurses, beds and supplies, must be mobilized as quickly as possible.  Coverage of our work and website include stories on NPR's All Things Considered, NBC Nightly News, CBS affiliates, as well as a more in-depth discussion of the Ebola outbreak on This Week in Virology, Episode 304.
June 18, 2014: Flu Prediction
Using the methods we developed in our influenza forecast project, Jeffrey Shaman, Wan Yang, Alicia Karspeck, and Marc Lipsitch  won the 'CDC Predict the Flu Challenge'.  Read the CDC Announcement and Mailman press release.