Through the Make with Data project, members of CSCO provided mentorship to high school students at various NYC public high schools to facilitate independent research projects on a variety of topics including student mental health, gentrification in NYC boroughs, and impacts of COVID on students. This project was funded through the end of 2020 by the NSF. PI: Cassie Xu (Earth Institute).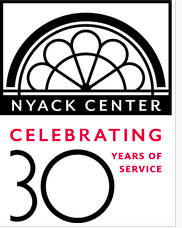 Nyack Center
The Nyack Center hosted a career panel in conjunction with their teen youth council with experts from the IRI coming to share their experiences in the STEM field. We look forward to a continued partnership for programming and future activities.

Lamont-Doherty Earth Observatory
The Lamont-Doherty Earth Observatory (LDEO) hosted the annual LDEO Open House in October 2020 virtually where several members of CSCO presented their research, led activities, and served on career panels. Starting in July 2021, we will be teaching six lessons over the course of six weeks with Bob Newton's Secondary School Research Program. These lessons will focus on climate basics, climate variability and climate communication, climate risks, the impacts of climate on society and cities, climate justice, and climate negotiations.

International Research Institute for Climate and Society
All of the members of CSCO work for the International Research Institute for Climate and Society (IRI) and work with the IRI to increase outreach.

NYC Public Schools
We have several ongoing partnerships with two middle schools in the New York City area. With Mott Hall School, we presented a lesson on the greenhouse effect with an ecological footprint and carbon footprint calculator. At Hamilton Grange School, we presented a lesson on hurricanes in New York City and looked at socioeconomic and flood hazard data to see the impacts of hurricanes in different neighborhoods. All of these lessons were created based on what the educators wanted to talk about and what the students have already learned. Both lessons are included on the resources page.
We are always looking for new partnerships, please contact us if you would like to work together!