NYC Public Schools
Hamilton Grange Middle School
Mott Middle School
Nyack Center Teen Council Career Panel (3/23/2021)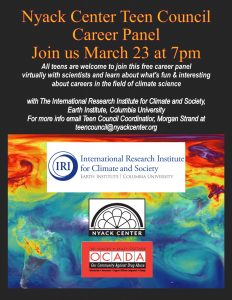 International Research Institute for Climate and Society (IRI) scientists share their career advice and expertise to teens in the Nyack community hosted by the Nyack Center. Hosted virtually because of the COVID-19 pandemic, four IRI employees detailed the work they do all over the world and answered any questions that the teens had about future job opportunities and their individual work.
International Research Institute of Climate and Society Open House (2/24/2020)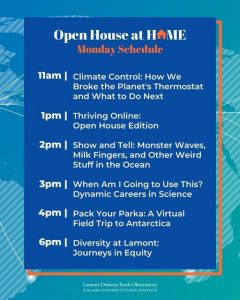 The annual Lamont Open House hosted by the Lamont-Doherty Earth Observatory aims to target a wide audience from young scientists to citizen scientists. Due to the COVID-19 pandemic, this year's open house was virtual that included panel discussions, K-12 activities, and staying up to date on the latest research conducted at the IRI and at Lamont.
Planned events and activities include:
To Farm or Not to Farm: An Introduction to Index Insurance
Fold and Forecast
Can You Talk Climate?
Imagining the Future City
And much more!
https://openhouse.ldeo.columbia.edu/