Mission Statement
The goal of the Charles Drew High School Pipeline Program is to increase the number of persons in the health professions by providing mentorship and a strong support network for high school students.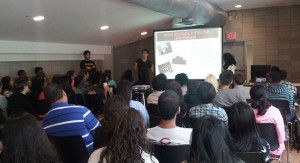 Description
This program pairs high school students with a mentor, a Columbia or Barnard premedical student, who helps to guide them through the college application process and offers advice regarding academic issues. The overall goal of the Pipeline Program is to create a strong support network for each mentee and to help ease the transition from high school to college.
We host a number of fun and informative events to reach out to high school students in  New York City. Our participants come from various schools including Cathedral High School, Manhattan Center for Science and Mathematics, and Fredrick Douglas Academy VII.
In addition to pairing each high school student with a pre-med mentor, we offer college admissions counseling with university administration, campus visits, pre-med workshops, panels, and social events.
For more information about joining the program, e-mail any one of the co-chairpersons of the Pipeline Program (See Current Executive Board List) or contact the general email: [email protected]