Strictly speaking, we've drunk the Gatorade, but with our new motto of "Semper Fly", we've been accused of becoming a cult (Semi-Latin evidently equates to cult).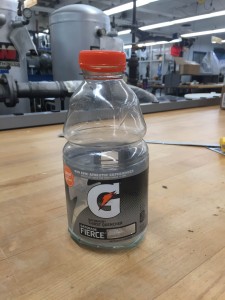 Anyway, here is our old friend the Gatorade bottle, which has been faithfully serving our club since we found out about this year's challenge in September.  Unfortunately, it suffered damage in our series of drop tests (see last post for exciting videos!).  We thus drank it in celebration of our completion of the report ( #Reportarama2016 ), and will replace it with a newer model shortly.  We are also pleased to note that no one got food poisoning from drinking six-month old Gatorade.
Either way, having now finished our report, we will spend the rest of our year till competition in construction.  So far, good progress has been made- both fuselages are complete, as well as one set of wings.  With any luck, all prototype construction will be complete by next weekend, and we'll start flying things around (which will mean more exciting videos!).  Until then, please enjoy some mid-construction pictures of our prototype.