Sound the bells; the report is complete! At a hilarious 54 pages in length, this document represents the culmination of our efforts so far this year. The report, graded by three separate judges, will be a major part of our contest score. It is also the compiled reference for our final design, and will guide us through constructing the competition plane according to the design choices we have made and the experimental results from our prototype and other tests.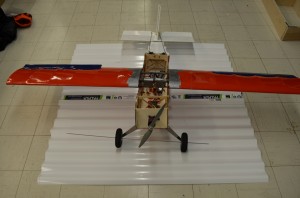 The kit and prototype planes have provided valuable test fodder. We tested the prototype with different wheels, taxiing along the corrugated sheet that we will have to navigate during the competition.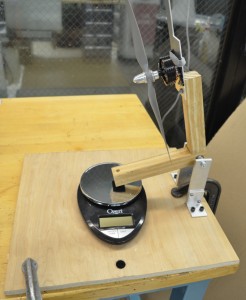 Our final task is to construct and fly the competition plane! All of the parts have arrived and the design is complete. The new motor has been put through its paces on the testing rig, shown to the right.
As always, if you are interested in building airplanes and airplane-building-related activities, stop by our weekly meetings on Mondays at 9 PM in 233 Mudd. Also head to the machine shop on the second floor of Mudd on Friday afternoons; we spend most of our build time there.