By RightsViews Staff Writer  Emily Ekshian
MADAGASCAR – Four years of prolonged drought has taken a toll on Madagascar as the country is on the brink of the world's first climate change-induced famine. Madagascar is an island-nation off the southeastern coast of Africa. Currently, the country is suffering from a destructive drought, where more than a million people are left food insecure and 400,000 people are confronted with a famine in the south, the epicenter of the crisis. 
The drought poses an imminent threat to the right to life, and opportunities for health, access to clean water, sanitation and food of people in southern Madagascar. As the crisis intensifies , people in the south have been left with no other choice than to  migrate in search of food. Tens of thousands of people were already suffering from the catastrophic levels of hunger and food insecurity after four years without rain. The drought has played a role in isolating farming communities, generating water shortages, and agricultural losses of up to 60% in the most populated regions.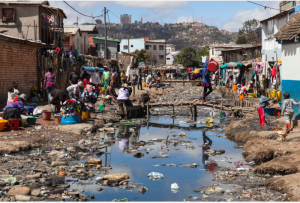 Global warming has unequivocally reshaped life in Madagascar, where people are forced to eat insects, mud, cactus and wild leaves to survive. The United Nations World Food Programme has stated that families facing acute food insecurity, are forced to make "devastating choices to cope with the rising hunger." The COVID-19 pandemic exacerbated these conditions, halting seasonal labor and tourism, with no site of tourism throughout the recent 18 months. The United Nations estimates that drought brought on by the impacts of climate change could displace as many as 700,000 million people by the end of this decade. 
While Madagascar produces only 0.01% of the world's annual carbon emissions, it is suffering some of the worst effects, with unreliable rains and crop failures.According to the World Food Programme (WFP), Madagascar is in the world's newest "highest alert" hunger hotspot list, as the country is in need of an estimated $78.6 million for food aid. The lack of rain in the southern portion of the country has led to crop failure, as a direct result of climate change. Winds have also contributed to blowing topsoil away, which are responsible for helping plants grow. In addition, increasing global temperatures have affected the monsoons that the country's agriculture had previously depended on for survival. 
The crisis is also placing a disproportionate pressure on women. The burden is really felt on female-headed households, which often rely on agriculture for their source of necessities and income. Women and children comprise the most of those experiencing "crisis" or "emergency" hunger conditions.  As the prices in the market drastically increase, up to 4 times original prices, people sell their lifesaving livelihood assets, farm implements, and kitchen utensils in order to  feed their families. Despite these efforts, people still struggle to face the brutal consequences of starvation and malnutrition. Severe acute malnutrition (SAM) affects approximately 20 million children worldwide and is the estimated cause for 400,000 child deaths each year. In Madagascar, nearly half of all children under the age of 5 experience SAM, which is only worsening amid the current crisis. Global Acute Malnutrition (GAM) level in children under-five in Madagascar has almost doubled over the last four months, to 16.5%.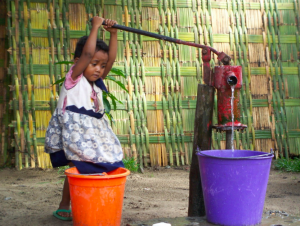 Madagascar already had the world's 10th highest rate of stunting, as almost half of all children under the age of five suffer from chronic malnutrition. The increasingly high levels of malnutrition in children under the age of 5 put them at heightened risk of growth delay and development in the long-term. The majority of them have been reduced to eating bugs and plants throughout their development. The hunger and malnutrition is the result of three years of ruined harvests, hampering access to food and affecting people across 10 districts. Amboasary, a region in southern Madagascar, is the hardest-hit district, which revealed that three-quarters of children were forced to drop out of school so they could help their families forage for food. Today, more than 1.35 million people in the Atsimo Andrefana region face acute food insecurity, and are experiencing dangerous levels of hunger. Death rates are increasing and local health and social services are unable to meet such high demand. These challenges are worsened by the ongoing Covid-19 pandemic.
The situation is even more dire for people with disabilities. They experience discrimination and socio-economic inequalities, high levels of insecurity, poor access to drinking water and sanitation facilities, difficulties in moving around and, above all, a lack of consideration for their specific needs. As in any crisis situation, people with disabilities, children and women are most affected. Thus, this drought induced famine has forced both people and animals to migrate to the northern area of the island, otherwise, survival is unbearable within the extreme heat. 
Climate impacts throughout Madagascar vary from region to region. The island experiences regular cyclones, and flooding in the North, and droughts in the South. Though, the south comprises semi-desert environments, receiving less than 800mm of rainfall annually. The average annual temperatures in the southern Madagascar region vary between 73°F/23°C and 90°F/32°C, making for warmer temperatures. The United Nations has warned of a se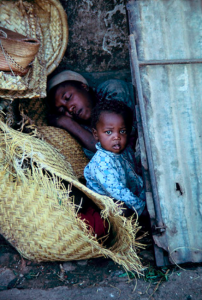 vere humanitarian crisis, as the four year drought has pushed approximately 30,000 people in the south to level five of famine, considered to be the highest phase of acute food insecurity, globally. 
According to the Integrated Food Security Phase Classification (IPC), famine is defined as an extreme deprivation of food. A famine classification of Phase 5 is the highest phase of the IPC Acute Food Insecurity scale. It is attributed when an area has at least 20% of households facing an extreme lack of food, at least 30% of children suffering from acute malnutrition, and two people for every 10,000 dying each day due to outright starvation or to the interaction of malnutrition and disease. Efforts from the international community in stabilizing the long term impacts of the climate crisis include a prolonged commitment to phase out fossil fuels, and implement human rights-consistent emission reduction targets to keep the world under a global 1.5°C global temperature rise. Many countries are also guaranteeing the right to information and complete participation regarding climate based challenges, and decision making processes. 
Despite long term plans instituted by multinational organizations, starvation, death, destitution and extremely critical levels of acute malnutrition have become prevalent among the populations of southern Madagascar, for now. World leaders, and international institutions like the United Nations and World Bank had previously vested promises and long term interests in solving hunger and preventing the climate disaster. Though, much of the world is now realizing that climate activism has become elitist. The lack of resources coupled with the climate change induced droughts and famines are leading to a vicious cycle of daily corruption, insecurities and uncertainties in Madagascar, and other vulnerable regions such as Afghanistan, Ethiopia and Sudan. 
Photos
Featured Image: "Madagascar Kids 4" by babasteve is licensed under CC BY-NC 2.0
"Pollution in poor areas built on swamps, Antananarive, Madgascar" by water.alternatives is licensed under CC BY-NC 2.0
"Madagascar" by luc legay is licensed under CC BY-SA 2.0
"MG002S04 World Bank" by World Bank Photo Collection is licensed under CC BY-NC-ND 2.0