By Ali Cain, RightsViews staff writer.
President Biden's summit with European leaders on June 15, 2021, was an important step in rebuilding the United States-European alliance. Contrary to former President Trump's belief that the European Union (EU) is a 'foe,' Europe remains one of the United States most important allies, especially in promoting human rights and democratization. Biden's statement that "Europe is our natural partner…we are committed to the same democratic norms and institutions, and they are increasingly under attack" summarizes why the U.S. and Europe must persist in using their shared values as a platform for cooperation. Despite the summit's optimism, many challenges lie ahead in a renewed transatlantic relationship, especially in promoting human rights.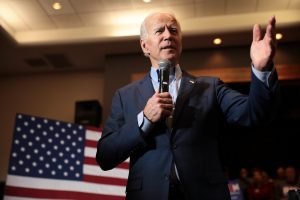 The COVID-19 pandemic remains the most pressing issue for all countries. However, geopolitical concerns present the largest obstacle to an effective transatlantic response to human rights abuses. The U.S. and EU face a combative China that utilizes investments, technology, and trade as successful foreign policy carrots and, at times, sticks. Although Democrats and Republicans are often aligned in their opposition to China, the EU's 27 member states have divided opinions that reflect disparate economic interests. For example, many participate in China's 16+1 program and receive funds for infrastructure, advanced technologies, and green technology projects. As a result, states dependent on China for investment see it as a partner and are more reluctant to criticize its government. Divisions in member states' opinions have consequences at the EU level as foreign policy decisions must be agreed upon unanimously. Most recently, Hungary, a member of the 16+1 program, blocked an EU statement that condemned a new security law in Hong Kong. 
Over-reliance on Chinese technology has also produced divergent European viewpoints. Many states depend on Huawei's 5G technology. Although some like Sweden banned Huawei and the EU has increased investments in its own 5G development, it will be difficult to replace Chinese telecommunications infrastructure. At the summit, the U.S. and EU announced the creation of a joint tech council to bolster cooperation and counteract China. This is a positive first step in increasing American and European independence from Chinese technology. However, no concrete actions were taken to combat China's internment of and genocidal violence towards the Uyghurs, its imprisonment of pro-democracy activists in Hong Kong, or its oppression in Tibet. China's strong economic influence will continue to inhibit transatlantic initiatives to promote human rights.
Another geopolitical challenge the U.S. and EU face is an increasingly aggressive Russia. The Kremlin props up autocratic rulers like Belarusian dictator Alexander Lukashenko, jails opposition leaders including Alexei Navalny, fuels the military conflict in eastern Ukraine, and commits cyber attacks, most recently in Poland. The U.S. and EU have more common ground on Russia and tend to align sanctions against Kremlin officials. However, American and European interests towards Russia diverge at times and weaken a strong western response to President Vladimir Putin's human rights abuses. One of the biggest issues is the Nord Stream II pipeline which will increase Germany and Europe's reliance on Russian gas and grant Russia more leverage over Ukraine. Under the Trump administration, sanctions were issued against companies working on the pipeline in the interest of European national security. Biden lifted these sanctions to decrease tensions with German Chancellor Angela Merkel's government. Although the completion of Nord Stream II will provide a respite between Germany and the U.S., it deepens European dependence on Russian gas and incentivizes states to adopt conciliatory approaches to Russia. As Putin continues to exert greater control inside and outside of Russia, the U.S. and EU will face more dilemmas in how to respond. 
The European neighborhood also presents a complex group of concerns that involve the United States' interests. Brexit increased tensions with the EU and is contributing to rising violence in Northern Ireland. Turkish President Recep Tayyip Erdogan's erosion of human rights and democratic institutions reflect his larger vision of an autocratic state that makes Turkey grossly incompatible with potential EU membership. Violence in North Africa escalates national security concerns, especially terrorism. As Europe begins to reopen its external borders to non-EU citizens, migration will likely increase, potentially prompting governments to close borders and incite human rights abuses against asylum seekers. Despite its geographical distance from Europe, the U.S. is impacted by the challenges Europe faces around its borders, notably terrorism. 
In light of these challenges, there are human rights initiatives that the U.S. and EU can collaborate on. Three issues they should prioritize are: 1) ensuring COVID-19 vaccine equity, 2) de-escalating tensions in Northern Ireland, and 3) strengthening cooperation on cybersecurity protections.
Ensure COVID-19 vaccine equity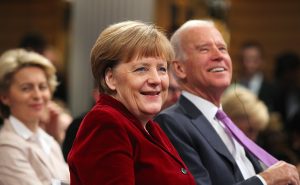 The U.S. and Europe must work together to guarantee that every country has equitable access to coronavirus vaccines. Currently, disagreements over the various vaccines' intellectual property rights are delaying further vaccine distribution to the global South. After 100 countries backed a World Trade Organization proposal to temporarily waive the intellectual property rights of COVID-19 vaccines and other pandemic-related health products, Biden declared his support of the waivers. Many European leaders, though, especially Merkel, have voiced opposition to waivers. They believe it will disincentivize pharmaceutical companies from producing enough vaccines. Merkel and the European Commission have also argued that the EU contributes significant vaccine donations and funding towards vaccine development through the global program COVAX. 
As the U.S. and Europe begin to lift restrictions and resume a sense of normalcy, the coronavirus continues to rage in the global South. Therefore, Biden should prioritize discussions with Merkel and the European Commission and continue advocating for a temporary suspension of intellectual property rights. His administration should consider what economic incentives could be offered to offset the concerns of pharmaceutical companies that are against waivers. Simultaneously, the U.S. and EU must increase vaccine donations, especially to countries with massive outbreaks like India. 
De-escalate tensions in Northern Ireland and uphold the Good Friday Agreement
The U.S. and EU must continue pressuring the British government to maintain the Good Friday Agreement and reduce tensions in Northern Ireland. The Good Friday Agreement ended decades of violence between Irish and Northern Irish paramilitary groups that led to the death of 3,600 individuals. Brexit created various trade complications including the introduction of a customs border in the Irish Sea and disruption of supplies to Northern Ireland. Exacerbated by the pandemic's economic consequences, Protestant pro-British groups in Northern Ireland have incited violence and there are genuine concerns that Catholic pro-Irish groups will retaliate. 
The U.S. and Europe share an interest in preventing future violence, especially as Ireland is a member of the EU. Although the Biden Administration is hesitant to get involved with trade disputes between the EU and UK, it can work with Europe and leverage Biden's recent meeting with British Prime Minister Boris Johnson to ensure the Good Friday Agreement is secure. One way to do so, which has already been considered by the U.S., is refusing to sign a free trade agreement with the UK unless there are real steps taken to uphold the Agreement. The U.S. and EU can also increase investments in Northern Ireland, where youth employment is high, and mediate between the British, Northern Irish, and Irish governments. 
Strengthen cybersecurity efforts 
The U.S. and Europe have faced cybersecurity attacks by Russia, Iran, and China. At his summit with Putin on June 16, 2021, Biden stressed that critical infrastructure sectors such as telecommunications and energy should not be targeted by cyberattacks. It is unlikely that Putin will uphold Biden's request, despite warnings of U.S. retaliation. However, the two agreed to consultations between their cybersecurity experts and discussions of what is acceptable behavior. 
The U.S. should include the EU in these consultations and coordinate stances on cybersecurity norms. As elections approach in Europe, strong cybersecurity protections and responses to Russian interference are necessary. Not only is European inclusion important for practical security concerns but a U.S. and EU partnership on cybersecurity will further reinforce the transatlantic relationship as well. Both should focus on reaching an agreement with Russia on cybersecurity norms while also planning for enforcement and accountability mechanisms. The U.S. and Europe should also consider how to strengthen their own cybersecurity infrastructures together and examine how to utilize the new tech council as a platform for innovation. 
One of the most important lessons learned from the Trump presidency is that the United States needs its allies. The transatlantic relationship is one of the Biden Administration's most useful tools to promote and establish greater human rights protections. For the Europeans, President Biden represents a renewed opportunity for greater collaboration and revived American global leadership. Without a strong U.S.-EU relationship, human rights will continue to be threatened and democratic decline will persist. 
Photo Credit
Photo 1: Council of the EU and the European Council
Photo 2: "Joe Biden" by Gage Skidmore is licensed under CC BY-SA 2.0
Photo 3: "Munich Security Conference 2015 Impressions" by munsecconf is licensed under CC BY-NC-SA 2.0