By Susy Prochazka, RightsViews staff writer and graduate student in the human rights MA program.
In modern conflicts, women make up the majority of those displaced from their homes and communities, endure more property and economic damages, and suffer extreme physical harm and sexual violence at the hands of militia groups, but peace negotiations fail to incorporate their voices. Despite being those most harmed by conflict and regardless of evidence that their meaningful participation is vital in implementing a lasting peace, women are consistently and conspicuously absent from the peacebuilding process. 
Last year marked the 20-year anniversary of UN Security Council (UNSC) resolution 1325, which recognized, for the first time, the unique impact conflict has on women and the critical role women play in conflict resolution and peacebuilding. Resolution 1325 emphatically stressed the importance of women's leadership and meaningful participation in conflict resolution and repeatedly reaffirmed the necessity of women's "full, equal and meaningful participation" in peace processes. Even with the adoption of UNSC resolution 1325, nine supporting UNSC resolutions passed in the interim, and over 90 countries adopting their own national plans to translate these UNSC resolutions into actions, women's voices are still blatantly excluded from peacebuilding. 
Only two women in history have ever served as chief negotiators on peace accords.  Between 1992 and 2019, women held few leadership roles in the peacebuilding process, with women constituting only 13% of negotiators and 6% of mediators and signatories in major peace processes concluded during this timeframe. Recent peace efforts in 2020 and 2021 have similarly excluded women. In Yemen's 2020 peace process, there were no women negotiators. In Libya's 2020 military talks, there were no women negotiators. This demonstrates a continued inability or unwillingness to acknowledge the growing evidence that women's contributions to the peacebuilding process are vital in reducing conflict and improving long-term stability. 
According to studies conducted by the International Peace Institute (ISP), when women participate in peace processes, the resulting peace agreement is 35% more likely to endure a minimum of 15 years. These studies indicate that women are usually focused less on the so-called "spoils" of war and more on reconciliation, education, economic development, and transitional justice – crucial elements of a healthy and sustained peace. In advancing peace, women often adopt different tactics and hold different roles than those expected in more formal peace negotiations involved in high-level state security discussions, including working across  divides, acting as honest brokers, broadening the peace talk agenda, and aiding post-conflict recovery.
Women tend to work across divides, taking a more collaborative approach to peacebuilding and reaching across cultural and sectarian lines. In Israel and the Palestinian Territories, for example, Israeli and Palestinian women leaders in Gaza have built coalitions across national, ethnic, and religious divides in order to promote nonviolent efforts in ensuring security and access to basic utilities. Also in Gaza, a women's coalition mobilized a mass protest of over a thousand women to call for the immediate restart of peace talks in 2014.
Because women often operate outside existing patriarchal power structures and thus are not considered leaders of fighting forces or to be belligerents participating in the conflict, they are perceived to be more politically impartial and honest brokers in peace negotiations. In ending the Troubles in Northern Ireland, the Northern Ireland Women's Coalition (NIWC) played a key role in the formal peace negotiation process of reaching the Good Friday Agreement. NIWC was asked to participate in the peace talks as the organization was seen as a neutral and honest broker, removed from the main political blocs of power and thus capable of working with all political parties in encouraging dialogue and reaching compromises.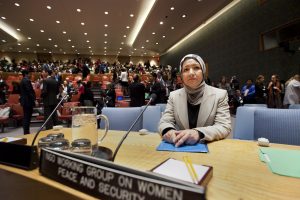 By broadening the agenda of a peace process, women are more likely to ensure a durable peace agreement. Women are more likely than men to raise larger social issues in peace negotiations when discussing what is needed to help societies reconcile and recover. Instead of focusing solely on power-sharing, territorial gains, or military actions, women tend to highlight necessary societal reforms and economic recovery programs, as well as transitional justice initiatives that make a sustainable peace much more probable. In reaching the 2016 comprehensive peace agreement and ending fifty years of armed conflict between the Colombian government and the Revolutionary Armed Forces of Colombia, Colombian women played a vital role, organizing a national summit on the issue of women and peace and participating on both sides of the negotiation table. Through these efforts, Colombia women successfully facilitated the inclusion of terms in the final peace agreement that ensured the rights of women and girls, safeguarded the rights of indigenous women, addressed gender-based violence and post-conflict accountability for sexual violence.
Ensuring women's participation in post-conflict recovery advances stability in post-conflict regions. Studies by the ISP indicate that commissions charged with delivering on specific aspects of a peace agreement—such as monitoring disarmament and demobilization, establishing a truth and reconciliation process, or drafting a constitution—are markedly more effective when women hold leadership roles in the process. Women also tend to direct post-conflict resources to the reconstruction of public institutions and provision of services critical to long-term stability, including education systems, healthcare services and basic utilities like clean drinking water and access to food, all of which lend to a more stable post-conflict society. The 1995 Guatemalan peace accords brought an end to a brutal 36-year civil war in which the government carried out a genocidal campaign that decimated the indigenous Mayan civilian population. Not only were women involved in the formal peace negotiations (making up 25% of the formal diplomatic commissions) women were vital in the post-conflict recovery by aiding in the goal of disarmament. Within local communities, women organized grassroots campaigns for disarmament, encouraging their neighbors and local community members to surrender their weapons, as well as developed programs that assisted former guerrilla fighters in finding employment.  
In ignoring the demonstrated contribution of women in peacebuilding, both in formal and informal channels, and failing to include women in peace processes, there is a real barrier in ensuring sustainable peace in today's conflict regions.  
Photo Credit
"Indonesia – Community Peacebuilding Discussions" by UN Women Gallery is licensed under CC BY-NC-ND 2.0
"Security Council holds open debate on women and peace and security" by UN Women Gallery is licensed under CC BY-NC-ND 2.0
Citation List
Council on Foreign Relations, Women's Participation in Peace Processes, July 2020, https://www.cfr.org/womens-participation-in-peace-processes/.
Council on Foreign Relations, Women's Participation in Peace Processes: Israel and the Palestinian Territories Case Study, 2020, https://www.cfr.org/womens-participation-in-peace-processes/israel-and-palestinian-territories.
Daniel K. Eisenbud, Women Wage Peace rally in Jerusalem for peace talks, The Jerusalem Post, October 29, 2016, https://www.jpost.com/Israel-News/Women-Wage-Peace-rally-in-Jerusalem-for-peace-talks-470450.
 Marie O'Reilly, Andrea Suilleabhain, Thania Paffenholz, Reimagining Peacemaking:Women's Roles in Peace Processes, International Peace Institute, 12,  June 2015, https://www.ipinst.org/wp-content/uploads/2015/06/IPI-E-pub-Reimagining-Peacemaking.pdf.
Patty Chang, et al., Women Leading Peace: A close examination of women's political participation in peace processes in Northern Ireland, Guatemala, Kenya and the Philippines, Georgetown Institute for Women, Peace and Security, 45, 2015, https://giwps.georgetown.edu/wp-content/uploads/2017/08/Women-Leading-Peace.pdf.  
UN Women, Media advisory: UN Security Council marks 20 years of Women, Peace and Security, October 26, 2020, https://www.unwomen.org/en/news/stories/2020/10/media-advisory-security-council-marks-20-years-of-women-peace-and-security.
UN Women, 1325: A Global Study on the Implementation of United Nations Security Council Resolution 1324, "Women's Participation and a Better Understanding of the Political," 6, 2015,  https://wps.unwomen.org/pdf/CH03.pdf.
UN Security Council, Security Council resolution 1325 (2000) [on women and peace and security], October 31, 2000, S/RES/1325 (2000).
Virginia M. Bouvier, UN Women Background Paper: Gender and the Role of Women in Colombia's Peace Process, 6,  March 4, 2016, https://www.usip.org/sites/default/files/Gender-and-the-Role-of-Women-in-Colombia-s-Peace-Process-English.pdf.