By Kelly Dudine, a staff writer at RightsViews and a graduate student in the Human Rights MA Program
Globally, girls and women are simultaneously among the most overworked and most impoverished populations. Entire economies thrive due to the unrecognized and undervalued labor of women, including household work, care work, and informal and low-wage labor. 
During the continuation of the COVID-19 pandemic, girls and women stand to lose even more. Women in varying levels of employment are now struggling to maintain dignified work, and many fear the loss of income more than the pandemic itself. "During the first lockdown, all the artisans were tense about not having enough orders to work and feared not getting paid," said Rosna Kafle, Chair of the Kopila Valley Women's Cooperative in Surkhet, Nepal.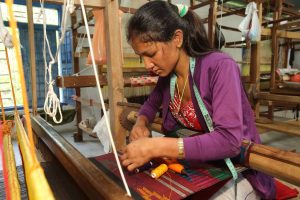 The Cooperative employs some of the most vulnerable women in the community with work as tailors and weavers. Before the Cooperative, many of the artisans were unemployed, or performed hazardous work, like breaking stones or manual labor, notes Kafle. Now, their biggest fear is that the Cooperative will have to close. "Our artisans frequently called looking for more orders and for more work. They wanted to work. Their work was the most important thing to them. They are more afraid of losing this work than they are of COVID-19," says Kafle. 
But, as a small Cooperative in a rural town, the future of the business is uncertain. "The first shutdown happened without any notice. We were not prepared for disaster management," said Kafle. "The town started to run out of supplies and materials. Shipping and transportation costs increased dramatically. We are now operating at a loss, and we had to close our store in town."
Despite all these challenges, the Cooperative shifted its focus in an effort to keep the doors open and the work coming. Kafle describes how: "We realized there was a shortage of masks and PPE available, so we took sewing machines to the homes of the artisans and we started making masks for the local hospital and for local people. It didn't bring in a lot of money, but at least we could keep the women busy with work, while also supporting the community."
While the Cooperative has managed to stay open, the economic trends in Nepal are deeply troubling, especially for women. New data from UN Women reveals that 65% of women in formal employment indicated that their hours have decreased during the pandemic, and 30% of women in informal employment reported complete job loss. The data also shows that 45% of women were unable to seek medical care when needed, and  66% of women reported that the pandemic negatively affected their mental/emotional health.
The experience of the Cooperative and women in Nepal is not unique. Alyssa McGarry, Founder of Hiptipico, an ethical fashion brand based in Panajachel, Guatemala, has expressed similar concerns for the Indigenous artisans who the company employs. "People want to work," says Alyssa, echoing the sentiments of Kafle. Hiptipico's engagement with Indigenous artisans varies, with some local cooperatives working exclusively with the brand, while others also run their own stores and businesses. Most depend greatly on local tourism for income. For those women, Alyssa says, the pandemic has taken the hardest toll.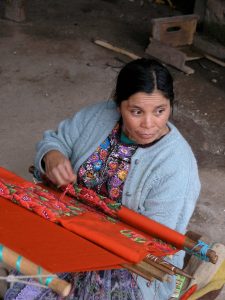 As the pandemic closed borders and stemmed the flow of tourism to the city, Alyssa says many have been unable to afford rent and have had to close their stores. Even those who had other international buyers have seen a reduction in business as their clients have been unable to maintain their orders. 
"The biggest fear for many is the long-term effects of the pandemic," says Alyssa, who notes that if tourism does not come back, there are limited employment options for many of the artisans. It is possible that many families will resort to migration, sending family members to other regions, or abroad, to seek work. Increased emigration can incur a substantial social cost, including the breakdown of social networks and the family structure, as well as increased psychosocial stress. In the longer-term, emigration can also damage the economic viability of the origin country through the loss of labor force and productive capacity.
According to the World Bank, the Guatemalan economy is expected to contract by 3 % in 2020 due to the pandemic, which could cause severe adverse social effects. The organization notes that job loss is expected to be highest in construction, commerce, and other sectors, including those where female employment is prominent. Incomes of the self-employed and those that depend on tourism and entertainment are also expected to decrease.
The data is clear: for girls and women around the world, financial hardship is predicted to be dire. New evidence indicates that gender gaps in extreme poverty will worsen as a result of the crisis. According to a UNDP-UN Women initiative, 435 million women and girls will be living on less than $1.90 a day worldwide by next year. This includes 47 million women and girls impoverished specifically by the pandemic. The data also show that women in their reproductive years, or those who have young children to care for, are at the highest risk of falling into poverty. 
This is not surprising, given the intense pressure on girls and women to prioritize family health and well-being over paid labor. A recent study by the McKinsey Global Institute stresses COVID-19's "regressive effect on gender equality," estimating that the jobs of women are 1.8 times more vulnerable in this crisis than those of men. One reason for this, the report suggests, is that the pandemic is significantly increasing the burden of unpaid care, brought on by the closure of schools and loss of childcare, among other factors.
The pandemic is especially concerning for low-income workers. There are over 23 million workers in the low-wage workforce, two-thirds of whom are women who are typically paid 15% less than men in these roles. The workforce behind global supply chains, which employ approximately 190 million women, is of particular concern. From factories to farms, supply chains are notorious for allegations of low pay, poor working conditions, job insecurity, and instances of sexual harassment and violence. 
According to Business for Social Responsibility, a global nonprofit organization that works with businesses to build justice and sustainability, in addition to the risk of exposure to COVID-19, women in global supply chains face increased economic hardship and exacerbated risk of violence. Furthermore, women who once found some independence by earning an income may be relegated back to more traditional roles as primary caretakers in the home of children and the elderly because of the pandemic. 
The impact of the pandemic will go far beyond job and income loss. Girls and women are also expected to face an increased burden of unpaid domestic care work and increased instances of gender-based violence. Strained healthcare systems are also resulting in a loss of access to essential health services, including family planning and reproductive health supplies. Furthermore, the mental and emotional impact is already taking its toll, as women show increased rates of stress, anxiety, and mental health challenges.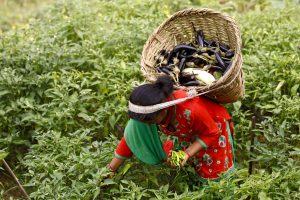 The pandemic is placing female workers around the globe in jeopardy, from those who work for large companies on the factory floor, to those who sell handmade goods in small markets. In many of these cases, however, the pandemic is only exacerbating inequalities and vulnerabilities that have existed for decades. 
Women's labor remains dramatically undervalued and unprotected, which undermines the right to work and to provide for their families, and perpetuates a cycle of poverty. As fears of the pandemic and the economic crisis it has unleashed increase, we must do more to support the global women's workforce, who for too long have carried undo labor burdens. 
Photo Credits
"Guatemala – Rural Women Diversify Incomes and Build Resilience" by UN Women Gallery is licensed under CC BY-NC-ND 2.0
"Women Produce Handicrafts" by World Bank Photo Collection is licensed under CC BY-NC-ND 2.0
"Mujer tejiendo – Woman weaving; Casería de Las Vegas; entre Poaquil y Santo Apolinar, Chimaltenango, Guatemala" by Lon&Queta is licensed under CC BY-NC-SA 2.0
"Nepal – Joint Programme for Rural Women Farmers" by UN Women Gallery is licensed under CC BY-NC-ND 2.0