By Larissa Peltola, a staff writer for RightsViews and a graduate student in the Human Rights MA Program. 
The Roma, pejoratively referred to as Gypsies, are Europe's largest and most marginalized and disenfranchised ethnic minority.  There are an estimated 10-12 million Roma in Europe, making up 5 percent of the population. The Roma are most concentrated in Italy, Spain, France, and the UK, according to Amnesty International, but have settled in every country on the continent. Originally migrating to Europe in the 9th century from Northern India and what is now Iran, Turkey, and Armenia, the Roma have faced discrimination, racism, xenophobia, and inhumane treatment in every country they have settled in. They were forced into slavery in most of Europe leading up to the 19th century, were the second-largest group targeted for extermination by the Third Reich (an estimated 25-75% of Europe's Roma population were decimated in WWII), and were targeted for murder and rape during the conflict in Kosovo.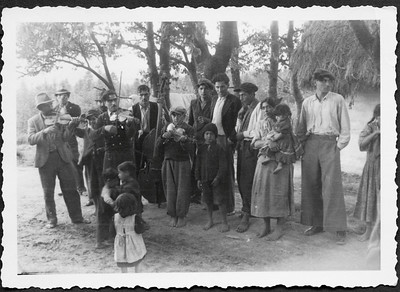 Today, the Roma are still described using the most common negative stereotypes: gypsies, thieves, criminals, savage, lazy, intellectually inferior, and other derogatory descriptions. A majority live in slums without access to running water or electricity and are at near-daily risk for violence committed by non-Roma European citizens. In 2019, six French men were arrested in a plot to burn down a Roma camp near Paris due to their belief in the baseless accusation that French Roma had been involved in a kidnapping ring in poor Parisian neighborhoods. Despite this failed attempt, anti-Roma sentiment and violence in France spiked soon after these racist and unfounded allegations circulated on social media. According to the New York Times, over several days Roma men were beaten and threatened according to advocacy groups. In Rome in 2017, three young Roma girls aged 4, 8, and 20 were burned alive when their camper-van was set on fire in an intentional attack on the camp. These are merely a few of countless examples of physical violence against the Roma.
European citizens are not the only ones guilty of inciting violence against the Roma. Government officials from several countries have used their influential platforms to call for violence against the Roma. French National Assembly Member Gilles Bourdouleix remarked in 2013: "Maybe Hitler didn't kill enough of them." Hungarian ruling Fidesz party co-founder Zsolt Bayer declared: "A significant part of the Roma are unfit for coexistence. They are not fit to live among people. These animals shouldn't be allowed to exist. In no way. That needs to be solved — immediately and regardless of the method."
Repeated violence and discrimination against the Roma continue to have a detrimental effect on their communities throughout Europe. Currently, 90% of Roma are at risk of extreme poverty, are subjected to forced evictions and deportations, face educational segregation, and on average, have lifespans that are ten years shorter than their non-Roma counterparts. Over 77% of Roma and Travellers (a similar nomadic but ethnically distinct group mainly living in Western Europe) in the UK have been victims of racially motivated attacks and hate crimes and in the UK, 70% of Roma experienced discrimination in seeking education, nearly 50% were refused employment due to their ethnicity, and 30% cannot access proper healthcare. Moreover, there are few recent reports on the overall status of the Roma in Europe as a majority of countries choose not to collect or take part in data collection.
This begs the question: why, in practice, have the rights of the Roma been left out of human rights discourses in Europe? This is a question that can only be answered honestly by confronting over a thousand years of racism, negative stereotypes, and xenophobia. Much of the discrimination they face has to do with the perception of their culture. Many Europeans view Roma culture as one that has a collective identity based upon a nomadic lifestyle, a group full of fortune tellers, beggars, thieves, child snatchers, people that are too lazy to work or get an education and instead choose to be a drain on society. Many believe that Roma lifestyles not only contradict, but are also inherently dangerous to the European way of life. These ideas emerged from a series of stereotypes imposed on them shortly after their enslavement in the 13th century. Consider the character of Esmerelda from the Hunchback of Notre Dame, Cher's popular song Gypsies, Tramps, and Thieves, or the reality show My Big Fat Gypsy Wedding which follows teen "Gypsy" brides. Each of these examples perpetuate the stereotypes of Roma girls as sexually promiscuous, Roma men as predators, and the Roma in general, as criminals. These myths were further perpetuated during the Holocaust and continue to spread throughout Europe today, made worse by social media. The Roma are continually scapegoated and are blamed for social, political, or economic problems facing the state.
Despite a large population, there is no central Roma authority since there is not one single Roma identity but instead a variety of unique cultural and linguistic groups throughout the continent. Moreover, there are few powerful Roma figures and very few politicians or others that can lobby on their behalf. The lack of advocacy on behalf of the Roma also comes from a lack of reliable data on their communities. On average, European countries do not dedicate enough resources for the collection of disaggregated data, which is essential in order to develop programs tailored to the needs of the community. Without this necessary data, financial resources cannot be allocated by the European Union, European Commission, and state governing bodies, thereby trapping the Roma into continued cycles of poverty. 
Incorporating Roma rights into the broader human rights framework necessitates an assessment of the legacy of colonialism in Europe that has gone unacknowledged and unaddressed. International organizations like Open Society Foundation, founded by George Soros, and Former Secretary of State Madeline Albright's National Democratic Institute, have committed millions of dollars to advancing Roma rights throughout Europe, with varying degrees of success. However, many European politicians have pushed back on allowing for greater Roma participation in the social, cultural, and political field. Some countries have been accused of not distributing funds specifically allocated by international funders and the European Union for the advancement of Roma rights and community projects.  
The Roma have been victims of mass atrocities and genocide throughout history and continue to experience cultural genocide. Each European country where the Roma live has a legal and moral obligation to address the multitude of human rights violations against the Roma. States are responsible for correcting racial injustices by: 
integrating Roma children and adolescents into schools and putting in place mechanisms to prevent educational segregation, 

increasing access to the healthcare sector, 

developing discrimination and harassment training programs in all levels of society, especially for the police, prosecuting crimes against the Roma as hate crimes, and 

sentencing perpetrators of these crimes to the full extent of the law. 
If European countries continue to promote the idea that they are the defenders of human rights and that they fully embrace the articles of the Universal Declaration of Human Rights, then they must do more to protect the most vulnerable and disenfranchised population on their continent.
It is time that Roma citizens be treated with the dignity and respect under the law that is afforded to all other Europeans.