By: Kyoko Thompson, staff writer at RightsViews
"A commission is coming from Saudi Arabia tomorrow; they have something to do in the Consulate. They will have something to do on my floor in the office." – October 1 2018, 21:48
At 1:15 PM on Tuesday, October 2, 2018, Washington Post contributor and longtime journalist Jamal Khashoggi entered the Saudi consulate in Istanbul, Turkey, and was never seen again. His death was not the first of its kind. According to the United Nations, more than one thousand journalists have been murdered since 2006. Yet it drew international attention from governments and individuals alike, many of whom demanded justice. The events that followed challenged the limits of international law and U.S. foreign policy. One year later, an investigation yields more questions than answers, such as: What does justice for Khashoggi look like? Is his death a manifestation of a deeper, more insidious trend? And: What is the future of free speech in an era where authoritarianism and misinformation are not an outlier, but the norm?
"He has arrived." – October 2, 2018; 13:13
In November 2018, Turkey shared audio of Jamal Khashoggi's October 2nd visit to the Saudi consulate with Britain, France, Germany, Saudi Arabia, and the United States. In it, Saudi officials can be heard discussing Khashoggi's imminent arrival and assassination. The recordings, obtained from inside the consulate itself, provide gruesome confirmation of what was already strongly suspected by journalists and politicians alike: Jamal Khashoggi was lured to the consulate under the false pretense of obtaining documents required for his marriage to then-fiancee Hatice Cengiz, and brutally executed, dismembered, and disposed of by Saudi authorities. 
Much of the narrative available to the public today is the result of the efforts of the UN Special Rapporteur on Extrajudicial, Summary or Arbitrary Executions, Dr. Agnes Callamard—who, with the assistance of the recordings, consulate security footage, and Turkish authorities, was able to piece together the events immediately leading up to, and following, Khashoggi's death. An expert in human rights, Dr. Callamard possesses extensive experience in the field, having previously worked with Amnesty International, Humanitarian Accountability Partnership (HAP), and ARTICLE 19. In December 2018, she began a six-month investigation that culminated in the release of her report on the inquiry into the unlawful death of Jamal Khashoggi at the 41st session of the Human Rights Council in June of this year. Her findings, which criticize the international response to Khashoggi's murder—including the response of Saudi and U.S. officials—shed a harsh light on the consequences of free speech, and the limitations of international law. Her official opinion? This was a state-sanctioned killing. 
While Saudi authorities have continued to insist that Khashoggi's death was a domestic matter, "I completely disagree with this analysis," said Dr. Callamard at an event at Columbia Law School last month. On the contrary, she says, Khashoggi was murdered by fifteen Saudi officials—named in her report—"fourteen of whom in my opinion have worked together before." And, while she did not assign individual liability, she did strongly assert that Khashoggi's death "constituted an extrajudicial killing for which the State of the Kingdom of Saudi Arabia is responsible." Moreover, the killing—and Saudi Arabia's procedural and official response to it—violated multiple international laws, including the Vienna Convention on Consular Relations. According to Dr. Callamard, the impact is clear: this was a crime "of such a nature, in my view, that it qualified as an international crime, and therefore that it could lead to universal jurisdiction." 
"How could this happen in an embassy?" – Jamal Khashoggi, October 2, 2018; 13:22
Khashoggi, who left Saudi Arabia in self-imposed exile in September of 2017, was a well known Saudi dissident and critic of Crown Prince Mohammad bin Salman. He claimed that the government had banned him from using Twitter and pressured his publishers to fire him; and in fact his column in Al-Hayat, a popular Arabic daily, was canceled earlier that year. Determined not to be censored, Khashoggi moved to the United States so that he might continue to write for the Washington Post. In an opinion piece shortly after, he wrote "I have made a different choice now. I have left my home, my family and my job, and I am raising my voice. To do otherwise would betray those who languish in prison. I can speak when so many cannot. I want you to know that Saudi Arabia has not always been as it is now. We Saudis deserve better." 
Human Rights Watch has confirmed that Saudi Arabia has a history of stifling free expression. In 2015 alone, more than six writers and advocates were arrested and punished for peacefully expressing their opinions. According to Human Rights Watch, "One was sentenced to death and the others to lengthy prison terms. At least four were also banned from traveling abroad for five to 10 years." Usually, the sort of opinions that cause pushback from the Saudi government are those that characterize it, or its leadership, unfavorably. Khashoggi, however, believed he was being silenced because of remarks he made at an event in November of 2016. At the event—a panel discussion at the Washington Institute for the Near East—Khashoggi warned that Saudi Arabia should be wary of a Trump presidency because his stances on the Middle East were contradictory, which wasn't likely to change. Ironically, Trump has actually remained steadfastly supportive of Saudi Arabia since taking office—so supportive, in fact, that he turned a blind eye to Khashoggi's murder.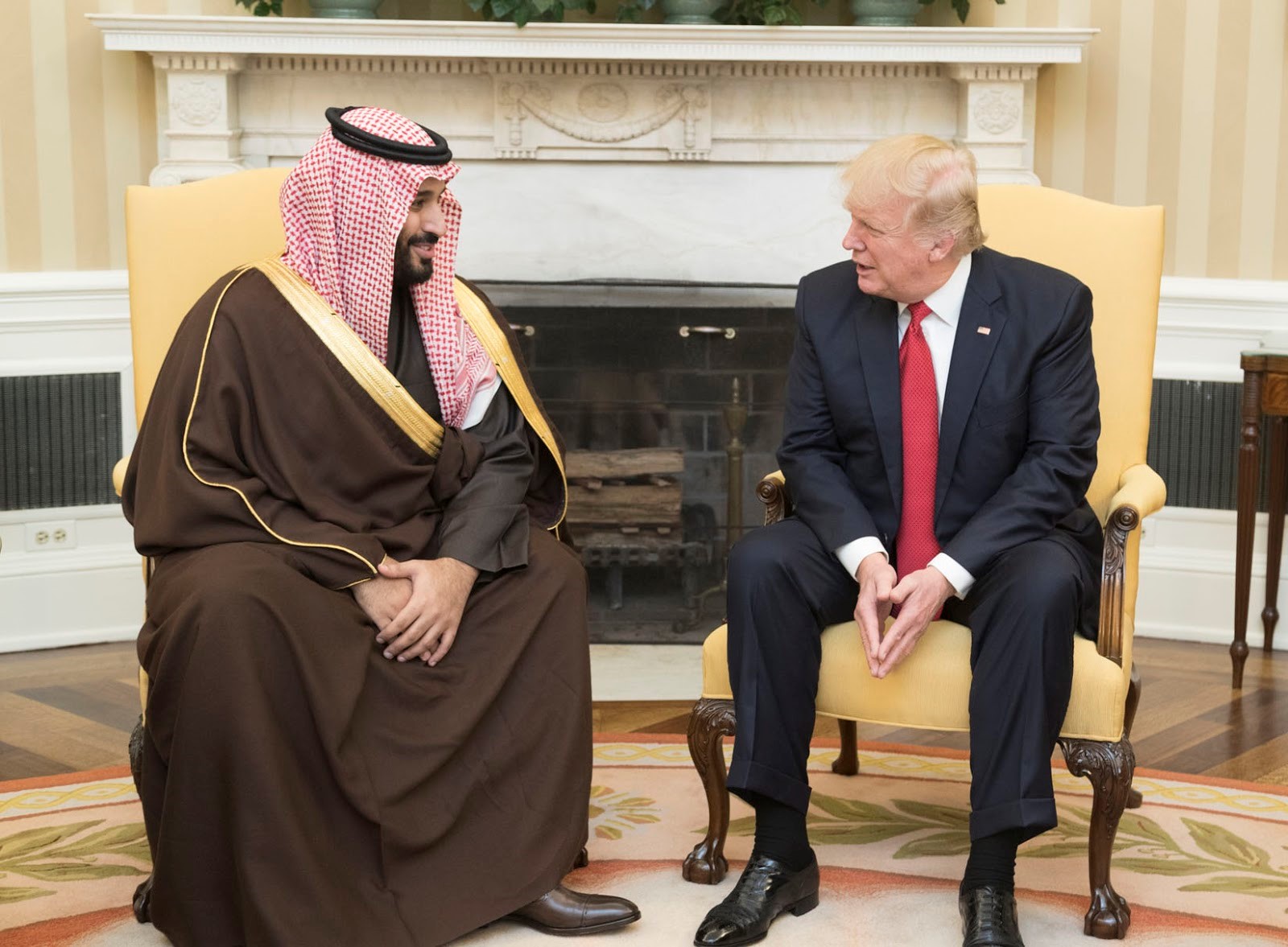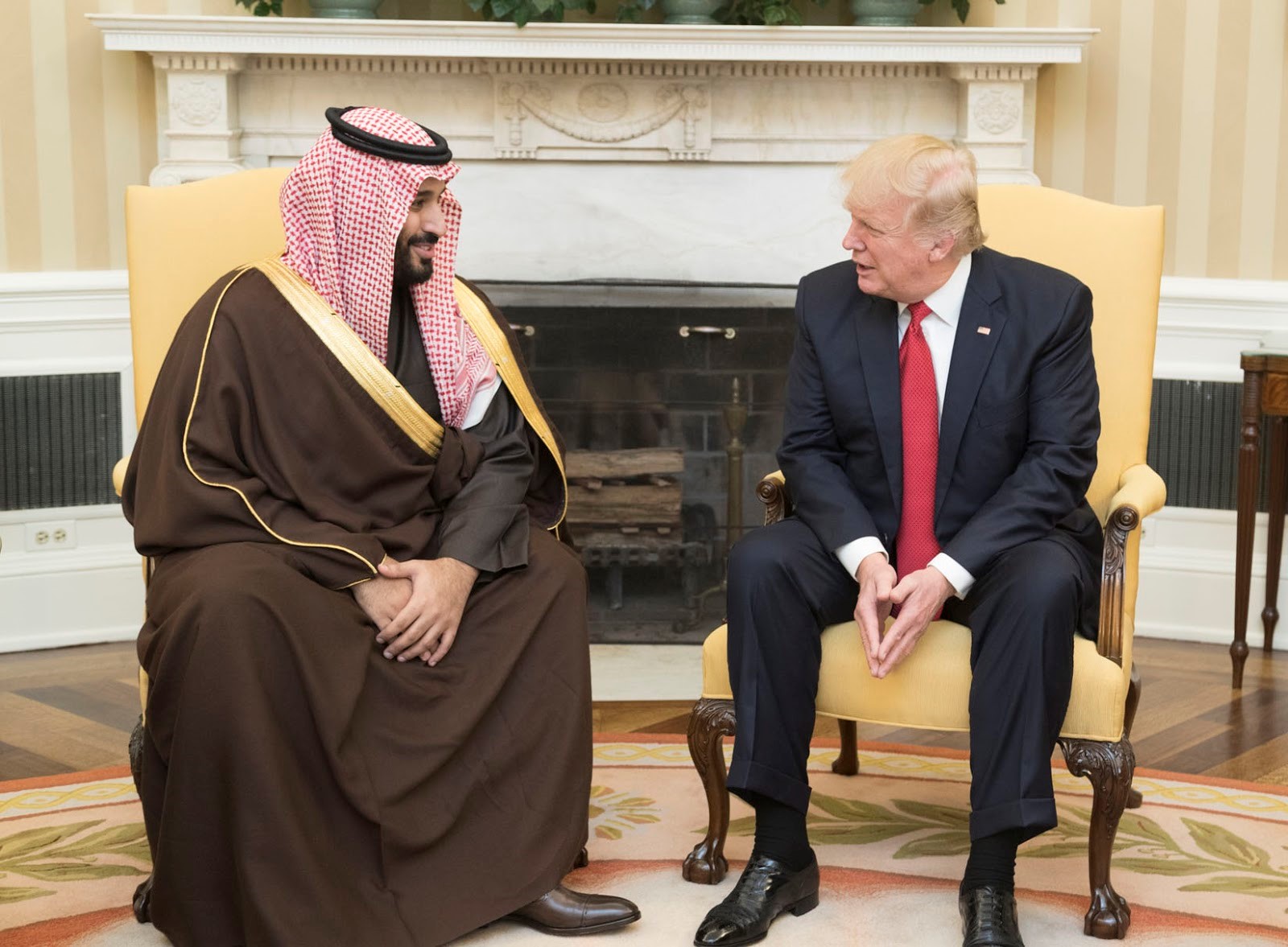 Nearly two months after Kashoggi's disappearance and after weeks of seeming to avoid commenting on the incident, President Donald Trump finally announced that he was "standing with Saudi Arabia." In many ways, this is not surprising; according to the Council on Foreign Relations, Saudi Arabia is a "critical strategic partner in the region," and the countries' cooperation in mutual business and security interests survived even 9/11.  In his statement, issued in November 2018, Trump cited mainly economic reasons—not the least of which was oil—for his continued support of a state that even the CIA concluded ordered the extrajudicial killing and dismemberment of a U.S. resident and Washington Post journalist. "After my heavily negotiated trip to Saudi Arabia last year, the Kingdom agreed to spend and invest $450 billion in the United States. This is a record amount of money. It will create hundreds of thousands of jobs, tremendous economic development, and much additional wealth for the United States."
If Donald Trump was to radically diverge from the course set by previous administrations and stand against Saudi Arabia, one imagines that it would not be spurred by the untimely death of a journalist. He has, after all, shown little respect for journalists and their trade. Notorious for denouncing publications that describe him unfavorably, Trump has referenced "fake news" in his Tweets no less than 578 times since winning the 2016 presidential election—that's once every two days. Perhaps even more appallingly, on October 24th, 2019, Trump canceled subscriptions to two publications that will henceforth no longer be delivered to the White House. White House Press Secretary Stephanie Grisham defended the decision, saying that "hundreds of thousands of taxpayer dollars will be saved" as the administration moves to force other federal agencies to cancel their subscriptions, as well. The publications that were banned? The New York Times and the Washington Post—two publications that frequently criticize Trump and his administration (the infamous September 2018 op-ed in The New York Times is a rather memorable example). 
Is it a coincidence that the very publication Jamal Khashoggi, a Saudi journalist whose government made numerous attempts to silence before murdering him in cold blood, contributed to is one which Trump himself has slandered and suppressed? Maybe. It is certainly eerie, though, that months before Khashoggi's death, in February of 2017, the newspaper—which has not had an official slogan since its founding in 1877—changed its headline to "Democracy Dies in Darkness." Washington Post associate editor Bob Woodward said it wasn't so much a response to Trump as it was about "the dangers of secrecy in government, which is what I worry about most." In fact, Woodward credits federal judge Damon J. Keith for the slogan. Keith wrote "Democracies die behind closed doors" in his 2002 ruling on Detroit Free Press v. Ashcroft, which centered around closing immigration cases off from the press and public if they were of special interest to national security. He continued, "The First Amendment, through a free press, protects the people's right to know that their government acts fairly, lawfully, and accurately…When government begins closing doors, it selectively controls information rightfully belonging to the people. Selective information is misinformation." 
Judge Damon Keith passed away earlier this year, but his contributions to the law, civil rights, and free expression endure; and so do his parallels to today's events. Because, you see, Judge Keith was famously sued personally by President Richard Nixon over his 1971 ruling against warrantless wiretaps—the sort of warrantless wiretaps used in the Watergate break-in a year later. Nixon, the president who used executive privilege to defy subpoenas, concealed information from Congress, and fired those that opposed him. The president whose close advisors were indicted for obstruction of justice. The president who was certain to be impeached in the House after a single, revelatory phone call. 
Free expression is a human right. It is protected in international human rights instruments such as the Universal Declaration of Human Rights,  the International Covenant on Civil and Political Rights, the International Covenant on Economic, Social and Cultural Rights, among a plethora of others. Its significance is explicitly described and protected in documents such as the Office of the High Commissioner for Human Rights General Comment No. 10, 11, and 34; not to mention the U.S. Constitution. So important is free expression, says the American Civil Liberties Union (ACLU), that without it, no liberty is secure; without it, "other fundamental rights, like the right to vote, would wither and die."
There is no denying it: the United States is at war with information. Perhaps it always was. From Russia's campaign to influence the 2016 presidential election to Mark Zuckerberg's and Rupert Murdoch's meetings with Trump officials, information is actively hidden, obscured, and weaponized by those in power at great risk to our Republic. And on the front lines of this battle are the warriors of free expression; that human right upon which so many others precariously stand. Warriors like Jamal Khashoggi—activists, advocates, and journalists. Courageous individuals who face the darkest of dark, where democracies go to die, and dare to turn on a light.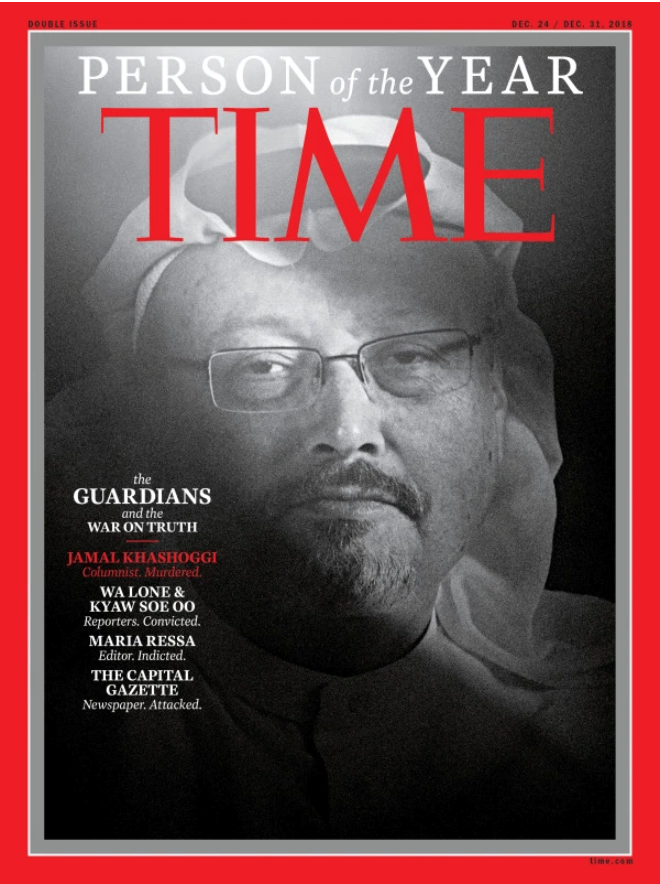 "The stout man with the gray goatee and the gentle demeanor dared to disagree with his country's government. He told the world the truth about its brutality toward those who would speak out. And he was murdered for it." 
– Karl Vick, Time Magazine, 2018 "The Guardians and the War on Truth"