by Rowena Kosher, a blog writer for RightsViews and a student in the School of General Studies at Columbia University
On November 20, students, professors and human rights colleagues gathered in Columbia Law School's Jerome Greene Hall for a discussion on economic, social and cultural rights led by Catarina de Albuquerque, the former United Nations special rapporteur on the right to safe drinking water and sanitation.
Originally from Portugal, de Albuquerque began her career in human rights as part of the Portuguese Foreign Service, moving on to become the chairperson-rapporteur for negotiation of the Optional Protocol to the International Covenant on Economic, Social and Cultural Rights, a protocol adopted in 2008 that establishes an individual complaints mechanism to recognize important rights like the right to education, the right to health, and labour rights, among others. Following these positions, de Albuquerque took on her current role as executive chair of the Sanitation and Water for All Partnership, a global partnership to catalyze political action, improve accountability and use scarce resources more effectively. However, her presentation wasn't about her work so much as it was about how she accomplished what she has and the roles individuals in the human rights field, universities, and government can take to progressively defend economic, social and cultural rights.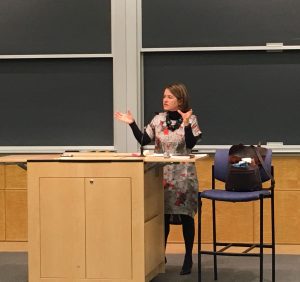 To de Albuquerque, it is necessary—if not obligatory—for professionals within the human rights field to bring human rights out from the law books and into the public sphere, bridging sectoral divides and incorporating corporations and lay individuals into conversations about economic, social and cultural rights, rights which continue to grow in importance and recognition due to increasing inequality.
"The human rights community has an element of responsibility when looking at what's happening nowadays to human rights," de Albuquerque said. "Our language is often legalistic. We speak with a certain arrogance about human rights and about things that for us are a given…We don't take the time and the energy to translate these concepts to the wider world."
Why is this an important method? Because "if we don't leave our comfort zone, if we don't start preaching to the unconverted, this will never happen," she added. Human rights ought to be translated into a language accessible and appealing to all people, incorporating them so that they may recognize the implications of their actions as individuals or businesses on the state of economic, social and cultural rights.
De Albuquerque further explained the challenges that she faced as a young woman when she started her career, such as how she was often doubted by her male colleagues. During her first job as the chairperson-rapporteur for the Optional Protocol to the Social Covenant in Geneva, for example, de Albuquerque described how she was often treated with less respect because she was a woman. This included discrimination when she postponed a session because she had only recently given birth a month prior. Reflecting on how she overcame this, she said that she simply didn't react at all. She "just kept swimming," she said. Her ability to be non-reactive allowed her to build rapport with individuals on all sides of the debate to make economic, social and cultural rights a reality.
Whether acting as a chairperson in Geneva or not, she believes that human rights scholars need to take a leading role in disseminating knowledge beyond the walls of the university, especially when it comes to these other essential rights. Often rights like the right to food, water, and education get put to the wayside over the more "scary" civil and political violations like torture, she said. While these rights are intrinsically intertwined with political and civil rights—rights protected by their own international treaties—scholars are urged not forget to fight for economic, social and cultural rights as well.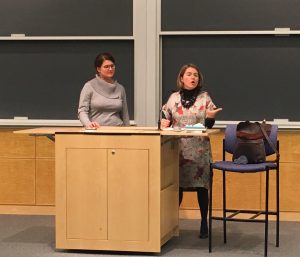 Positive change for these rights can only happen with cooperation between all sectors of society, according to de Albuquerque. Often, she said, in order for businesses or non-profits to meet certain statistics to continue to be funded, they focus their efforts on larger groups of individuals, groups which are often not the ones that need the rights the most. Inadvertently, this can lead to even more inequality between marginalized groups not considered "worth" the time and funds and the larger, often less needy groups that help reach quotas.
Moving forward, de Albuquerque believes that people, especially young people like those at Columbia, need to be the voices reminding the world of economic, social and cultural rights. While it could be frustrating work, young individuals have the tenacity to overcome these frustrations, de Albuquerque said. She urged her audience to take action: not just to work in litigation but to do litigation; not just to work with a campaign but to do campaigning. This could even mean action on a micro level as de Albuquerque does when she talks to her taxi driver about human rights, embarrassing her kids in the process but "reaching another mind" as well.
The discussion ended with a call to universities like Columbia. "Bring in the Trojan Horses," she said, referring to the people like her who are speaking for economic, social and cultural rights. Make these rights known, educate, and take action, she said. In these ways, human rights defenders can leave the walls of scholarship and make human rights knowledge accessible for all. That is what will lead to change.
Rowena Kosher is an undergraduate student at Columbia University School of General Studies. She plans to major in human rights with a possible focus on gender and sexuality studies. Her writing can be found on her personal blog, fromvermiliontoviolet.wordpress.com, and at elephantjournal.com, where she is an occasional contributor. To contact Rowena, feel free to email her at [email protected]