By Sameera Uddin, graduate student of Human Rights at Columbia University
___________________________________________________________________________
"In Bangladesh, 65% of girls are married before they turn 18." (UNICEF)
"She was withdrawn, quiet, and appeared very sad throughout the entire day," said Allison Joyce, an American photojournalist who documented the wedding of 15-year-old Nasoin Akhter to a 32-year-old man, in her blog. The international community greeted Joyce's photos of Nasoin's wedding with shock and disappointment.
According to UNICEF, nearly one-third of Bangladeshi girls are married by the age of 15, the highest rate for that age group in the world. South Asia is home to almost half (42 per cent) of all child brides worldwide, and India alone accounts for one-third of the global total. Currently, it is illegal for girls to get married under the age of 18 in Bangladesh, yet the statistics suggest that the reality is otherwise.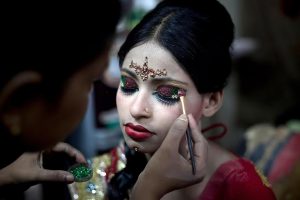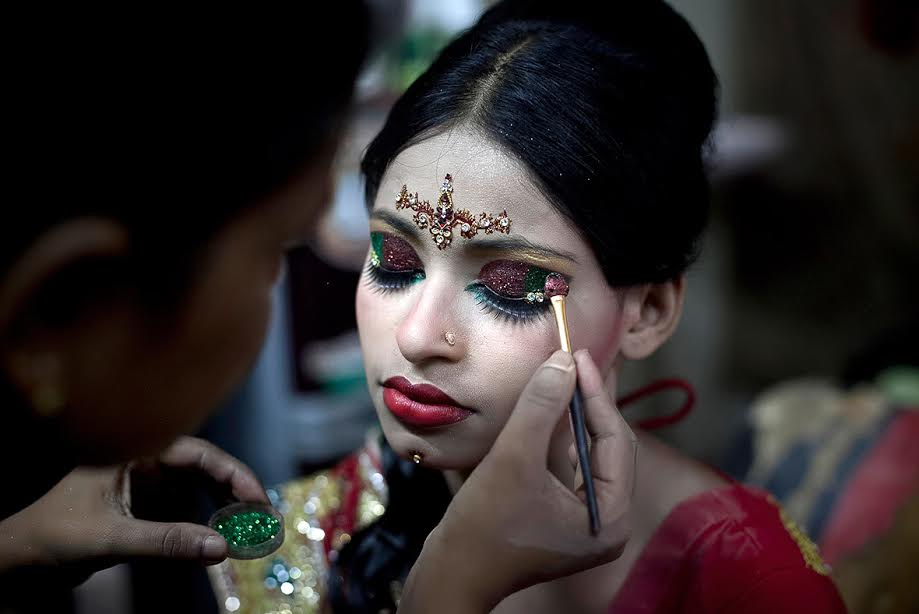 Why is it that a country often highlighted as a development success story is facing these challenges? Bangladesh has reduced its poverty rate, has achieved gender parity, and is improving its record on women's rights—but the country still faces huge challenges when it comes to stopping such practices. Bangladeshi Prime Minister Sheikh Hasina announced last year that she would end child marriage in the nation by 2041, but a recent Human Rights Watch report points out that the government has not taken radical measures to stop the practice. HRW reports that the Bangladeshi government has not proposed any plan as to how it will implement this countrywide.
Many local government officials also fail girls at risk. Awareness is growing that marriage of girls under age 18 is illegal under Bangladeshi law, but this awareness is undermined by the widespread complicity of local government officials in facilitating child marriages. Interviewees consistently tell stories of local government officials issuing forged birth certificates showing girls' ages as over 18, in return for bribes of as little as US $1.30. Even when marriages are prevented by local officials—as they sometimes are—families find it easy to hold the marriages in different jurisdictions. One would assume that, in order to stop such practices, the laws should be better enforced. Contrary to this expectation, however, the Prime Minister's cabinet has announced a plan to lower the legal marriage age from 18 to 16. The rationale for reducing the age limit is that the Bangladeshi government feels it is challenging for a country like Bangladesh to effectively reduce child marriage through stricter laws alone.
And it is true that their remain many challenges to stopping this practice. Child marriages are not a new phenomenon in Bangladesh. Oftentimes, families who cannot afford education—though it is supposed to be "free"—are forced to pull their children out of school and either put them to work or marry them off. Poor communities in Bangladesh are forced to send their sons and daughters to work because they simply do not have the luxury to feed their families while also ensuring that their children receive proper education. This is the reality of many families in Bangladesh. Elementary and secondary schools in the country are under resourced. This also has to do with cultural norms because parents think that since their daughters will not be working after they get married, then there is no point of sending them to school in the first place.
But there is more to it than that. As a native of Bangladesh, I have seen first hand why many of my neighbors would marry off their daughters at a very young age. Surprisingly, oftentimes it is the wealthy families that decide to do this, not because they cannot afford education for their girls, but rather because these girls are seen as a "burden." In Bangladesh, the birth of a son is more favorable than that of a girl. Giving birth to a girl is still seen as a curse in many parts of the country.
As a girl passes the age of 18, her parents are faced with societal pressure, particularly from the girl's family and relatives. It is imperative to understand the social stigma girls face in a patriarchal society like Bangladesh. In Bangladeshi families, fathers are the ultimate decision-makers when it comes to their children. Though this is becoming obsolete in the urban parts of the country, the structure is still deeply engrained in the mindset of many Bengalis. In Bangladesh, a girl is considered old when she turns 20. Families are usually stigmatized for not caring about their daughters, meaning by the time a girl turns 18, it is the job of the father to get her married off. If he does not fulfill this duty, he is usually shamed by society and relatives. Once a girl is older, boys and older men harass her on her way to school. She is not allowed to work or travel on her own. These practices stem from the deep-rooted customs and traditional practices of Bangladesh.
In addition to societal pressure, the dowry concept is a main cause behind the early marriage of girls. Even though the practice is illegal, dowries are still a norm in the rural areas of the country. Dowry payments are usually smaller when the girl is young; however, once she gets older, it becomes more difficult for families to marry off their daughters because of the increase in the amount of dowry needed. If a family is not able to pay the proper amount, the daughter may be abused by her in-laws. Therefore, in order to escape high dowry expenses, poorer families opt for getting their daughters married at an early age.
These are some of the reasons why the Government's recent decision deserves strong scrutiny from the international community. Prime Minister Sheikh Hasina in "Girl's Summit 2014" pledged to reduce, and ultimately eliminate, child marriage. However, the PM's cabinet proposal to add a clause in the Child Marriage Restraint Act is contrary to this pledge, as it would lower the legal age of marriage for girls from 18 to 16 under special circumstances, such as if the girl is pregnant or "if it is their parents' wish." If this law is passed, Bangladesh will not only squander the progress it has made so far, but it will also lose another generation of promising girls.
From a human rights perspective, Bangladesh acceded to the Convention on the Elimination of All Forms of Discrimination against Women (CEDAW) in 1984, which stipulates 18 as the minimum marriage age. Bangladesh also signed the UN Convention on Consent to Marriage, Minimum Age for Marriage and Registration of Marriages in 1998. This Convention requires signatory states to obtain consent from both parties entering into a marriage and to establish a legal minimum age for marriage.
However, international laws and treaties are effective only to an extent in countries like Bangladesh. The government itself has very little implementation power in a country that still operates under a traditional system. In order to eliminate child marriages, the government needs to effectively engage the parents in decision-making and alter the current mindset by educating parents on the importance of educating their children. In addition, parents need to be educated on the health risks that girls face when they are married at an early age. It will be difficult for the government to convince families to abruptly shift their mindset to support for marriages at a later age.  They will require more engagement at a macro level before they will support a policy that does very little when it comes to actual implementation and execution. In instances like this, it is imperative for policy makers in Bangladesh to approach its citizens from a cultural competency perspective and align their priorities with the community we are trying to impact.
As a Bangladeshi myself, I understand the cultural context in which the country is operating. Though I was lucky to be born in a family that did not see me as a burden and wanted the best education and lifestyle for me, there are very few families who share this outlook. Because my parents were educated and engaged in the political landscape of the country, I know one of the effective ways for this practice to stop is for the government to really understand the traditions of the country before attempting to normalize an international standard that means very little to the average family in Bangladesh.
Sameera Uddin is a graduate student of Human Rights at Columbia University, and an operations analyst at NYC Mayor's Office of Immigrant Affairs. Her research focuses on immigrant students' access to higher education in the United States.