On Wednesday, October 8, we launched our new "Medieval and Renaissance Lives" Speaker series.  The series, designed primarily for an audience of undergrads interested in the fields, features present and former Columbians discussing their academic and professional trajectories and current work in an informal setting.  The series was launched wonderfully by Lauren Mancia (CC '05), who was kind enough to share some pictures and a bio that give a taste of her fascinating presentation.  Interested in future events in the series?  Email us for info!
---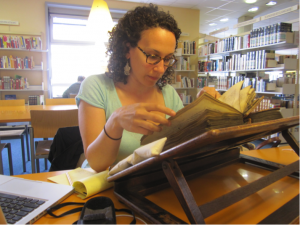 Mancia examining a manuscript in a library in France.
Lauren Mancia graduated from Columbia College in 2005 (B.A. in English/Medieval Studies). When she was at Columbia, she spent a lot of time learning about different aspects of the Middle Ages; in addition to taking classes in English, Classics, Art History, History, Music, and Religion, she was a summer intern at The Cloisters Museum, and she worked as an assistant to Consuelo Dutschke, the curator of Medieval and Renaissance Manuscripts at Columbia's Rare Book and Manuscript Library.  She then went on to get an M.A. in Medieval Studies at the Centre for Medieval Studies at the University of Toronto (2006), and to get a Ph.D in History at Yale University (2013). In between her M.A. and her Ph.D, she taught Art History and History at The Marymount School in Manhattan.
Mancia is currently Assistant Professor of History at Brooklyn College, City University of New York, and is also a lecturer at The Cloisters Museum.  She is a specialist in medieval monastic devotion, particular in the central Middle Ages. Her current book project, tentatively entitled Religious Reform as Emotional Reform at the Eleventh-Century Monastery of Fécamp, examines the spiritual writings of the Benedictine abbot John of Fécamp (ca. 990-1078 C.E.), who is responsible for the earliest known prayers to a suffering, crucified Christ. Drawing on the intellectual, visual, homiletic and liturgical culture of John's Norman monastery, Mancia's work sheds light on the emotional qualities of Benedictine monastic devotion and reform in the 11th century, and the high medieval monastic origins of later medieval affective piety.
The church of Fécamp today (12th-15th century building)
Questions for Lauren Mancia? Contact her at laurenmancia AT brooklyn DOT cuny DOT edu