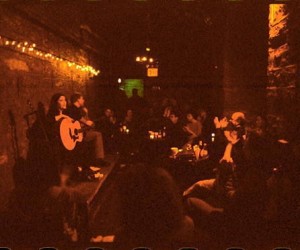 Postcrypt Coffeehouse, established in 1964, features professional, amateur, and student performers every Friday and Saturday night of the academic year from 8:30 to 11:30pm. Admission is always free and open to the public, and our shows and open-stages bring in a diversity of music and artists. From blues, folk, jazz, rock, country, and acapella to poetry, comedy, and storytelling–Postcrypt has it all. The one rule is that everything is acoustic. We believe in providing a space for artists to share their craft that is both accessible and intimate. Our artists come from anywhere and everywhere–Morningside Heights to the greater NYC area or even across the globe. Some well-known names that have graced our stage include: David Bromberg, Jeff Buckley, Shawn Colvin, Ani DiFranco, John Gorka, Patty Larkin, Lisa Loeb, Ellis Paul, Martin Sexton, Tony Trischka, Suzanne Vega, Jerry Jeff Walker, and Dar Williams.
Postcrypt is completely student-run and not-for-profit. It is the only free venue of its kind in the New York area. Our devoted volunteers listen to demos, book artists, manage the business, work in the bar, and interact with our guests who range from age 10 to age 80. Many of our listeners are local to Morningside Heights, and have been coming to Postcrypt for decades. Known nationally and regarded as a one-of-a-kind folk music venue, Postcrypt was recently listed in the Lonely Planet Guide to New York City. All in all, Postcrypt Coffeehouse has and continues to serve as an incredible vehicle for Columbia University to interact with the Morningside Heights community, for students to discover both new and timeless music, and for aspiring musicians to come into their own.
Please note that due to fire code regulations, we are restricted to a capacity of 30 people. Please come early if you want to snag a seat.