By Staff Writer Idalia Gonzalez
Stop Cop City is at once, a movement, a hashtag, and a call to action. The decentralized, autonomous movement has quickly risen in digital popularity, amassing tens of thousands of Instagram followers since it began in 2018. It exists as part of "Defend the Forest," though the two slogans are used interchangeably. Its main purpose is to stop a police training facility, which would be the largest in the country, from being built in Atlanta's Welaunee Forest.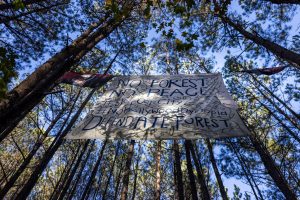 A deep dive into a few of the many interviews online indicate a movement backed by a core group of activists – also known as forest defenders, who range from abolitionists to anarchists—and supported by thousands of students, artists, socialists, educators, elders, environmentalists, eco-activists, Indigenous leaders and tribes, historians…and so on.

The movement's strength poses questions about the future of mobilizing digital resistance. How does such an intersectional, decentralized movement sustain itself? Do multiple narratives dilute or strengthen mobilization?
Long Live Tortuguita 
On January 18, 2023, the Stop Cop City Instagram account announced that a protester had been killed. It cautioned against any forthcoming police narratives about the shooting. The victim was Manuel Teran, or Tortuguita. It would later be labeled as the "first police killing of a demonstrator in the history of the U.S. environmental movement."
The official narrative presented by the Atlanta Police Department and the Georgia Bureau of Investigation was that Tortuguita shot first at a state trooper, and that an officer or officers returned fire as self-defense. As proof, they indicated that a gun registered under their name was found on the scene.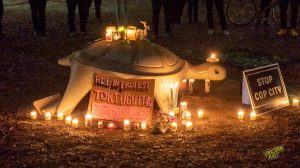 The Stop Cop City account insisted that Tortuguita had been assassinated. Its Instagram focused on honoring Tortuguita's memory, inviting community reflections, holding vigils (one of which erupted into a late night riot), and doubling-down on its central themes.  
The conflicting accounts, renewed media attention, and the inherent tragedy of a beloved activist's murder was a marked challenge, and pivotal point, for the movement. It had potential to both spark supporter backlash and challenge its supposedly decentralized/autonomous nature. 
After months of pushing for the release of an autopsy, DeKalb County released it (as a response to a public records request by Atlanta Community Press Collective). The autopsy showed that Tortuguita had at least 57 gunshot wounds on their body. It is likely their hands were raised.
It confirmed the narrative by #StopCopCity, activists, and family– and fueled the flames of resistance. In protests across the U.S., activists chant "Long Live Tortuguita," or "Tortuguita Vive." The phrase is echoed in underground art and graffiti across the United States, and around the world. Online, the hashtag #Tortuguita, on Instagram, has 70k posts, and continues to grow.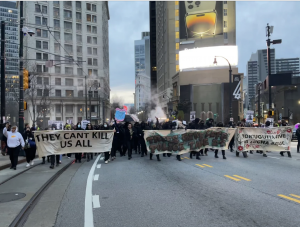 Exploring Counter-Narratives: From "Outsiders" to "Terrorists" 
Authorities have historically used the "othering" framework as a way to delegitimize protests and sway public support of protestors. Justin Hansford, a law professor at Howard University, says that the term "outside agitator," has a troubling history. It was used as far back as the 1800s, during the civil rights movement in the 1960s, and during the Black Lives Matter uprisings in 2020. 
The city has doubled-down on this counter-framing, combining the "agitator" frame with increased police activity and active repression of protests. But, unique to Atlanta, as police aggression escalates, so, too, does the language.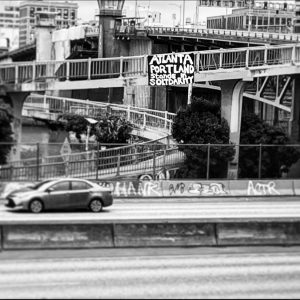 On March 5, 2023, as part of a planned week to commemorate the death of Tortuguita, a riot broke out in one corner of the forest. Later, concertgoers attending the South River Music Festival, in another area, were arrested on domestic terrorism charges. The justification? "Muddy clothes, shields, and a number for a jail support line written on their person." Some claimed that police were specifically detaining out-of-towners.  As recently as April 3, 2023, at least 42 Stop Cop City protestors, including journalists and legal observers, have been detained and/or charged with domestic terrorism.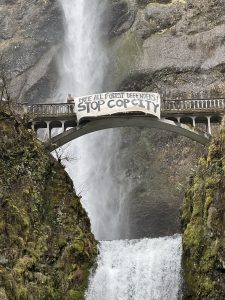 Stop Cop City openly welcomes national and international support, inviting protestors to join in Atlanta or in their respective cities. The repression tactics do not appear to have swayed protestors or public support—yet.   
__ 
There is no denying that Stop Cop City's objectives have expanded in scope as a result of key "spikes" in public attention. As it grows, it also relies on a local network of independent journalists known as the Atlanta Community Press Collective, and a smattering of independent media (The Intercept, Truthout, Unicorn Riot) to build a decentralized, but authoritative account of events—as in the case of Tortuguita's killing. 
By maintaining two central mobilizing narratives (#StopCopCity and #DefendtheForest—abolition and climate justice), and inviting supporters to engage with those objectives in whichever ways they see fit, the movement continues to grow. Time will tell if Cop City can be stopped, but the movement's impact on the domestic landscape of resistance is undeniable. 
More reading: