By Guest Contributor Farid Noori.
On September 30, 2022, 18-year-old Marzia Mohammadi started somewhat of a different day. A special day, some might say. She was going to take the practice version of Afghanistan's national university entrance exam in a country where schools are closed for girls past sixth grade. Smart, beautiful, and ambitious, Marzia kept a diary in which she wrote lofty dreams like one day meeting in Paris her favorite author, Elif Shafak, and going for a bike ride. Her entry on September 22 reads:
 "When national results are out, Marzia, daughter of Bostan Ali, will score in the top 10."
Eight days later, while preparing for that same exam, instead of showing the world her talent and grit, Marzia was torn to pieces. A suicide bomber entered the classroom and detonated himself among the students killing Marzia, her cousin Hajar, and 55 other students. Besides being mostly girls, the victims shared another identity: all were Hazara, an ethnicity heir to a modern history filled with persecution, discrimination, and ongoing massacres (including a past genocide) in the hands of various ruling Afghan elites.
Marzia and her classmates' death sparked widespread protests in over 100 cities around the world. Everywhere, Hazaras are sounding the alarm about what they see and fear as an ongoing Hazara genocide. Without any real means to improve their condition in Afghanistan, Hazaras have placed their hope in Twitter. In the recent weeks, tens of thousands of new users have flocked to Twitter to circulate the hashtag #StopHazaraGenocide, warning the world about another genocide occuring under its nose.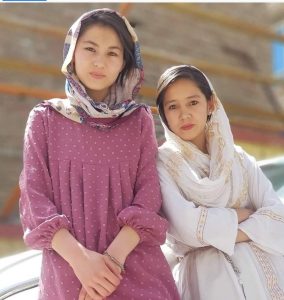 A genocide can only happen when the world looks away. And it doesn't happen overnight. It often takes years and a lot of work on the part of the perpetrators. First, the foundation on which to build the premises for eliminating a particular group must be laid down. It involves a period of false propaganda depicting the target group as some kind of evil that society should be freed from, followed by campaigns of all sorts to eliminate them in a myriad of ways—emotional, cultural, and physical. Subjected to widespread ridicule, mockery and hatred around their physical appearances, cultural heritage and religious beliefs, the target group is gradually forced to face estrangement (segregation, land grabbing and evictions) followed by torture and killings— small in the beginning, mass killings later— till it amounts to a full-scale genocide. Sadly this is when the world wakes up: when a significant portion of a population is wiped out.
Today, the Hazaras are somewhere near the end of this genocide spectrum. That is, the threat of a full-scale genocide is very real. Hazaras have traversed over a century of humiliation, a 19th century genocide, slavery, treatment as outsiders, and are nowadays depicted as infidels by groups like ISIS who proclaim that Hazara killings will be rewarded by God. Today, the intent to eliminate Hazaras is manifested as ongoing attacks on schools, mosques, sports complexes, and hospital maternity wards— as well as land grabbing and forced evictions. Though a full-scale Hazara genocide is not far from imagination, these ongoing massacres, evictions, and the constant threat of death amount to nothing short of genocide. 
I find it odd that after every genocide we write history books, make movies, and build museums and memorials precisely to educate our future generations, yet time and again, we stand witness to more genocides. Our collection of books and museums grow, but we continue to fail to protect millions of humans who are being killed for the same reasons: how they look or who they pray to. Just when, as citizens of the globe, are we going to learn to prevent a genocide? To do so, we must shift entirely the way we think about genocides. We must stop anticipating death figures to climb in the millions before we conclude a genocide has taken place. Instead of one day waking up to a horrible atrocity, we must learn to look at the facts in present day, recognize the patterns that lead to a genocide, and prevent it altogether.
Today, Hazara parents live in constant fear of not knowing when and where the next attack will target their children. The Taliban boast about having brought security throughout Afghanistan. While that is true for most parts of the country, the same cannot be said for Hazara localities, especially Dasht-e Barchi, the Hazara neighborhood in Kabul with a population of more than one million people where Marzia was killed. The Taliban themselves cannot be isolated from the persecution of Hazaras. In 1998, upon capturing the city of Mazar-i Sharif, they massacred 15,000 Hazaras—mostly unarmed civilians including women and children. As Human Rights Watch reported at the time, the Taliban went on "a killing frenzy of the Hazaras, shooting at anything that moved." During the US occupation, the Taliban killed Hazaras in suicide bombings and targeted killings in a similar fashion to what ISIS is now doing. Last year, advancing towards Kabul, the Taliban massacred 9 innocent Hazara men in Ghazni province, and 13 others in Daikundi Province. Hazaras have also been evicted from their villages in at least five provinces in a pattern of land-grabbing similar to what Hazaras have endured over the past hundred years. 
The Taliban continue to impose these crimes against Hazaras because of a pervasive belief among their ranks that Hazaras—mostly as followers of Shia Islam—are infidels and that Islam must be cleansed from their existence. Added to that, the Taliban also harbor the same type of racial hatred that has historically marginalized and impoverished Hazaras en masse. The third and final reason why Hazaras are vulnerable is their group identity as being collectively pro education and progressive when it comes to social issues such as women's equal place in society. This characteristic seemingly makes Hazaras a threat to the social order the Taliban are imposing. The world cannot and should not ignore these existential threats facing Hazaras in Afghanistan today.  
After Marzia's funeral, her parents erected a banner above the street where she died that reads: "Classmates of Marzia and Hajar, you must continue your education to accomplish their unfulfilled dreams." This is not the first instance of grieving Hazara families standing up defiantly against massacres of their children. In 2018, when my best friend's sister was killed in another similar attack on a classroom, he donated the funeral money to build a library in her name. Marzia's classmates are survivors of the attack themselves. Nearly all are young women, physically and emotionally wounded. Fatima, one of the injured victims who lost one eye in the attack, took the national exam with bandages around her face. When the results were announced recently, she passed the exam, scoring high enough to be placed in her favorite field of study: computer science. Fatima is the torch that keeps hope alive for one of the most oppressed groups in the world. But to move forward and stay alive, she needs you to #StopHazaraGenocide. 
Consider taking these steps to save Hazara lives:
Read this research paper about the Hazara Genocide in the

Virginia Journal of International Law Online

.

Show solidarity and amplify Hazaras' call for justice and survival by posting #StopHazaraGenocide on social media. This is critically important as it puts pressure on governments, the UN, and human rights agencies to take measures to protect Hazaras and prevent their genocide.

Learn about this important issue online or firsthand from a Hazara. There are a lot of Hazaras living in diaspora in the US, Europe, and Australia. Chances are there are Hazaras living near you. Connect with them and hear their stories of untold persecutions.  

Write to your state and government representatives asking them to take measures in their power to protect Hazaras.
After all, perhaps we can save the life of another bright and young Hazara girl like Marzia. Your voice can be powerful. 
Farid Noori is the founder and former director of Mountain Bike Afghanistan. He is currently working on helping nonviolent resistance movements like #StopHazaraGenocide to bring social justice, unity, and peace in Afghanistan.