By Dallin Durtschi, staff writer
Sports teams are sometimes owned by well-known public figures. The Dallas Mavericks are owned by Mark Cuban, Will Ferrell owns part of Los Angeles FC, and last month, the man responsible for ordering the brutal murder of Jamal Khashoggi also purchased the majority share of Newcastle United, an English Premier League football club. This new owner is none other than Saudi Crown Prince Mohammed bin Salman.
In October, the Saudi Public Investment Fund (PIF), whose chairman is the Saudi Crown Prince, was granted permission by the English Premier League to purchase Newcastle United. Amnesty International has outcried and rejected the Saudi purchase pointing towards the massive human rights implications. 
Saudi Human Rights Abuses
Lack of Freedom of Speech
The Saudi State carried out the infamous murder of journalist Jamal Khashoggi which is a demonstration of their commitment to rejecting freedom of speech and crushing criticism of the state.
Women's Rights Abuses
Their women's rights abuses are systematic and heinous. Women are not offered the same rights and legal status as men in the country. For one example, women may not associate with unrelated men and if they want to travel, they must travel with a male guardian or have his written permission. Many women's rights activists are unlawfully detained. In 2018, 13 women who campaigned against a driving ban on women were arrested, and 4 of these women were tortured. 
Humanitarian Crisis in Yemen
Saudi Arabia has been heavily criticized for its role in the humanitarian crisis in Yemen. The UN humanitarian office estimates that 233,000 are now dead in the war in Yemen, including thousands of children. Most of these deaths are attributed to a lack of food, health services and infrastructure which have been cut off by Saudi military operations. 
Death Penalty
 Saudi Arabia also makes extensive use of the death penalty. At least 40 people were executed by the state in the first six months of 2021.
"Sportswashing"
Saudi Arabia's motivation for the purchase is two-fold. First, the Saudi government knows it must diversify its economy as the world is pulling away from the use of oil. Second, the Saudi state understands that its international reputation is extremely low. In an effort to boost public perception, they are engaging in something often termed 'sportswashing.' Sportswashing is when corrupt and oppressive governments use sports as a platform to improve their reputation.. 
Rather than thinking about murder or the oppression of women, Saudia Arabia would much prefer the global public to think of the beautiful game when they hear the name of their state. So why would Newcastle United be willing to associate themselves with an entity so heinous? Well, it's a move motivated by a desire to win, increase revenues, and hope for recovery in a city battered by recent events. 
The most prized trophy in the world of club football is inarguably the UEFA Champions League Final. Yet for all but a select handful of the world's richest clubs, the trophy is impossibly out of reach. In the last ten seasons, five different clubs have hoisted the trophy.  In terms of total yearly revenue, those five teams rank Barcelona 1, Real Madrid  2, Bayern Munich 3, Manchester United 5, and Chelsea 8. For any club hoping to bring home that coveted trophy, money is paramount. 
With a loyal fanbase demanding results and success, Newcastle United management found inspiration in the recent transformation of a fellow English club, Manchester City. 
Welcoming an influx of cash from Middle Eastern oil money is not a new idea. Manchester City was purchased by the Abu Dhabi United Group in 2008. Since the sale, Manchester City has won seven major trophies and last year had the sixth-highest revenue of any club in the world. This is largely due to the financial backing that allowed them to purchase some of the most talented players in the world. Financier Amanda Stavelely brokered that City transaction as well as the latest Saudi takeover at Newcastle which further cements the comparison between Newcastle and their attempt to follow in City's footsteps.
The flow of cash to buy talented players is incredibly alluring for any dedicated football supporter. Upon the announcement, droves of  Newcastle supporters gathered at the cathedral on the hill, the nickname for St. James Park where Newcastle plays their home matches. They sang songs of celebration and historic club anthems in hope that this was the beginning of their return to winning football matches. Many mimicked the dress of Prince bin Salman while some others even waved the Saudi flag.
There are differing shades of awareness and acceptance for the new Saudi relationship amongst supporters though. Before and leading up to the announced Saudi takeover, some Newcastle supporters were aware of the human rights implications and marched in protest. Others have never even heard of Saudi Arabia while some acknowledge the human rights issues but view it as a necessary means to an end. That end is improving a damaged local economy.
Many supporters have come to accept Saudi ownership for one reason– their city badly needs the economic boost. In a post-Brexit climate and after being battered by austerity measures, the city and workers of Newcastle need something to revitalize their economy. If Newcastle United follows the same trajectory as Manchester City, then millions of pounds would flow into their local economy stimulating job growth, increasing tourist numbers and foreign investment, and helping local businesses tied to the club. 
In English football, the clubs are deeply connected to their community. For many in the city, the success of Newcastle United is inextricably tied to the success of the entire city. But at what cost would this local economic recovery be afforded?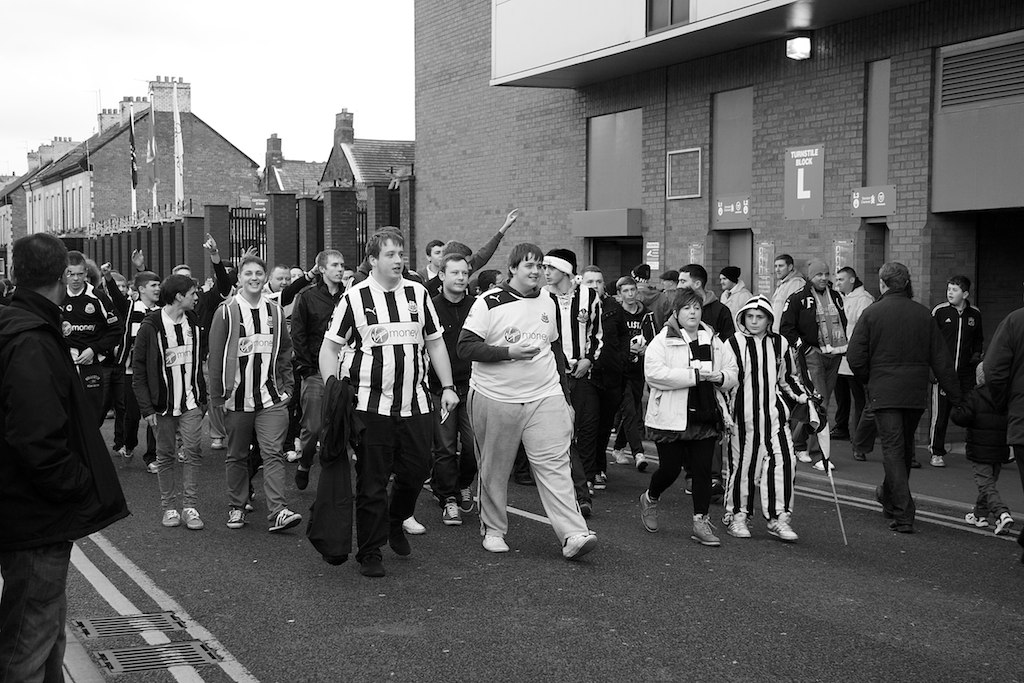 The Premier League has recently been a vehicle for positive social campaigns. They launched their "No Room For Racism" campaign with the slogan appearing on all of the clubs' jerseys. Additionally, the league supported and facilitated a moment of silence where all players, officials, and managers can "take the knee" to raise awareness for racial inequity. 
The League also runs a campaign in support of LGBTQ rights with "Rainbow Laces" where players and officials wear rainbows on their uniforms and corner flags and club badges are decorated with rainbows.
With both of these projects, the league has reported a positive change in the awareness and rejection of racial and homophobic verbal abuse from supporters. 
After initiating a positive direction for activism and social change, the allowance of a gross human rights violator to purchase Newcastle United significantly weakens these campaigns. If the Premier League was serious about social activism and human rights like they claim to be, they would never have allowed the Saudi purchase of Newcastle.
The league is all for campaigns against racism and homophobia, but if an entity happens to murder, torture, abduct, and oppress its citizens, they simply have to bring their wallets and all is forgotten if those wallets are big enough. The beautiful game is not beautiful when it turns its back on human rights.
Photo Credits
"St James' Park, Newcastle (1)" by daniel0685 is licensed with CC BY 2.0. 
"Do not Welcome the Killer Mohammad bin Salman." by alisdare1 is licensed under CC BY-SA 2.0
"Toon Army" by dannymol is licensed with CC BY-ND 2.0.