By: Noah Smith, staff writer.
In July 2020, there was a surge in homelessness for refugees and asylum seekers in Athens, Greece due to evictions by the Greek government. "Forcing people to leave their accommodation without a safety net and measures to ensure their self-reliance may push many into poverty and homelessness," warned UNHCR spokesperson Andrej Mahecic. "Recognized refugees have to vacate much-needed accommodation for asylum seekers waiting in crowded reception facilities on the Greek Aegean islands. Over
31,000 women, men, and children live in five island reception centers with capacity for fewer than 6,000," said Mahecic. However, the UNHCR has expressed their concerns that government aid for many recognized refugees is ending far too soon and before they have access to employment and social welfare programs. In total, the government of Greece has evicted 8,000 recognized refugees from camps and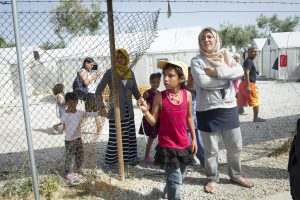 accommodations across the country. The first phase of evictions led to nearly 200 people sleeping in Victoria Square in Athens, where refugees faced continuous harassment and victimization by police and fascist groups. Dozens of infants and toddlers were seen sleeping outside on cardboard in broad daylight, making these families especially vulnerable to COVID-19. The situation was deteriorating rapidly and is evident of the vacuum in care for homeless refugees and asylum seekers and the Greek government's unorganized approach to the refugee crisis in their country, which persists to this day.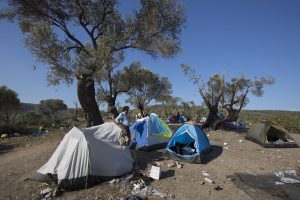 With this need in mind, undergraduates Ghania Chaudhry and Lena Azzouz, established Finding Refuge, which is now a registered 501(c)(3) non-profit organization in the United States. Finding Refuge's primary mission is to end the homelessness of neglected and displaced people such as migrants, refugees, and asylum seekers in Athens, Greece, and beyond through either their accommodation program, emergency needs fulfillment, and vocational training and opportunities. In August of 2020 Finding Refuge opened a community housing center aptly named the Duniya House. Duniya means world in Arabic, Farsi, Urdu, Hindi, and Somali, and is fitting for their new community-driven housing project, which comprises a community that works to support each other while at the same time, each individual is working toward their own goals. All admitted residents of Duniya House have a specific objective or goal in mind.  Through this communal housing model the Finding Refuge Team, which is composed of young adult volunteers, is now able to provide for the immediate needs of the most vulnerable refugees. Furthermore, this centralized housing approach allows the Finding Refuge team to expand the scope of their accommodation services while also providing each beneficiary with individualized support— ranging from resource connections, educational services, and asylum application support. They have the capacity to house 60 people in Duniya House and are currently housing and providing additional support to 42 people. They use crowdfunding and sponsorship to gather funds and link them directly to migrants, refugees, and asylum-seeking communities. I recently spoke with Finding Refuge co-founder Lena Azzouz about the organization, what inspired its creation, and the challenges of operating a non-profit.
How did you and Ghania meet and what inspired you to found Finding Refuge together?
We met in March of 2019 during a service trip by NYU students. Ghania was a student at NYU and I was living in Texas at the time but we had a mutual friend who recommended that I register for the program, so I did. We ended up leading the trip together and we were both noticing the same gaps in services to refugees. It was made even more explicit when we met 3 women at a food distribution line one night who were sexually assaulted while facing homelessness in Athens. Ghania and I tried to find solutions for these women through the NGO network and governmental services with no success. We tried the more informal networks that exist more within the refugee community, like squats but there were no vacancies. Ghania was determined to find a solution so we launched a GoFundMe. The success of the GoFundMe and the immediate relief we saw from the women once they had a place to stay was motivating. Knowing that these women were just 3 amongst the thousands of refugees homeless in Athens just signaled to us why we needed to keep doing the work. Ghania and I both also have parents that are from refugee backgrounds. We see the struggles of displaced people as something that hits home as our parents went through many of the same struggles that then paved the way for us to live our lives in America.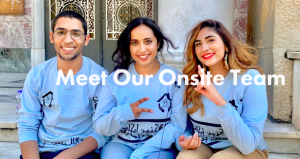 What have you learned about grassroots mobilization/activism from founding a non-profit organization?
Centering the community is crucial. There are many actors in the human rights/ activism field who claim that they are grassroots when in reality they run like corporations, with the leadership of organizations giving themselves large monetary compensations when this money could be better invested into the community. We have learned that true activism for a community, we are not a part of, is stepping in as needed and when we are called upon. We have learned there is a constant need to reflect on everything we do as founders to make sure that our presence as outsiders is useful and beneficial to the community. We have also learned that there is competition between organizations as well as performatism [sic] but we know that true work speaks for itself.
What is your advice to other young adults thinking about starting a non-profit? 
Take care of your mental health! Starting a nonprofit is a really huge commitment and besides the hours upon hours of work, you will experience having to cancel plans to work on grant applications or the constant stress of figuring out how to run the project with limited funds. If you're working with marginalized communities, understand that second-hand trauma is real and if left unresolved can hinder many aspects of your life. Take care of yourself so you can provide care to others.  
In addition to running Duniya House, the Finding Refuge team collaborated with the Jafra Foundation for Youth Development and Relief in Greece to create the Language Education and Development Program (LEAD). While there are many programs that provide social assistance to refugees and migrants in Athens and beyond, this initiative is unique because it seeks to ensure refugees' long-term self-sufficiency and create employment opportunities that are often challenging to access. LEAD connects Arabic-speaking refugees, migrants, and asylum seekers in Greece with students interested in learning Arabic. They also provide potential educators with the training and curriculum to provide individualized language instruction to students interested in gaining a more intensive understanding of the language. What is unique about this program is that it provides personalized, flexible, one-on-one language instruction from native speakers and each purchase of a session goes directly to the instructor and the sessions are entirely customizable based on student interest and need.
Since its inception, Finding Refuge has made a substantial impact on the lives of migrants and refugees in Athens, Greece. In 2020-21 alone they launched their COVID-19 Emergency Aid Appeal and were able to successfully provide emergency financial support to all Duniya House residents. Furthermore, the LEAD program has three educators and 11 students benefiting from the LEAD program. To review Finding Refuge's full impact report click here. What is commendable about Finding Refuge is their unwavering commitment to promoting and protecting the human rights of vulnerable populations, and are a model in grassroots activism. Check out Finding Refuge's website if you would like to volunteer or donate as well as their Instagram & Facebook pages to see all the great work this nonprofit is doing!
Photos
"Kara Tepe Refugee Camp on Lesbos Island, Greece" by United Nations Photo is licensed under CC BY-NC-ND 2.0
"Refugee Camp – Lesvos, Greece" by babasteve is licensed under CC BY-NC 2.0
Finding Refuge co-founders, Lena Azzouz and Ghania Chaudhry, and the on-site coordinator, Suhel Al Karaaza, courtesy of Finding Refuge