By Noah Smith, RightsViews staff writer and a graduate student in the human rights MA program.
The opinions expressed in this article are Noah's own and are not representative of the Institute for the Study of Human Rights (ISHR) or Columbia University. 
Thousands of graduate students and student workers at Columbia University began striking on March 15, 2021 after many stalled negotiations with school administrators. A strong majority of student workers, 96%, voted  yes to authorize a strike and with a  deadline of March 15, 2021. The Graduate Workers of Columbia University (GWC) and all those in solidarity call on the university to agree to a fair contract. According to GWC bargaining committee members, the strike is a last resort after years of unsuccessful negotiations with university representatives, and assert that withholding their labor is the final means of forcing the university to recognize their demands.
Columbia University has had a long and tumultuous history in regards to treating graduate workers as employees. The university refused to acknowledge the GWC when they began organizing in 2014, citing legal precedent that private universities had no obligation to bargain with academic unions. University President Lee Bollinger, in a 2015 statement, asserted that graduate worker unionization was "not necessary." When GWC petitioned the National Labor Relations Board (NLRB) for recognition that year, Columbia University submitted a brief arguing that "students have a primarily academic relationship with the university and therefore are not employees." However, the NLRB disagreed with Columbia University. The university filed an objection to GWC's first election and appealed the landmark NLRB decision to a higher federal court. Thus, Columbia University administrators refused to begin bargaining while the case made its way through the appellate system, prompting a weeklong strike. Columbia University finally relented and began bargaining the following February, however a point of contention in the negotiations is students' dual role as students and workers, leading to difficulty negotiating many of the union's demands for benefits and procedural reforms.
A key procedural reform the GWC is demanding is the grievance and arbitration process for graduate students who experience discrimination and harassment. The union has demanded the right to resolve disputes through a third-party neutral arbitrator to remove any potential conflicts of interest, a process that exists in graduate union contracts at other universities such as New York University as well as The New School. Furthermore, Title IX and Equal Opportunity and Affirmative Action processes are currently limited to abuse that is the result of someone's identity as part of a protected class including gender, race, disability, or other defined categories based on systemic marginalization. However, when graduate student workers experience abuse, that cannot be linked to their identity, recourse is not available. The union proposes that graduate workers should be able to file grievances for cases of power-based harassment that fall outside the scope of protected classes. Power-based harassment is a form of harassment in the workplace in which someone of higher position of power uses that power to bully or harass a lower-ranking individual.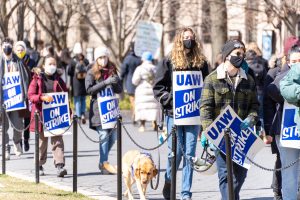 Interim Provost Ira Katznelson disagreed with the union's intention to strike in an email to the Columbia community on March 08, 2021. Asserting it would be an additional disruption amid a year of innumerous trials and tribulations. "We need to be mindful of the price of a stoppage, not least for the thousands of students who have been grappling with non-traditional education via Zoom and hybrid classes," Katznelson wrote. "Teaching, including work by TAs, has been remarkably effective, sometimes heroic. It would be disruptive to curtail key features of pedagogy at this particular moment."
According to Columbia Workers Solidarity website, Columbia University administration has begun to use intimidation tactics to end the strike: distributing anti-union messaging to the student body, entertaining the idea of creating a website to self-report non-participation in the strike, as well as outright threatening to dock pay during a bargaining session. However, it is within the university's power to avert a strike by agreeing to essential contract provisions which include:
Full recognition of the NLRB-certified bargaining unit, which is consistent with the Bargaining Framework Agreement of November 2018;

Real recourse for cases of harassment and discrimination, which takes the form of access to the grievance and arbitration procedure;
Union Shop to create an equitable system of distributing the cost of union representation over all workers in the unit, and provides more resources and power to enforce their contract;
Healthcare improvements that create a sustainable work environment for all, not just those with a safety net for extraneous healthcare costs;
Childcare to ensure our university is accessible to all; our investment in child support can't stop once the pandemic is over;
Compensation improvements that create a sustainable work environment for all, especially in light of COVID-19 financial difficulties, including an additional year of appointment guarantees.
The University must end its attempt to devalue undergraduate and masters student workers by excluding them from union protections. Student workers are student workers, irrespective of their program. In 2018, Columbia committed to abide by the National Labor Relations Board definition of who is in the union – undergraduate and masters student workers are included by definition. The University cannot renege on this commitment; it must recognize all workers.
I recently spoke with Mandi Spishak-Thomas, a Ph.D. Candidate in Social Work regarding the strike, and I queried how she interprets Interim Provost Ira Katznelson's comments regarding the strike. "First and foremost, we have a lot of support from students, both graduate and undergraduate, and while Ira is saying this is disruptive to them, I think his statement proves the importance of TAs" said Mandi. "When you think about a strike during a pandemic you think of how it can be impactful versus in person, as a TA who's familiar with Zoom, many of us are extremely tech savvy and able to manage a lot on Zoom which makes us more valuable. I think that's what Ira is saying, TAs are uniquely able to capture the attention and be able to support students and that just underscores our value and makes it even more important that the university pay us what we are worth because we are carrying a lot of classes and I think that the students see that and support us. It's not ideal timing obviously, but there is never a good time to go on strike."
Given reports that Columbia University is engaging in intimidation tactics against those participating in the strike, I asked Mandi what intimidation tactics she has seen or experienced. "The university has threatened to withhold our pay, that hasn't happened yet but we have received several emails from Columbia University's HR as well as the Interim Provost which has indicated that they will withhold our pay while we are on strike and if you received a lump sum stipend at the beginning of the term, then you will be required to pay that lump sum back" according to Mandi. "Their website for recording which students are on strike is not up yet, but we do anticipate that to happen next week." Since my interview with Mandi, Columbia University set up a system for teaching and research assistants to log in and confirm that they are performing their duties. Those who do not log in will be assumed to be on strike and their pay will be docked. Furthermore, if students received stipends in a lump sum earlier in the term, their student's account will be debited. 
As a follow up I inquired whether the pandemic acted as a catalyst and influenced the GWC's decision to go on strike. "We were planning to strike around the time the pandemic started, and the pandemic has underscored the importance of the strike and I think that is true with all of the racial justice movements as well. All of these issues are really entwined and I think Columbia, so far as I can tell, with the amount that they pay us and amount they respect us, which is very little on both accounts, highlights that they believe PhDs and graduate degrees are only for the most privileged aka white people" said Mandi. "I think these issues are all connected because I believe people need to be paid a living wage in a pandemic and not in a pandemic, but the pandemic has highlighted the severe inequalities in our country and that is true in academia as well. Columbia University also likes to say that during the pandemic is a bad time for them economically but the facts are the university has not suffered economically and their endowment has grown, President Lee Bollinger is also one of the only Ivy League University Presidents that has not taken a voluntary pay cut as a result of the pandemic, which shows the university is doing just fine. The pandemic is the best time to strike because these issues are urgent, childcare issues have never been more important than during the pandemic and neither has living wages and healthcare benefits. These are all issues that have been worsened due to the pandemic." 
Unlike many universities that are presently struggling due to Covid-19, during the 2020 fiscal year (October 2019 – September 2020) alone, Columbia's endowment grew by $310 million all under the country's highest paid university president, who receives an astronomical $4.6 million salary. Student workers facing New York City living expenses must receive a living wage. Many student workers at Columbia now receive $10,000 less (as per MIT's living wage calculator) than a living wage in one of the most expensive cities in the country. Given Columbia's wealth and its location, underpaid student work reflects a serious problem of budget priorities and allocation. 
The graduate students' strike is in essence a microcosm of broader issues facing our country, such as racial, gender, as well as economic inequality. Columbia University is often an outspoken advocate of numerous human rights issues, however I asked Mandi how well she thinks the university has lived up to their commitment to these issues. "Not at all, and I will say that as a very privileged White woman who attends the university and I am able to attend and get my PhD because I have a partner who has a full-time job. There is no way I would be getting paid twenty-three thousand dollars a year and be able to live in the city otherwise and attend this program" said Mandi. "I think it's absurd the university puts out these ridiculous letters which say they support Black Lives Matter and the Asian community etc., then why don't you pay people to work here? Why don't you pay people to study these issues? You do not support these issues because actions speak louder than words and you can put all the statements out what you want, but it is unsafe for those students to work here and especially go on strike. It is more of a risk to go on strike when you are one of a few Black PhD students at the university, because it's such a privileged thing to be able to come to the school and live off of nothing. The university absolutely does not live up to those statements they put out."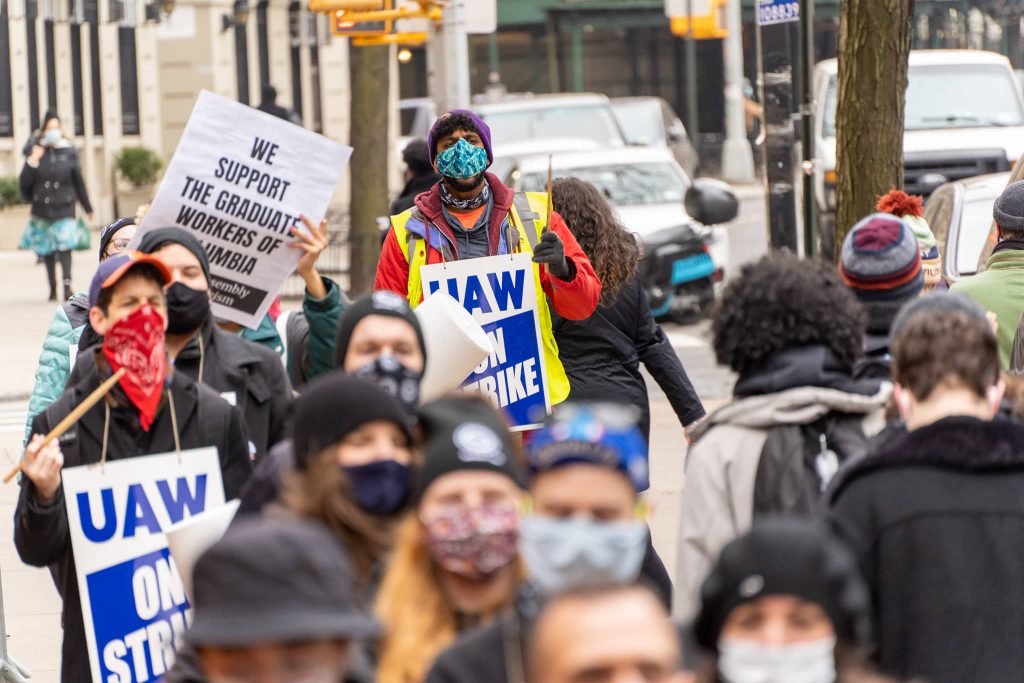 The plight of Columbia University graduate students and workers is emblematic of a much broader crisis, which is the neoliberalization (i.e., academic capitalism) of higher education. Academia and academic work have dramatically changed in the last few decades, an evolution which has transformed students into consumers and faculty as mere cogs in a machine. Federal and state budget cuts, as well as increased competition amongst  postsecondary institutions, has resulted in these schools "adopting neoliberal practices and policies such as the commodification of knowledge production." This new regime has transformed knowledge production from a "public good knowledge regime" to an "academic capitalist knowledge regime" that attempts to profit from academic-related developments. This regime prioritizes capital gain over educational quality as well as equity and "jeopardizes access to minoritized students." Thus, in this new academic landscape, education is reconceived as an investment and it becomes valuable only to the extent it yields a profit, "meaning that non-commodified areas of study such as history and philosophy become further marginalized areas of inquiry."
Columbia University is not immune to this neoliberal regime, 53.0% of the teaching staff at Columbia  are part-time non-faculty or non-tenure track faculty. This use of adjuncts is on par with the national average of 51.4%. Adjunct professors at Columbia University are paid above the reported national average of $2,700 per three-credit course, yet salaries across 10 arts and sciences departments range from $4,500 to $15,000 per course, according to a 2016 Spectator investigation. At Columbia, adjuncts typically teach one course per semester, however adjuncts may teach up to six courses in a single semester to survive, often at multiple different postsecondary institutions. Terry McGlynn, a biology professor at California State University, wrote in The Chronicle of Higher Education, "full professors benefit from the exploitation of non-tenure-track instructors." "According to the American Federation of Teachers, "almost 25 percent of adjunct faculty members rely on public assistance, and 40 percent struggle to cover basic household expenses."
Thea Hunter, a scholar of rights, slavery, and freedom, describes adjuncts as inhabiting the lowest rung in a caste system, "the one that underrepresented minorities tend to call home." Thea articulates that "just as the doors of academia have been opened more widely than heretofore to marginalized groups, the opportunity structure for academic careers has been turned on its head." In a 2016 report from the TIAA, a nonprofit research center focused in part on higher education, found that from 1993 to 2013, "the percentage of underrepresented minorities in non-tenure-track part-time faculty positions in higher education grew by 230 percent. In stark contrast, the percentage of underrepresented minorities in full-time tenure-track positions grew by just 30 percent. On average, "80 percent of faculty members were tenured or tenure-track in 1969, however now roughly three-quarters of faculty are nontenured." Thea Hunter became trapped in academia's underclass, without an office of her own, health insurance, nor financial stability. The strain of working as an adjunct without insurance is believed to have contributed to Thea's premature death from congestive heart failure, her friends articulated that "if Thea had a tenure-track job and access to proper health insurance to be appropriately diagnosed, she might still be alive." Thea received her PhD in History from Columbia University.
The International Covenant on Economic, Social and Cultural Rights (ICESCR), asserts in Article 7 the right of everyone to the enjoyment of just and favorable conditions of work which ensure, in particular:
(1) remuneration which provides all workers, as a minimum, with: (2) fair wages and equal remuneration for work of equal value without distinction of any kind, (3) a decent living for themselves and their families;(4) safe and healthy working conditions;(5) equal opportunity for everyone to be promoted in his employment to an appropriate higher level;(6) rest, leisure and reasonable limitation of working hours and periodic holidays with pay. Article 8 of the ICESCR articulates the right of "everyone to form trade unions and join the trade union of his choice as well as the right to strike, provided that it is exercised in conformity with the laws of the particular country." The U.S. has not ratified the ICESCR, however as an institution that claims to support human rights, Columbia University should utilize the ICESCR as a common standard to assure the rights and protections of their graduate students and workers. 
Time will only tell if Columbia University will honor the human rights of the graduate students and workers. In these uncertain times of strife within our country and abroad, we have all had to ask ourselves if we are doing enough to combat oppression as well as inequality within our communities. However, we must also ask our institutions of higher education if they are doing all in their power to be champions of human rights, rather than their oppressor. If you wish to support those on strike, consider donating to the hardship fund and contact Interim Provost, Ira Katznelson to request that the university meet the demands of the union so students and workers can return to work! You can also support the GWC strike by signing a letter of support and joining in person and virtual pickets.
All photos courtesy of Miles Richardson.