By guest contributor Ruthie Tucker*
It is becoming trendy for institutions of higher education to recognize Indigenous land by issuing a "land acknowledgment statement" (LAS). Typically, a team of faculty and staff begins by researching the history of the ancestral land of the Indigenous Nation occupied by the institution. From there, the group crafts a statement that honors the ancestral land of the Indigenous Nation. Many national organizations provide models and suggestions for such statements, and it is common for colleges and universities to look to each other for wording. The institution will usually post the LAS on its website, and the LAS may make its way onto class syllabi, might be read at some campus events, and one might find the odd poster about it here and there on campus.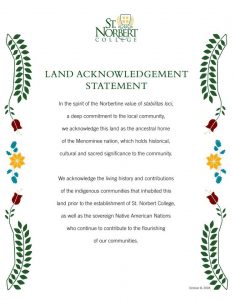 These are all good things. My institution, St. Norbert College, is located on the ancestral land of the Menominee people. As a member of the Menominee Nation, I can't help but admit that my chest puffs out perceptibly during the reading of our LAS at events, large or small. Attending St. Norbert College means that I am walking on the same land that my ancestors did. That is powerful. I am connected to this area in a way that most students are not. The hardships and struggles that many ancestors endured are never lost on me; I carry that burden of grief every day – wishing things that could have been different. And despite it all, I am here. The Menominee people are here, where we belong.
Still, once the LAS has been read and the event is over, I am haunted by a question. Has the Menominee Nation been truly "honored?" A paragraph about the original caretakers of this land will not undo the mass murders, the cultural genocide, and the loss of territory. The LAS does not create equity; nor does it function as reparations. However, it can function as a promise by the institution Indigenous students and their communities of origin. It can be a jumping-off point from which to pursue equity for Indigenous students, as well as a statement of purpose, a continuous reminder of why we are fighting for justice on this particular front.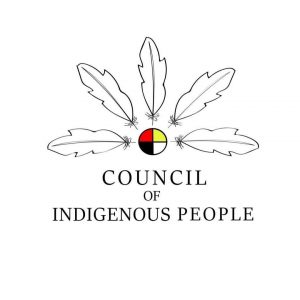 The land acknowledgment statement, while an important starting point, should never be treated as a stopping point. For institutions of higher education, honoring Indigenous Nations requires an ongoing commitment to equity for all Indigenous students. There are no set paths for making good on this commitment. At my own institution, I am working to fulfill the promise to the Menominee Nation contained in the College's LAS. I have created an organization, Council of Indigenous People, on campus that aims to highlight Indigenous voices, foster community among Indigenous students, and share our beautiful culture with allies and the campus community. Together, we have started working to develop scholarships for Indigenous students. It has been wonderful to see the support from faculty, staff, and students for the potential scholarship. Another project that has gained support is the implementation of an Indigenous Nations history course. The course will provide historical and modern information about the eleven federally recognized Indigenous Nations in Wisconsin. The ultimate goal is to create multiple courses and have Indigenous teachings woven throughout the curriculum in all areas of study. On a more visible front, my institution is working to place the Menominee flag on campus. There is more work to be done, but these initiatives demonstrate a LAS in action.
Land acknowledgment statements are the foundations of a more equitable and inclusive future.  However, their potential will go unrealized without action. I urge all of us as students, staff, and faculty, to connect with Indigenous Nations. If your institution does not have a land acknowledgment statement, mobilize peers and colleagues to compose one. But don't stop there. Create safe spaces for Indigenous students. Work to provide financial aid. The childhood adage tells us that "sticks and stones will break my bones, but words will never hurt me." Similarly, mere words will never heal. Words can sound and feel nice, but they will not reverse centuries of discrimination. For this, we need to gather our sticks and stones and, using the mortar of our moral mission, build newer, more just institutions on our ancient land. 
*Ruthie Tucker is a junior majoring in elementary education, minoring in early childhood education and studio art at St. Norbert College. She is passionate about Indigenous education and advocates for Indigenous representation. 
Photo Credit:
Land Acknowledgement Statement. St. Norbert College. 2018.
Council of Indigenous People Logo. St. Norbert College. Image by Annabelle Broeffle. 2018.