By Jalileh Garcia, RightsViews staff writer
On October 2, undergraduate and graduate Columbia students gathered to share their summer experiences undertaking internships in the field of human rights. An annual panel  organized by the Institute for the Study of Human Rights (ISHR), this serves as an opportunity for students to learn from each others' experiences applying human rights in the field. The different panelists shared about their work environment, advice, and the skills that helped them flourish in the internships. 
Isabella Irtifa is a graduate student getting her Master's Degree through the ISHR. She spent her summer in New York City interning for UN Women, more specifically with the Women Peace and Security Team. Here she was able to delve into transitional justice matters, as well as issues of women's peace and security. Isabella drafted presentations on peace initiatives, women's role in achieving security, and researched potential partnerships to increase women's participation in decision-making. 
Ana Perez is also a graduate student getting her Master's Degree through the ISHR. Like Isabella, she also interned at the UN, working with the United Nations Global Compact, an organization that functions through a non-binding pact to facilitate sustainability practices in businesses. Her responsibilities were shaped by the many shifts in her team. As such, she was in charge of logistics, agenda-setting, and facilitating meetings with stakeholders. She also worked on campaigns and event organizing to promote human rights practices in businesses. 
Claudia Laurel Bell worked in the United Nations in the Disarmament, Demobilization, and Reintegration Unit in New York City. The unit's work centers around facilitating negotiations with armed groups or non-state actors enacting state violence by giving them incentives to give up arms or leave voluntarily, and helping them reintegrate to civilian society. She was in the Middle East and North Africa Mission, though she was also assigned other peace missions in different geographical locations. Claudia was able to get to know the division well, as she was able to be involved in the recruitment process in the Unit. She was also able to go beyond administrative work by doing conflict analysis. Now, her research is being used by the Cameroonian Integrated Taskforce. 
Trisha Mukherjee is a junior at Columbia College who interned at the New Sanctuary Coalition (NSC) in New York City. The organization has two programs which consist of one, a weekly clinic where individuals could access free, pro-se legal help and two, an accompaniment program that aims to support individuals by providing accompaniment to ICE check-ins and/or court hearings. Here, Trisha was able to help individuals fill out legal documents, as well as witness and hold officials accountable for their behavior towards clients in legal proceedings. She also accompanied many individuals to their hearings, providing any necessary moral support for them in what can be highly stressful time. Trisha noted the emotional difficulty of her work, as it is very personal and hands-on.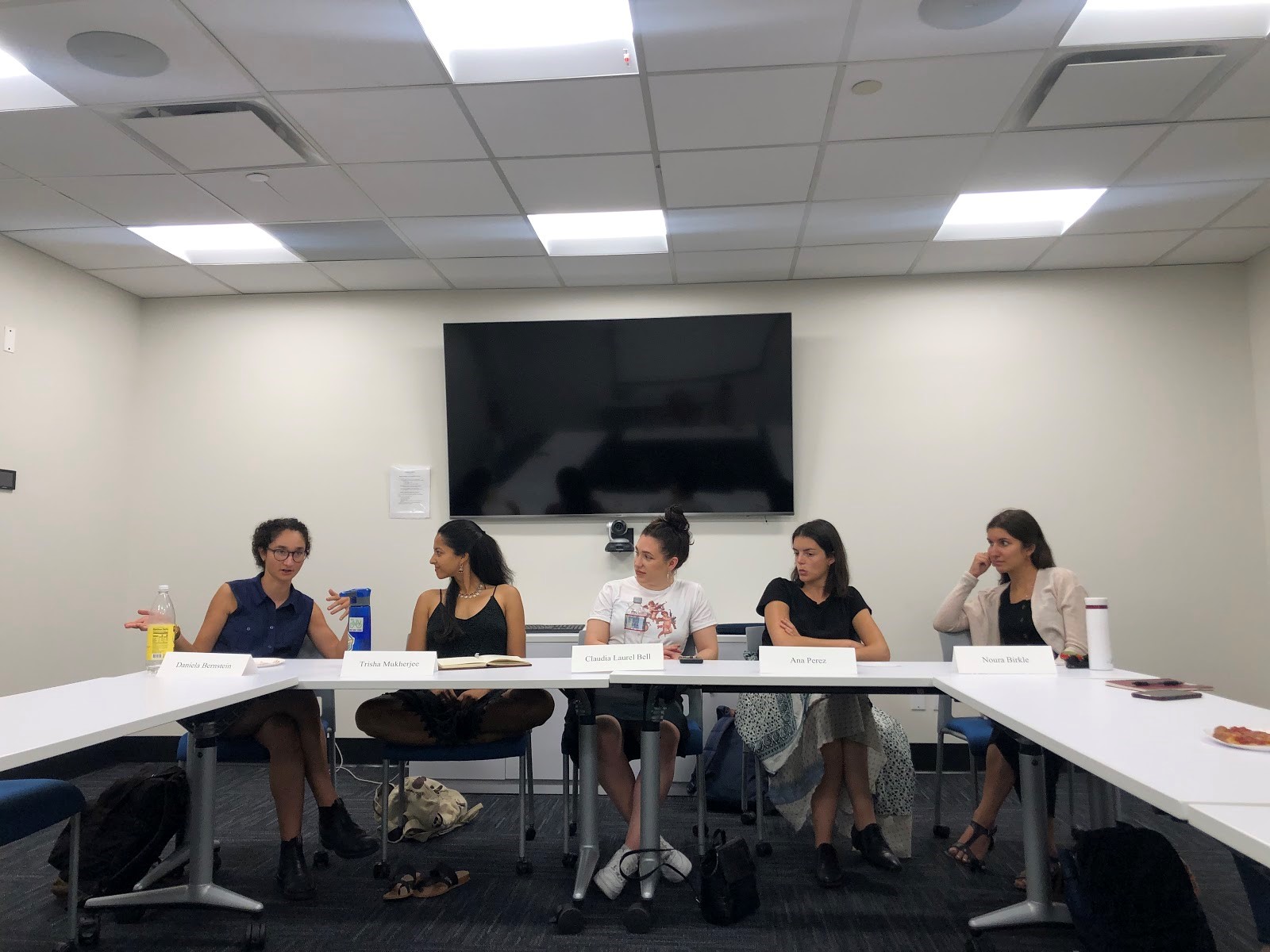 Daniela Bernstein is an undergraduate student in the School of General Studies who interned at the New York City Commission on Human Rights, a subset of the Mayor's office. The Commission ensures that if a person's rights have been infringed, they investigate it impartially. If the Commission finds that people's rights have been violated, it supports individuals in the legal process to redress these violations. Daniela did intake, interviewed clients, and drafted memorandums and complaints for the Commission. 
Noura Birkle is a student in the Masters Program of the ISHR. She took part in the Student Volunteers Program run by the ISHR. Through the program, she was able to volunteer for the Aid Health Foundation in Mexico City, Mexico and learn about the inner workings of the organization. Noura translated for journalists in an event hosted by the Aid Health Foundation. Furthermore, Noura was also able to travel to the Guatemala-Mexico border and learn about HIV issues amongst the migrant population. 
The panelists found their internships through a variety of different avenues. Some applied on the UN database, others googled specific organizations they knew worked with women's rights or human rights in New York City, while others had already established connections with the organizations through prior volunteering. 
All of the panelists recommended to the audience to spend time researching an organization prior to applying.  "Ask questions," they stated. Organizations want to see that individuals are interested in the work that they are doing. Some of the panelists also stressed the importance of critical thinking and language skills.  One of the panelists also recommended students to intern abroad, if one had the resources and ability to do it. 
The panel ended with the some of the panelists encouraging the attendees to explore new things and to be open to the possibilities of different human rights careers. There are countless ways to support and defend human rights, from working at the UN as some students did to entering the legal field to compiling research. Exploration of these possibilities can open doors and interests that one did not even know existed. 
As a student who also undertook an internship in the field of human rights this past summer, the implication is that one's work goes beyond one self 一 or at least it should. Although as workers in human rights field we shouldn't neglect to take care of ourselves, it is important to remember that the efforts we are undertaking have the probability of impacting the lives of many others. As such, human rights should be participatory and inclusive, and put the needs of those we are supporting and defending before all else. Ultimately, we are facilitators in others' lived realities. Our impact extends far beyond personal professional accomplishment. 
Columbia students' internships in human rights are an incredible backbone to explore the field, get experience, and support the fight for human rights globally.