On Wednesday, November 14, 2018, Dr. Inga Winkler, a prominent figure in the human rights community at Columbia, began the event "Righting Victim Participation in Transitional Justice" by introducing Tine Destrooper.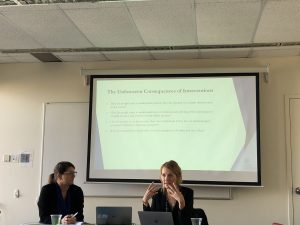 Destrooper is the director of the Flemish Peace Institute and an associate professor at Ghent University. Previously, she has been the managing director of the Center for Human Rights and Global Justice at NYU's School of Law and a fellow at the Wissenschaft-Kolleg, Berlin.
The event's focus: a new research project, focused on victim participation in transitional justice which is set to begin next year, and to be completed in five years. The project was created due to the ever-growing influence of transitional justice around the world. Effectively, this greater influence has engendered a rapid implementation of transitional justice frameworks. Such a rapid implementation can oftentimes lead to problems such as uniformity which fails to recognize country-specific conditions.
To set the stage, Destrooper made sure that everyone in the audience understood the meaning of transitional justice. "Transitional justice, in a general sense, is justice in times of transition" she explained. Transitional justice typically is understood to have four pillars. They are criminal justice, truth commissions (which establish a record), reparations (monetary or symbolic), and institutional reform. Destrooper highlighted that this structure has largely focused on "looking at the world in a forward way, which limits how much we are delving into the past."
Yet, transitional justice makes us think profoundly on how we define punishment and its alternatives. It is a system that has been implemented, as Destrooper shared, to create the infrastructure of liberal state-building.  It aids in setting policies such as rule of law, democratization, among others. Effectively, this puts the international community in a special place as having international observers in justice processes is crucial to its enforcement.
Destrooper then began to problematize one of the pillars of transitional justice – truth commissions. While truth commissions were started largely in Central and South America, their methodology is now being applied by others, such as the Aboriginal communities in Australia. Her main criticism centered on the increased expectations that we now associate with truth commissions, and transitional justice at large, yet the little to no change that has been implemented to our methodology and resources. Regarding this, Destrooper reflected that "post-authoritarian states in Buenos Aires where the root of atrocities lies in an overbearing want of power by leaders cannot be compared to South Sudan or Yemen whose root problem is social chaos." It has created a sense of uniformity in the face of institutionalization.
To elaborate further, Destrooper spoke about another pillar – criminal justice. This pillar usually takes the shape of legal trials which condemns the actions of individuals who enact the atrocities in question. However, Destrooper not only recognized the legal importance of these trials, but also the aspect of truth-setting. Trials host instances of public record, which can have strong rhetorical power.
One of the main problems, which Destrooper highlighted, was the way in which we understand which rights we think transitional justice can apply to. Though historically, civil and political rights have been perceived as closer to core ideals and understandings that make up the foundation of international law and thus merit prosecution, we fail to recognize that economic, social, and cultural rights have just as much validity in these processes of justice building.
One of the tensions which Destrooper noted was a prevalence of civil and political rights in the discourse of human rights amongst NGOs and other human rights bodies, yet local actors and leaders seem to advocate more strongly for economic, social, and cultural rights in their communities. If we want to ensure a more stable and just society, we need to have local actors more aware of the systems. Thus, the participation of victims in the process is important as it ensures ownership and sustainability, legitimacy and responsiveness, and empowerment within communities.
However, these victim-centered approaches can be problematic in certain regards. They are aspirational and do not always take the practical elements of what life is like for victims on the ground. This is often a criticism of prominent human rights scholars – that transitional justice has been focused too heavily on the reconciliation processes and on "moving forward" that it does not allow for victims to process their trauma.
This is where Destrooper's project can make profound differences in the human rights world. Her project proposes three main aspects – mapping, impact, and framework. Under mapping, Destrooper proposes to recognize the scope, role, finality, and evolution of transitional justice and answering the question of what has been done? Under impact, Destrooper would focus on the effect that transitional justice has had, how it factors in context, and which causal mechanisms were utilized. These would be measured using four case studies in the following countries- Cambodia, Guatemala, Tunisia, and the Democratic Republic of Congo. Under the framework, Destrooper's team would assess the different impact on different kinds of victims in different contexts.
Because rhetoric in discourses is crucial to understanding, Destrooper wants to highlight the power and effect of narratives and how people make sense of their experiences with atrocities. Narratives further shape people's ideas of accountability.
Destrooper understood that there will be obstacles that she is going to face in her research. One of them being the language barriers, which she will try to overcome by working with local researchers and translators who have a solid understanding of the realities of the four countries of the case studies. To further access reports in different languages, Destrooper is working with coders to develop a server that can include all of the necessary reports in their native language she will need to accurately access information.
Participation of victims is something that needs to be profoundly understood, which is precisely the goal of Destrooper's project research proposal. She states that she is not for or against victim participation in transitional justice, but wants to investigate more of the dynamics and mechanisms used and how they could be improved in the future. With the results of the research, Destrooper's goals are to give back to the localities which are affected by the research in a way that is locally-relevant and meaningful.
This research has the capacity to be incredibly impactful and meaningful for both human rights institutions and local actors, as it would reveal where we can improve in our mechanisms to ensure that justice is truly met in periods of transition.
---
By Jalileh Garcia