by Marial Quezada, an Indigenous ally and a 2018 graduate of the Human Rights Studies program at Columbia University
In late April, the first-ever Mother Tongues Book Fair took place at Columbia University, organized by the Runasimi Outreach Committee at New York University and the New York-based Movimientos Indigenas Asociados in collaboration with the Institute for the Study of Human Rights and the Columbia Human Rights Graduate Group. Coinciding with the United Nations Permanent Forum on Indigenous Issues 2018, the fair celebrated written works in Indigenous mother tongues from various communities and geographic regions. 
Languages represented at the fair included Amharic, Arikara, Crow, Hidatsa, Lakota, Mandan, Maya Mam, Mixteco, Nahuatl, Omaha-Ponca, Quechua, Tsou, and Zapoteca. Authors along with publishers displayed and sold a variety of mother tongue works including trilingual and bilingual children's books, poetry anthologies, novels, zines, dictionaries, CDs, and more.
The fair's goal was to raise awareness of Indigenous mother tongues and works as well as to connect authors and publishers with each other and the public. Some authors including Alem Eshetu Beyene from Ethiopia; Baitz Niahossa from Taiwan; Elva Ambia, Odi Gonzales, Rina Soldevilla, and Sandy Enriquez from Peru; as well as representatives from Hippocrene Books Inc., Grupo Cajola, the Endangered Language Alliance, Hawansuyo bookstore,  La Zenka Sunqu and The Language Conservancy were present in person. A U.N. reporter from the Permanent Forum on Indigenous Issues also covered the event, interviewing the authors and Indigenous organizations on their perspectives and contributions to the fair.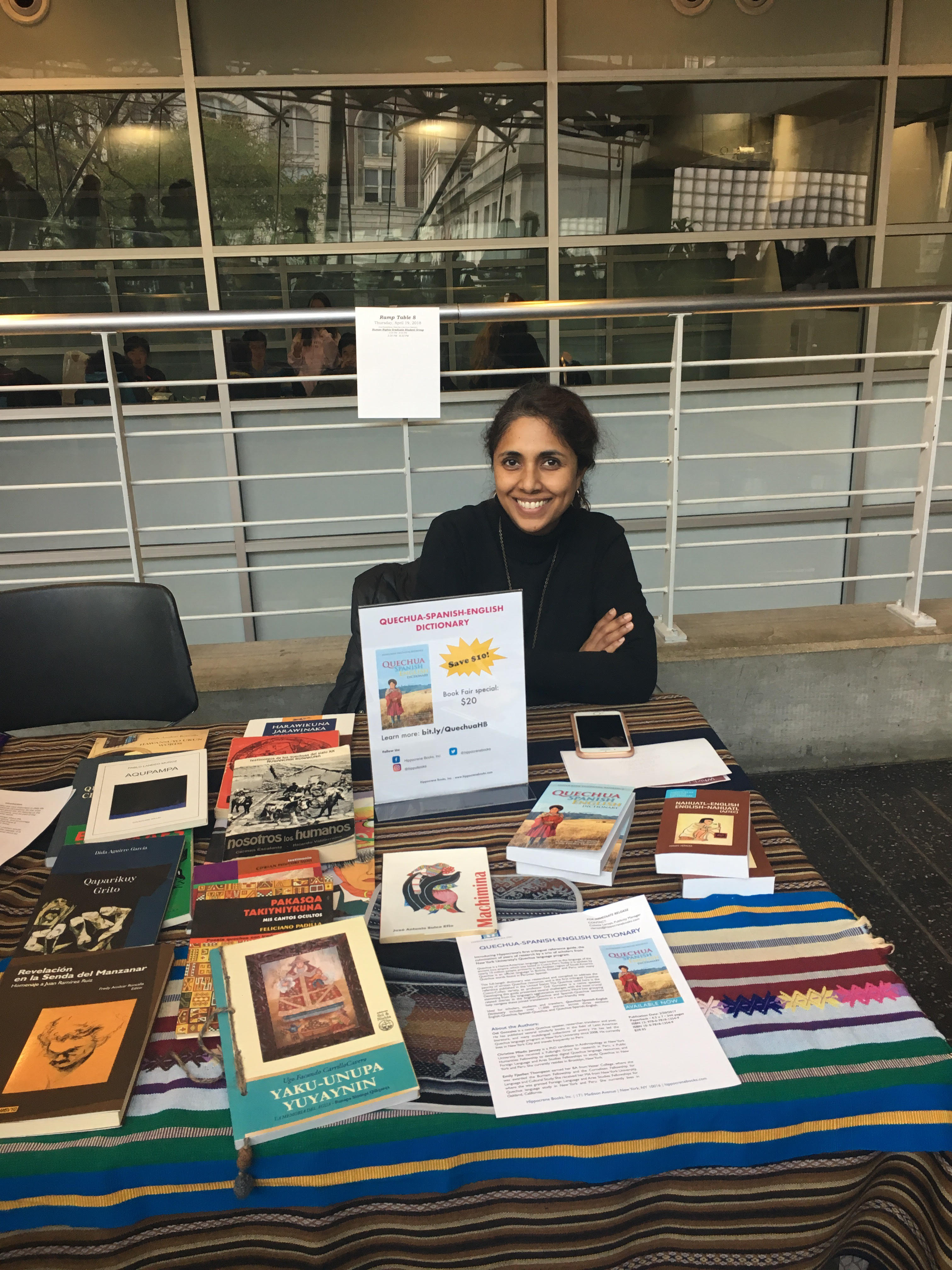 Overall, the fair was a first-time success, serving as a space to value and honor Indigenous mother tongues and works written in them, a space that is too often not present in higher education institutions. This reality itself was central to the organization of the fair.
Indigenous languages have historically been excluded from curriculum, classrooms, and public places. Even today, schooling for Indigenous students will often take a "subtractive" form, in which the teaching medium is a dominant language of the society rather than an Indigenous language, effectively leading to the "transferring [of] their children to the dominant group," according to an paper written for the United Nations Permanent Forum on Indigenous Issues by Ole Henrik Magga et al. This not only may have a negative effect on academic achievement of Indigenous children but also on language maintenance for an entire Indigenous community.
The proceedings from the Expert Group Meeting of the Permanent Forum on Indigenous Issues in 2016 declared that providing education in the Indigenous mother tongues improves educational outcomes and reduces dropout rates of Indigenous students. Furthermore, it contributes to the strengthening of Indigenous languages and creation of new generations of speakers.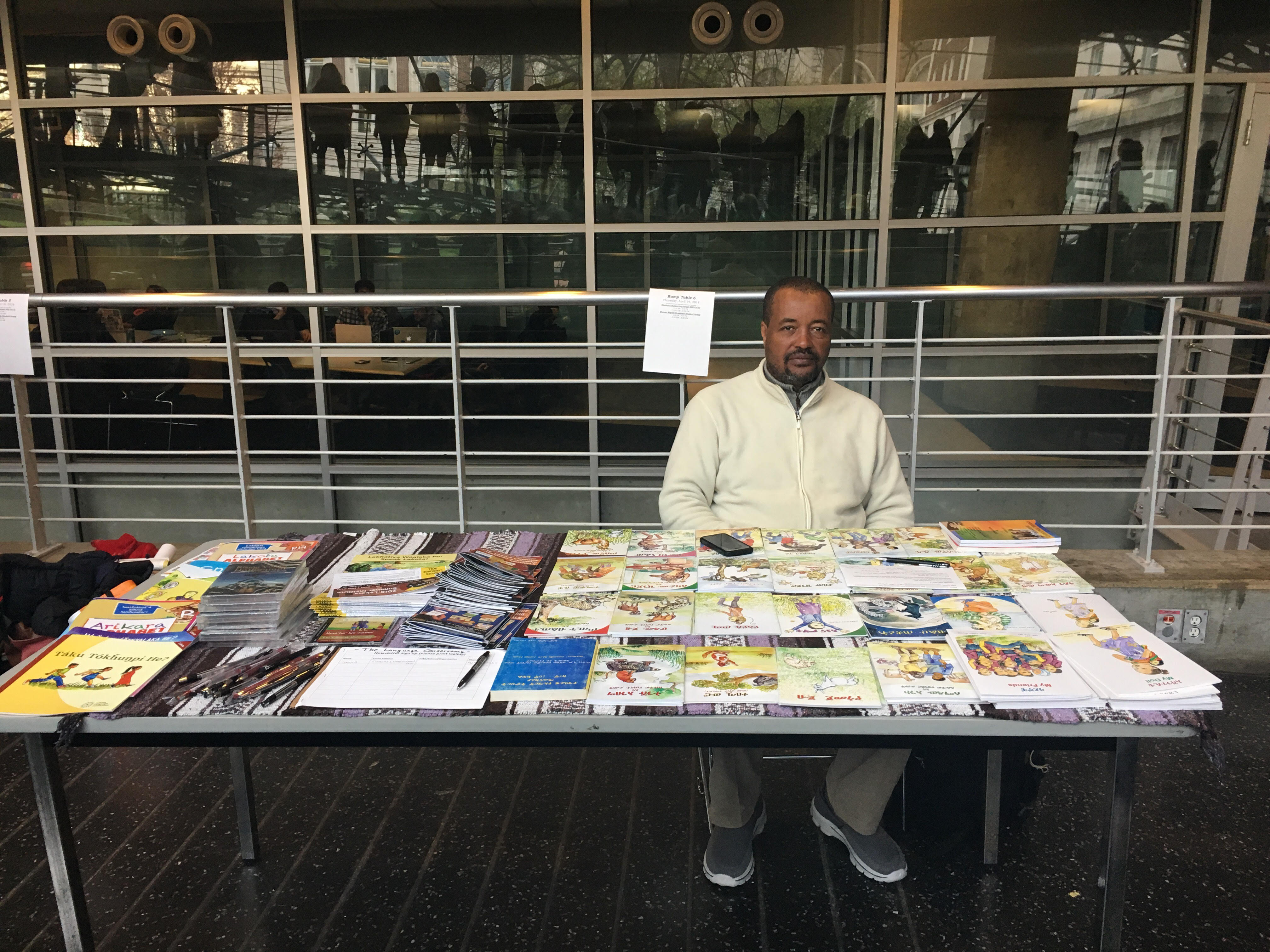 To celebrate Indigenous languages and advocate for Indigenous language education alike, the U.N. General Assembly announced that 2019 will be the "The Year of Indigenous Languages." UNESCO will lead this initiative to promote Indigenous languages, highlighting the significance of Indigenous peoples and critical role that Indigenous languages play in education, science, technology, and the future of Mother Earth.
The organizers of the first-ever Mother Tongues Book Fair hope to support this work, ensuring Indigenous people are at the forefront of these efforts by celebrating and collaborating with Indigenous authors for a second Mother Tongues Book Fair in 2019. Until then, please visit this year's website to learn more about the 2018 event, or reach out if you are interested in getting more involved.
---
Marial Quezada is an Indigenous ally and a language and cultural rights advocate. Last week, she received her Master's degree in Human Rights Studies from Columbia University, where she studied in the Indigenous Peoples' Rights program and concentrated in education rights. Supported by the FLAS fellowship, she studied Quechua through the Indigenous and Diasporic Language Consortium and participated as a member of the Runasimi Outreach Committee at NYU. She is also a member of Movimientos Indigenas Asociados and a writer for the affiliate newspaper, La Zenka Sunqu.