Since 2013, search and rescue missions in the Mediterranean have been a highly contentious issue in the media and European politics. In February, students, professors and human rights scholars at Columbia University were fortunate enough to hear Dr. Craig Spencer, director of Global Health in Emergency Medicine at New York-Presbyterian, speak on the politics of search and rescue operations.
Dr. Spencer works in public health both in New York, providing clinical care, and internationally, dealing with issues as wide ranging as access to legal documentation in Indonesia to the coordination of an epidemiologist response to Ebola in Guinea. His most recent posting was on a Doctors Without Borders search and rescue mission in the Mediterranean. He began his discussion at Columbia University by giving background to the current refugee crisis: Dr. Spencer explained that the difference today in dealing with refugee issues is "the scale of the problem" and "how we are dealing with it." Contrary to public opinion and media representations, he made it clear that developing countries, which are already "vulnerable and fragile," bear the brunt of the current crisis in terms of hosting refugees.
For example, migration has happened across Africa for hundreds of years as people moved to North Africa where there were more jobs. This was especially the case during the beginning of Muammar Gaddafi's rule in Libya, Spencer said. He gave the example of Bangladeshi men who used to travel willingly into Tripoli, but who are now being trafficked. Spencer explains that because Malta, an archipelago in the central Mediterranean, has not signed the refugee convention, Italy conducts the search and rescue operations near Libya, which remains a currently unstable country. The passing Italian coastguard is required to help boats in distress that are outside of Libya's sovereign land. Spencer explained that distress can include any boat that is still running but that is unlikely to last long. Further, he asserted that the Italian coastguard may destroy boats in the Mediterranean in order to prevent smugglers from reusing the sea faring boats that migrants embark on from Libya.
One particularly striking image in Spencer's talk was his anecdote of people stitching their family's phone numbers into their clothing, in case they do not survive the journey. It highlights the fact that migrants are highly aware of the risks that they are taking, but they lack viable alternatives.
Spencer explained that Doctors Without Borders tries to give a sense of humanity back to those that board their boats. This is especially important because migrants often endure routine rape, beatings and torture during their journeys. Bangladeshi men, in particular, are seen to be "cash cows:" they are more likely to be detained time and time again until their families send money.
A picture of a boy's drawing of his journey was projected during the talk. It depicted disturbing details including the number of days he spent in each place, along with the conditions, experiences of torture, degrading treatment and the complexity and length of the route, leaving an unforgettable image in the memories of the attendees.
Spencer went on to discuss why the situation in the Mediterranean remains so contentious, pointing to the EU-Turkey deal of 2016. In this controversial "one in, one out" deal, one refugee in Greece is returned to Turkey in exchange for one refugee in Turkey finding asylum in Europe. The deal, under which Turkey received €6 billion, was an effort by European states and the EU to decrease incentives for migrants to journey to Europe. As a result, Spencer purports that fewer people made the journey from Turkey to Greece and instead came up through the central Mediterranean since the deal has been in place. This erodes EU states' moral high ground; Turkey lacks a stellar record in protecting human rights and it violates the principle of non-refoulement, which under the 1951 United Nations Convention offers refugees protection against being returned to a country where he or she fears persecution.
The conversation with Dr. Spencer next turned to the role of populist governments in fueling anti-migration sentiment. For example, Italy threatened to close down its port (which would have been against maritime law) in response to a lack of responsibility-sharing from other European states, such as France and England. Further, Spencer explained that an anti-migrant party majority recently won elections in Italy.
National and international attention was further galvanized by the Lampedusa shipwreck, where nearly 1,000 migrants drowned just off the coast of Italy. This led to the Mare Nostrum humanitarian operation by the Italian military, which aimed at confronting the drownings crisis in the Strait of Sicily. Following this, the European Council's Operation Sofia in the Mediterranean has focused on catching smugglers and border security, rather than search and rescue missions.
Another issue of contention was the fact that NGOs conducting search and rescue operations from privately-owned ships in the Mediterranean were asked to sign a code of conduct by the Italian government, making it harder for NGOs to carry out their search and rescue missions, Spencer said. He claims that "the only thing that happens when people are prevented from being rescued is that more people drown." The code made NGOs feel as though they had done something wrong and it lowered their profile in the media. One privately funded group even raised money for a boat to take people back to Libya.
Spencer next moved the conversation to Europe's externalization of border controls and use of development aid to stem migration flows. Instead of supporting search and rescue teams, Europe and Italy turned to supporting the Libyan coastguard, for example. Spencer noted that millions of dollars was spent on training. Despite this training, the Libyan coastguard have shot and stolen from migrants, something Spencer has witnessed himself. He explained that the EU is essentially supporting militias, supplying guns and medical supplies, which are used at detention centers. In January, Libya was not paid so they started sending migrants across the Mediterranean again, and the number of militias in Libya increased.
Spencer added that the majority of migrants pass through Libya and Niger. In Agadez, for example, most migrants have travelled through the desert, so an attempt was made by the EU to stop migration. The EU's Sahel policy resulted in Niger making it illegal to migrate or to transport people. Spencer highlighted the fact that the EU has further invested in and supported development in West Africa, another attempt by the EU and UN to stem all migration.
However, Spencer explained that even with these policies and more money being spent, people are still going to migrate. If you don't have traffickers or smugglers whose livelihood is transport, security risks may actually increase as some people may resort to terrorism. For example, 80 percent of Lake Chad has dried up, therefore increasing the potential risk of people turning to Boko Haram if they cannot migrate through the region, he said. Certain policies make migrants more vulnerable and increase the risks they face.
Spencer concluded his talk by emphasizing that people would rather die at sea than stay in Libya, and sending money has not helped. This is a global issue that needs a global response. Conversations like Spencer's raise the question of why so much time and money is spent on externalizing border controls and securitizing migrant issues rather than providing safe and legal routes to Europe.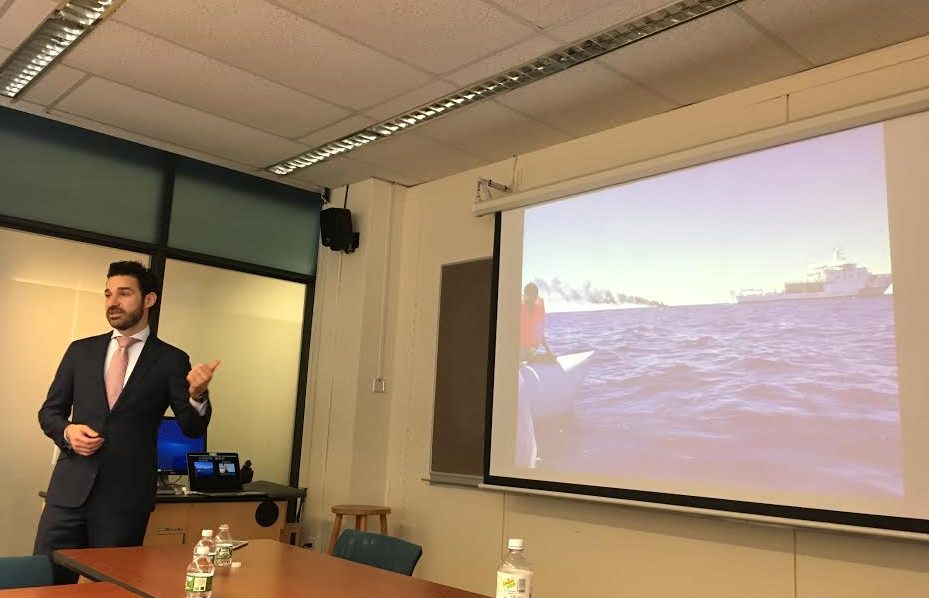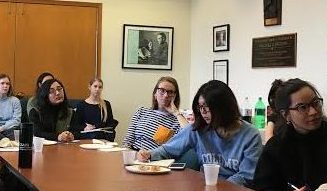 Morgan Cronin-Webb is a Human Rights master's student at the Graduate School of Arts and Sciences at Columbia University.