by Rowena Kosher, a blog writer for RightsViews and a student in the School of General Studies at Columbia University
Genocide, or the intentional killing, in whole or in part, of a national, ethnic, racial or religious group of individuals, has occurred throughout world history and occurs even today. On November 30, students, professors and human rights scholars gathered in Pupin Hall at Columbia University for a discussion with Henry Theriault from Worcester University about the crime of genocide, the gravest of human rights violations.
Theriault, the president of the International Association of Genocide Scholars, has devoted his career to genocide studies, traveling the world speaking about and researching the topic. He was joined by Eylem Delikanli, an ISHR oral historian studying traumatic memory at Columbia University, and Marc Mamigonian, the director of the National Association for Armenian Studies and Research, who moderated the conversation. The event was co-hosted by the Armenian Society of Columbia University, and the discussion took place within the context of the Armenian Genocide, which occurred over 30 years in advance of the United Nations Genocide Convention.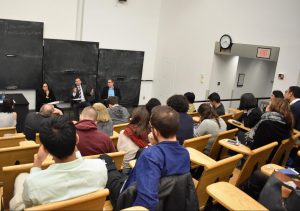 The Armenian Genocide, from 1915 to 1923, remains one of the most well-known incidents of genocide in the world, when over 1.5 million Armenians were murdered by the Ottoman government. It is also one of the most controversial: Even today, the government of the Republic of Turkey, the successor to the Ottoman government, and several other countries, deny the use of the word "genocide" to describe the atrocities committed and lives taken.
Theriault began the conversation in response to a question about the relationship between education and genocide prevention. In his opinion, research and education has the immense potential to lead to prevention, but it also has many flaws. While he articulated that genocide awareness has massively increased in recent years and that "people are aware" and  "have the framework" to interpret these violations, increased awareness also paradoxically increases denial. The more people recognize the horrors and human rights violations that have or are occurring, the more they turn away from it. The Armenian Genocide, for example, has only been officially accepted as "real" by 29 countries and 48 U.S. states. "Denial is a very powerful phenomenon," said Theriault. "It's not just an issue of genocide… it's an issue of all sorts of things that vested powerful interests don't want to address." Contrary to the belief that more knowledge means embracing the truth, when it comes to genocide, our knowledge can stimulate the opposite effect. "It's staying with the truth that's difficult," he said.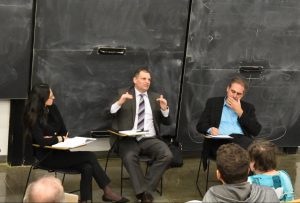 To deal with denial, Theriault says we must think critically, especially in an "information age," where we have immediate access to all sorts of opinions and opposition. People like to think the truth is what they want it to be: with so many opinions and resources available at the touch of a button, people can access information to support whatever belief they have, no matter how obscure. We can't let denial set the agenda, he said. This involves talking about other important parts of human rights prevention, rather than spending half an hour debating whether or not the Armenian genocide even happened.
Returning to the question of prevention, Theriault offered a critique: advocates are approaching prevention in much too simplistic ways. We must remember that genocide is a product of both global and societal forces. To lean on techniques such as military prevention can just cause more violence and human rights violations. "Prevention is about changing deep political dynamics," he said. "The situation we are currently in is the product of hundreds of years of genocide, colonialism, racism."
Marc Monagonian questioned the implications of the new "America first" approach to the world under the Trump administration and its effectiveness in preventing genocide. In response, Theriault articulated that in the contemporary world, "the idea that we can disengage is impossible." While there was hope for the progression of human rights under Presidents Bush and Obama, under the Trump administration we have returned to a pre-modern rhetoric in which the United States is claiming that it is so privileged it is no longer morally obligated to people. "We're saying that we have no obligation to even respect their rights," he said.
The conversation turned to the current treatment of immigrants in the United States as an example. This treatment makes it seem as if they have no rights because they have no documents. It is a scary way of thinking and even a part of the complex formula that leads to genocide, said Theriault. "Just because you do something wrong doesn't mean you lose all of your rights… that you're not people who have rights."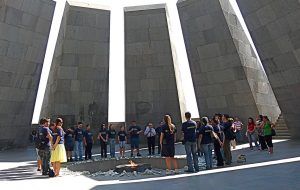 The panelists agreed that it becomes very easy to sit back and think that mass violence is far off, but even small things like racist comments are steps toward genocide. It is a process of normalization: once a small step is taken, it gets normalized until the next step is taken and becomes the norm, until eventually the norm becomes violence. With education, Theriault notes, things have started to change significantly in the United States, especially generationally. Education can be the most effective response to rhetoric that dehumanizes people, but it is a long-term process.
Advocates right now are facing a real threat, especially because the openness of discussion of the past decade has been replaced with retrenchment and backtracked progress. Activism nowadays will not be easy, the panelists said. The many electronic petitions that circulate around the internet are an incredibly easy and rewarding way to feel like you have made a difference, for example. Theriault admitted he even signs about ten a month. Yet, he pointed out the fallacy in push-button activism: It's easy. "If it's easy, then it's probably not doing too much," he said.
Where can we go from here? It is clear that human rights scholars face serious challenges. Scholars must tackle denial, the proliferation of information on the internet, deeply-rooted cultural opinions, and a right-wing shift to anti-human rights rhetoric. Theriault, a professor himself, believes in education to lay the groundwork for progress in the future. He feels strongly that the most important thing is to keep talking about these issues to ensure that lives taken by genocide are not ignored. Columbia University, as an educational institution itself, has an important role in human rights education. With ISHR, the resources to invite individuals like Theriault to speak, and many students eager to change the world, there is a platform and opportunity for resistance against anti-human rights rhetoric. Events like this one are just a small example of what the university can do to tackle genocide and human rights violations and prepare its students to be the next generation of advocates.
Rowena Kosher is an undergraduate student at Columbia University School of General Studies. She plans to major in human rights with a possible focus on gender and sexuality studies. Her writing can be found on her personal blog, fromvermiliontoviolet.wordpress.com, and at elephantjournal.com, where she is an occasional contributor. To contact Rowena, feel free to email her at [email protected]