By Olivia Heffernan, a master's candidate at Columbia University School of International and Public Affairs 
The United States represents four percent of the world's population but is home to 22 percent of the world's prisoners. These disproportionate figures, and the financial and emotional burdens of mass incarceration in America, were the topic of a recent discussion at Columbia University between former Mayor of Philadelphia Michael Nutter and Obama administration official Elias Alcantara. The discussion, hosted by the Criminal Justice Reform Working Group (CJR) at the School of International and Public Affairs, brought together two panelists well suited to discuss criminal justice policy—its challenges, similarities and differences—on city and federal levels.
As a country that prides itself on its values of freedom and equality, the United States demonstrates a gaping contradiction with its discriminatory and broken justice system. Spikes in incarceration rates are often attributed to the 1994 Violent Crime Control and Law Enforcement Act, signed by former President Bill Clinton, which implemented a series of policies that disproportionately impacted racial minorities. The law, the largest crime bill in the history of the United States, included a "three strikes" mandatory life sentence for repeat offenders. As a result of this and other criminal justice policies, blacks are incarcerated in state prisons at more than five times the rate of whites. Furthermore, at any given time, approximately 20 percent of the 2.3 million incarcerated persons in the U.S. have yet to be convicted; they are simply waiting for their day in court. These figures run antithetical to U.S. values as a signatory of the Universal Declaration of Human Rights, which in Article 11 recognizes the "right to be presumed innocent until proved guilty according to law in a public trial."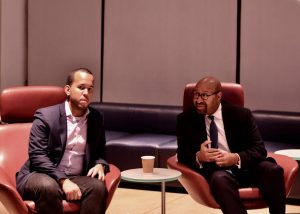 An outspoken advocate for fair policing policies, Nutter opened the discussion by distinguishing the difference between incarceration and rehabilitation. The day a person enters jail is the day the justice system must plan for their release, he said. Reentry efforts are part and parcel to crime reduction. The number one factor contributing to recidivism rates is employment post incarceration, according to Nutter. "It's a vicious circle. The current programs, rules and institutions in place are not designed to help the formerly incarcerated reenter society and get jobs," he said.  
Nutter also spoke to the pressure politicians face to portray themselves as tough on crime. As Mayor of Philadelphia for two terms, he recalled taking an oath to protect the citizens of his city and the challenges that came with trying to strike a balance between being smart and tough. "It is definitely a balancing act, but the two should not be seen as mutually exclusive," he said.
Some of the faults of the criminal justice system can be attributed to the fact that there is no uniform criminal justice policy. With over 18,000 police departments and thousands of mayors in the United States, there is confusion, limited resources and conflicting power dynamics. Amidst all of these moving parts, it is possible to lose sight of the purpose of a criminal justice system: justice, not money, accolades, approval ratings or reelection. At the end of the day these are people. Nutter urged attendees "to look at folks for who they are now, not for what they had done or been convicted of, because this is the first and most crucial step to ending mass incarceration."
Alcantara, who during his tenure in the Office of Intergovernmental Affairs during the Obama administration established strategic partnerships with local and national leaders on criminal justice reform, discussed his relationship with police and the law as a young man of color growing up in the Bronx. He traced the issue of mass incarceration and disproportionate effects of the criminal justice system on men of color to slavery. "Philosophically, we have a punishment paradigm that doesn't make sense and what is most often forgotten is that our justice system is broken. Period," Alcantara said.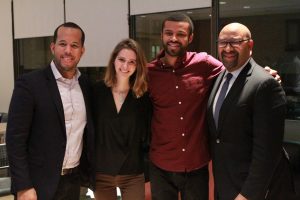 However, Alcantara also made a point to mention that despite a broken justice system, there are options to move the country in the right direction and toward meaningful reform. He highlighted the fact that this is largely a bipartisan issue and referenced working with the ultra-conservative Koch brothers on criminal justice policy reform to demonstrate that both sides of the political spectrum must be present at the table for policy to pass and be effective. Unfortunately, despite the major improvements that New York and other major U.S. cities have made in reforming and reducing prison populations, these successes also come amidst "discouraging signals from President Trump that may portend a return to reflexive over-reliance upon incarceration," according to Politico.
When asked where we can go from here, Alcantara suggested that efforts be focused on either end of the justice system: policing and reentry are the most effective means of challenging high incarceration rates, he said. He also emphasized the importance of engaging both jail and law enforcement in dialogue about the justice system. For example, the New York Bar Association's recent report on New York City's progress in reducing its jail population cited the following initiatives as driving successful criminal justice reform: early release for prisoners under new, less harsh sentencing guidelines, de-escalation trainings for police officers, and expanded re-entry programs focusing on employment, education and mental health.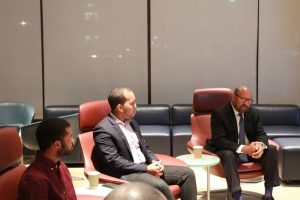 Finally, Alcantara recommended to audience members and politicians, in particular, to visit prison. "Prisons are one of the few institutions we can be oblivious to until you go and visit them," he said. Alcantara cited President Obama's visit to el Reno prison outside of Oklahoma City in 2015 as an example. As the first president ever to visit a federal prison, Obama set a new precedent and altered the dialogue and philosophies around the criminal justice system, Alcantara said.
Nutter closed the discussion by saying, "The real underlying question behind this whole problem is: when you finishing serving your time, when is your time over?" Unfortunately, in today's system, a person's mistake, or in many cases the justice system's mistake, dictate a person's trajectory for the rest of his or her life.
Olivia Heffernan is a student at Columbia University School of International and Public Affairs concentrating in social and urban policy and specializing in journalism. She is president of the Criminal Justice Reform Working Group (CJR) and has previously worked for human rights-related nonprofits. Olivia is originally from Washington, D.C., but she has spent multiple years living abroad.