By Ayesha Amin, a blog writer for RightsViews and a M.P.A. candidate at Columbia University School of International and Public Affairs
Is the human rights movement on the road to nowhere? Last Thursday, the Arnold A. Saltzman Institute of War and Peace Studies at Columbia University hosted a book launch and panel discussion on "Human Rights Futures," edited by Stephen Hopgood, Jack Snyder and Leslie Vinjamuri. The book brings together 15 mainstream human rights scholars and their critics to debate alternative futures for the human rights movement.
The panel conversation was moderated by Andrew Nathan, professor of political science at Columbia University, and included four contributors to the book: Jack Snyder, Belfer Professor of International Relations at Columbia University; Shereen Hertel, editor of the Journal of Human Rights; Alexander Cooley, director of the Harriman Institute at Columbia University; and Leslie Vinjamuri, director of the Centre on Conflict, Rights and Justice at SOAS, University of London. Other panelists included Aryeh Neier, co-founder of Human Rights Watch (HRW) and president emeritus of the Open Society Foundations; Sarah Leah Whitson, executive director of HRW's Middle East and North Africa Division; and Sarah Mendehlson, former U.S. Ambassador to the U.N. Economic and Social Council.  
The discussion between these human rights experts quickly zeroed in on the growing strategic backlash against the human rights field. This phenomenon takes many forms, from the rejection of the International Criminal Court by some countries in Africa to the delegitimizing of activists as "foreign agents" in Russia and creation of counter-norms in President Putin's defense of "traditional values" against multiculturalism, feminism and homosexuality. Typically viewed as a problem confined to authoritarian and transitional states in the Global South, recent events in the U.S., U.K. and Europe demonstrate that the West is not immune. As Whitson described it, the present moment we find ourselves in is "bad, apocalyptically bad, with a unique feature of being cheer-led by an authoritarian White House."
The panel was asked whether this represented a historical regression, or just the usual arm wrestling between governments and their critics? The "spiral model" in theories of human rights promotion, after all, anticipates some degree of backlash. Cooley argued that what makes the current backlash different is that it is not confined to the international human rights architecture. It is geopolitical in nature and aimed against the global governance architecture established in the 1980s and 90s. Mendehlson, from her experience at USAID and the U.N., agreed, adding that it is not just human rights groups under attack, but also environmental and humanitarian groups. "We are seeing the entire business model of external funding to local groups being questioned, and often under the cover of sovereignty."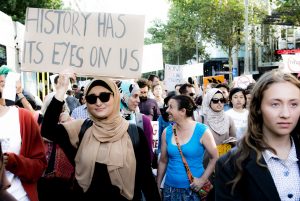 What has caused this backlash? Mendehlson thought the overly legalistic approach of the international human rights movement had resulted in a disconnect between the efforts of international organizations and local populations. "Elevating the local voice is critical," she said. Vinjamuri queried whether international human rights organizations, especially those headquartered in the United States, engendered a degree of suspicion among the local population. These organisations are often seen as representing the long arm of the U.S. government, closely aligned with U.S. foreign policy and potentially also with its intelligence agencies.
The growing localization of universalistic human rights language is one of the alternative approaches to human rights advocacy considered in the book. It reduces the risk that human rights advocates will be labelled "handmaidens of imperialism." Whitson said she had observed this process first-hand. "Over the past 15 years, Human Rights Watch has spent time becoming local organizations in the countries we are working in." As a result, HRW now spends less time convincing local audiences of its neutral credentials and more time on the important work of rights advocacy.  
The relationship between international and local groups is also more nuanced now. Neier described it as symbiotic. Hertel observed that local groups strategically use their alliance with international organizations to their advantage, focusing on where the expertise and resources lie.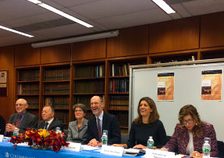 The panel ended with some final observations on how the human rights movement should adapt to our new reality. For example, how can we achieve human rights in places where the old playbook of "legalism, moralism and universalism" is not available to us, or no longer works? Synder argued that the necessary conditions for successfully achieving human rights outcomes are peace and democracy. His prescription for struggling human rights advocates today? Engender mass social movements in connection with a progressive political party.
Neier thought Snyder overstated the connection between democracy and human rights. He observed that in countries at the point of democratization, ethnic nationalism often becomes a more significant force than it was previously. "It is not accidental that the democratization of Myanmar has been accompanied by horrendous abuses against the Rohingya," he said. What is required is to have respect for human rights principles baked into the transition process, because the aftermath might be too late.
Ayesha Amin is a New Zealander currently pursuing her Master of Public Administration degree at Columbia University School of International and Public Affairs concentrating in International Security Policy. She holds a graduate degree in international relations and human rights, an L.L.B., and a B.A. in economics. Her interests include contemporary critiques of human rights, corporations and human rights compliance, and the right to self-determination. Ayesha is a blog writer for RightsViews.