By Olivia Heffernan, a master's candidate at Columbia University School of International and Public Affairs 
"If you want the American dream, go to Canada," Darren Walker, president of the Ford Foundation, told audience members during Thursday night's lecture, "Reckoning with Racial Injustice in the United States," hosted by NYU Law School's Center for Human Rights and Global Justice and the International Center for Transitional Justice (ICTJ).
Walker and director-counsel of the NAACP Legal Defense and Education Fund Sherrilyn Ifill engaged in a provocative conversation moderated by David Tolbert, president of ICTJ. Tolbert began the panel by stressing the importance of having "unsettling dialogues" among groups at opposite ends of the justice spectrum in order to foster innovative thinking, understanding, and eventually action. Coinciding with the one-year anniversary of Trump's election, a discussion about truth, justice and reconciliation felt particularly pertinent given the President's record on racial injustice. Trump's recalcitrant response to Charlottesville and his public condemnations of immigrants have exacerbated racial tensions in the United States, in many ways emboldening white supremacists to act in ways previously deemed inappropriate. CNN reports that 60 percent of Americans believe racism to be a problem in the U.S., an increase of 10 percent since 2009.  
Asked to address the structural causes behind racial injustice in the United States, Walker pointed to the United States' desperate need to display a narrative of "exceptionalism," which has formed a history based on lies. The failure of the United States to acknowledge a history plagued by injustice, for example, has impaired the country from making any progress, he said. Truth and reconciliation requires recognizing the existence of wrongs and accepting responsibility for them. There is no clarity without truth. Furthermore, in order to remediate racial discrimination, we must no longer see racism as solely affecting African Americans, but rather as a pervasive injustice that affects every person and as a threat to our democracy.
The same CNN report mentioned above also found that "87 percent of black Americans say black people face a lot of discrimination in the United States, but only 49 percent of white Americans say the same thing." This large discrepancy demonstrates the unwillingness of many white Americans to admit to widespread racial intolerance even in the presence of clear evidence.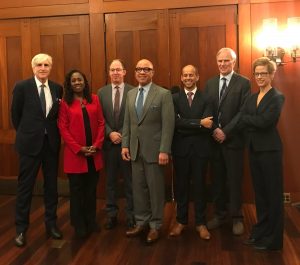 Similarly, Ifill stressed the importance of truth telling in the process of reconciling our past and present. We must undo the mythologies surrounding racial violence and look at the role of the average person in either perpetuating or rejecting discrimination. "What of the crowd? What of the people who watched?" she asked, making the point that silence or inaction in cases of racial discrimination is another form of complicity. Shame and fear produce silence, and in silence lies develop, along with a refusal to acknowledge and apologize, she said.
The panel agreed that public education and truth telling are prerequisites to precipitate activism and real reform. Justice and reconciliation are processes that begin with confronting the truth, Ifill said, followed by thinking about who you are in relation to that truth and ending with a decision about what to do with that truth and your relation to it.
In human rights theory and practice, justice and reconciliation are means through which parties reckon with past injustice, whether that be something as widespread as genocide or more micro-level disputes among individuals. Increasingly, human rights theorists have turned to reconciliation methods such as truth commissions, as seen in South Africa post-apartheid, or Gacaca Courts used after the Rwandan genocide, and more recently, through restorative justice in mediating criminal court cases and reparations to the families of former slaves of Georgetown University, for example. To demonstrate the value of reconciliation in its aim to address historical wrongs as means of facilitating present-day conflict resolution, Institute for the Study of Human Rights director Elazar Barkan's article, "Truth and Reconciliation in History," provides three case studies that trace the origins of reconciliation and its effectiveness in creating a shared narrative across country and ethnic boundaries.
When speaking truth to power, we must take into account the environment and institutions that enable discrimination, whether racial, economic or religion-based. Ifill urged the audience to not accept the current state of inequality and prejudice as inevitable. Police brutality and an unjust criminal justice system from Eric Garner to the Central Park Five are direct products of decisions we have made and the structures we have created that perpetuate them. In other words, our challenge is not only racism, it is also elitism and classism and the ubiquitous trends that enable widespread inequality.
Fortunately, Walker has hope, noting that he believes where we are now is the closest we have come to having a national conversation about race. So, let's not run to Canada quite yet.
Olivia Heffernan is a student at Columbia University School of International and Public Affairs concentrating in social and urban policy and specializing in journalism. She is president of the Criminal Justice Reform Working Group (CJR) and has previously worked for human rights-related nonprofits. Olivia is originally from Washington, D.C., but she has spent multiple years living abroad.