By Rachel Riegelhaupt, a graduate student in human rights.
On Tuesday October 4th, the day after the Jewish New Year Rosh Hashanah, approximately 2,000 Israeli and Palestinian women set out on a 200 km peace march across the country, walking from Israel's border with Lebanon to Jerusalem.
This March of Hope will officially culminate on Wednesday October 19th, and is being mirrored across the country with local rallies, treks, and cycle rides. Tens of thousands more women are expected to join the movement on the final day, marching from the Supreme Court, past the Knesset, and towards Prime Minister Netanyahu's house where they have organized a rally demanding that "[Israeli and Palestinian] leaders work with respect and courage towards a solution to the ongoing violent conflict, with the full participation of women in this process."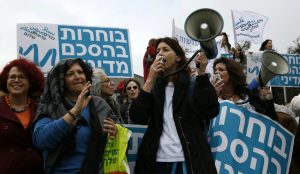 The march has been organized by Women Wage Peace, a non-partisan women's movement founded by Jewish and Arab Israelis after the 2014 Israel-Gaza war, that promotes cooperation between Israeli and Palestinian women working together towards a peaceful solution to the conflict. Notably, Nobel-Peace-Prize Laureate Leymah Gbowee, a Liberian peace activist who helped bring about an end to the Second Liberian Civil War in 2003, has participated in the march and will be helping to organize the peace rally in Jerusalem.
Despite the fact that this is a non-violent march of historic proportions, with Israelis and Palestinians demanding peace side by side, there has been no mention of the March of Hope in any major international news outlet. In contrast, nearly every episode of violence that occurs within the context of the Israeli-Palestinian conflict seems to warrant international attention. A sampling of last month's recurring headlines speaks for itself:
" Israeli troops kill Palestinian who stabbed guard at West Bank checkpoint"
"Israeli military says Palestinian teenager killed after trying to stab soldier"
"Israeli police stabbed amid fears of resurgence in Palestinian attacks"
This is not the first time the media has been blind to a notable non-violent protest in the context of Israel-Palestine.  In 2004, the village of Budrus staged a ten-month non-violent protest against the construction of the West Bank security barrier through their village; as a result, the Israeli government decided that instead of cutting across Budrus and other Palestinian villages, the barrier would run along the Green Line (the 1967 armistice line separating Israel from the Occupied Palestinian Territories). Despite its successful outcome, that struggle failed to make headlines amongst most major international outlets.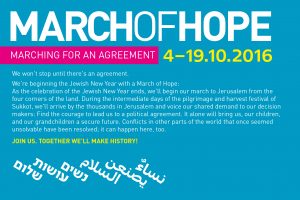 Similarly, news sources such as the New York Times, the Guardian and BBC, rarely cover the non-violent protests that occur ever more frequently throughout the occupied territories. Notably, assemblies protesting the ongoing occupation  have been occurring every Friday in eight villages throughout the West Bank since 2010. However, Nabi Saleh, the village where this movement began, has since called an end to its own non-violent rallies due to the lack of substantial international attention and recurrent arrests.
Turning a blind eye to non-violent protests is not without implications. In her Ted Talk Pay Attention to Nonviolence, Julia Bacha explains that the impetus for both violent uprising and nonviolent social movements can be simplified to one common denominator: theatrics. Those who participate in both types of movements do so in order to bring attention to a cause, with the hope of evoking social change. By focusing on violent movements and ignoring non-violent ones, international media outlets implicitly affirm the effectiveness of violence as a strategy, while devaluing the successes of non-violent tactics. As Bacha explains, "If violent actors are the only ones getting front-page attention, it makes it hard for leaders to convince others that civil disobedience is a viable option to fight the occupation." This situation, she explains, discourages those frustrated by the conflict from opting towards non-violent forms of protest, stagnating non-violent movements rendering them unlikely to grow.
By idolizing figures such as Mahatma Gandhi and Nelson Mandela, the international community has demonstrated its support for non-violent tactics as laudable in a movement's struggle for peace and independence. Indeed, a recent study by Erica Chenoweth and Maria J. Stephan investigated 323 political conflicts from 1900 to 2006 and found that "campaigns of nonviolent resistance were more than twice as effective as their violent counterparts" at achieving peaceful solutions to conflict. They also found that when nonviolent campaigns are successful, they typically lead to more peaceful and democratic societies.
In the immediate future of Israel-Palestine, conflict is unfortunately inevitable. What is not inevitable is the manner in which that conflict will be waged.
As such, failing to report on a non-violent protest involving thousands of Israeli and Palestinian women protesting the conflict for two weeks side by side has further ramifications than a negligible act of misreporting. As the March of Hope culminates in front of Netanyahu's residence on Wednesday, media outlets should afford the protest the international attention it deserves, and play their pivotal role in supporting the growth of non-violent movements working towards peace and an end to occupation in Israel-Palestine.
Rachel Riegelhaupt is an M.A. candidate in Human Rights Studies at Columbia University. Her research focuses primarily on women in armed conflict, corporate responsibility in conflict zones, and the Israeli-Palestinian conflict.