By Alan Williams, an M.A. student in human rights
Ten months in, the role of the United States in the GCC-led bombing of Yemen needs to be reevaluated.
The campaign was initiated by the Gulf Cooperation Council in order to destabilize the Houthi militia controlling the government in Yemen's capital Sana'a, and to reinstate deposed president Abd Rabbuh Mansur Hadi. Hundreds of airstrikes later, the UN has reported 8,100 civilian casualties with 2,800 deaths. At this point in the conflict, 93% of the deaths have been civilian. Starvation is at critical levels, and delivering aid to those in need is becoming increasingly difficult. Mirroring the numerous attempts at reaching a lasting ceasefire in Syria, all attempts at making peace have been quickly subverted. At its outset, the United States reluctantly supported the Saudi-led campaign, but such support has proven more harmful than helpful.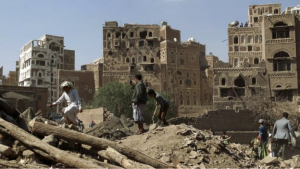 On March 25th 2015, the National Security Council (NCS) spokesperson announced that President Obama had authorized the provision of logistical and intelligence support to GCC-led operations in Yemen. Prior to the start of coalition bombing, the United States had acted as a neutral party, maintaining diplomatic relations with the Houthis. Despite a Houthi takeover of the government in Sana'a in September 2014, the American Embassy remained opened until early February. Other American personnel, including roughly 100 Special Forces troops were not evacuated until two days before the White House announcement that made the United States an active party to the conflict.
To borrow from Micah Zenko's article in Foreign Policy, two of the most important reasons for the United States to support the GCC coalition were to make the GCC comfortable with the Iranian Nuclear Agreement, and to prevent the establishment of an Al-Qaeda presence in the Arabian Peninsula (AQAP) safe haven. Ten months into this plan, progress has not been made on either goal. Saudi Arabia's opposition to the nuclear agreement has not waned, and AQAP has not been on the retreat – in fact, they have taken new swaths of territory as recently as this February.
If the United States was only involved to protect its core interests in the region, it has failed. Saudi Arabia has come no closer to détente with Iran, and local extremist elements have only been further enabled by the deteriorating security situation instigated by this campaign. Al-Qaeda's presence has only grown stronger because of the security vacuum, and ISIS has used this opportunity to ramp up suicide bombings at Shia mosques and other public gatherings. To add to this, the campaign has done nothing for America's image in the region, an image President Obama has sought to improve since his 2009 speech in Cairo. If anything, American involvement in this campaign has further antagonized those who see the United States as an imperialist presence in the region.
As one of the Arab world's poorest countries prior to the bombing campaign, Yemen has experienced a catastrophic past ten months. At the beginning of 2015, Yemen imported more than 70% of its fuel, 90% of its food, and 100% of its medicine. Accessing these goods has been made immensely more challenging, as the GCC imposed a blockade on the country's seaports last year, which remains in effect. Of the population of 24 million, 21 million are in some need of humanitarian assistance. While humanitarian groups have been allowed access to Yemeni civilians, the delivery of goods has been sabotaged by coalition forces, as convoys delivering aid and warehouses storing aid are attacked by airstrikes. The plight of humanitarian groups in Yemen is likely to continue in the near future, based on the Saudi government's recent letter to the United Nations and aid agencies operating in Houthi-controlled territory, advising evacuation in order to guarantee their safety and security. This ominous message seems to forecast indiscriminate bombing in the near future.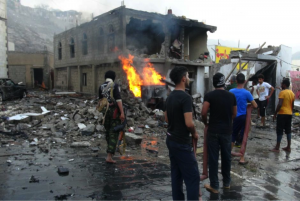 One does not need to think hard about the violations of international humanitarian law such actions would entail. The Fourth Geneva Convention requires that states "allow the free passage of all consignments of medical and hospital stores". Urging aid groups, such as the ICRC and MSF, to evacuate Houthi-controlled areas implies that they do not plan on living up to this provision. The prohibition of indiscriminate attacks is considered settled state practice and has obtained the status of customary international law; however, the Saudi government's letter indicates that they cannot ensure the protection of aid workers, meaning that they are not planning precision strikes against military targets. A panel of experts appointed by the United Nations Security Council documented 119 previous coalition airstrikes that could qualify as violations of international humanitarian law. These cases involve strikes against "camps for internally displaced people and refugees; civilian gatherings, including weddings; civilian vehicles, including buses; civilian residential areas; medical facilities; schools; mosques; markets, factories and food storage warehouses."
The United States has provided tacit support to a military campaign that has nearly decimated a nation. From all angles, becoming involved in this campaign was a mistake. However, American support remains largely due to a continued capitulation to Saudi demands, following a growing presence of the Houthis on its southern border, which they claim to be a proxy of Iran. The reality of the Iranian-Houthi connection and the threat it posed to Saudi territorial integrity prior to the campaign is not fully known, however, given that this is the most popular reasoning for American involvement, it remains insufficient for rationalizing such actions.
Immense damage has already been done to the people of Yemen, damage that will take many decades to mend. However, if the United States and President Obama are interested in protecting their core interests, repairing a damaged legacy, upholding international law, or promoting human rights, they must pull their support from the GCC-led campaign in Yemen.
Alan Williams is an M.A. candidate at the Institute for the Study of Human Rights at Columbia University. His research interests include civil society activism in the post-uprising Middle East, Islam and Politics, and freedom of expression.