What are some of the most important steps towards finding a job in the human rights field? A few weeks ago, the Institute for the Study of Human Rights (ISHR) at Columbia University hosted a career panel aimed at answering this question.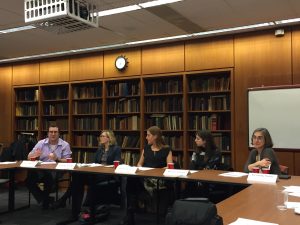 Five panelists were present to talk about their experiences in the human rights field:
Zselyke Csaky: Senior Researcher, Nations in Transit, Freedom House
Justin Mazzola: Deputy Director of Research, Amnesty International USA
Debbie Sharnak: PhD candidate, University of Wisconsin-Madison; Adjunct Professor, Center for Global Affairs, New York University
Allison Tamer: Development Officer, American Jewish World Service; 

Alumna of the Human Rights Studies M.A. Program

Alexandra Yuster: Associate Director, Social Inclusion and Policy, UNICEF
Here are our top ten takeaways.
Acquiring skills for the job:
1.. Hone Your Research and Writing Skills
Don't expect much opportunity to develop your research and writing skills on the field beyond perfecting them. Use your time in academia to hone these skills instead. Justin recommends getting practice doing interviews, not only with survivors but also with advocates and government officials, as this will help develop the skill of knowing what you need from a research interview ,and how to get there. Zselyke advises that time in academia is best spent learning how to approach texts, look for mistakes and misunderstandings, and weigh what is written against other credible sources.
Debbie particularly encourages connecting with an assortment of different professors and scholars to learn their knowledge-management systems, and exploring the possibility of conducting field and in-depth archival research. Having a handle on this shows that you do not need extra training to be off to a great start.
2. Be Familiar with IHRL and Your Domestic Legal Regime
Many human rights research positions require familiarity with not only the international legal framework supporting human rights advocacy, but also with domestic laws and policy. Justin stresses that a broad-based knowledge of international law, bodies in the UN, and regional systems is still important even for non-legal students, whether you intend to deal with refugee issues, women's rights issues, criminal justice questions, national security, or otherwise.
3. Acquire Technical Skills
All of the panelists iterate the importance of abilities to use research databases, financial databases, Excel, academic search engines, and other software. For entry-level positions, these abilities, coupled with strong administrative skills, make for a robust application. Familiarity with pertinent software is an asset for organizations that are looking for individuals who will need minimal training, and can hit the ground running.
4. Be Comfortable Breaking Down Human Rights Jargon, and Making Economic Arguments
As a human rights advocate, you have to be able to speak to diverse audiences that range from local communities to government officials. Allison recommends that you be able to break down human rights jargon (such as a 'rights-based approach') to make it clear to other audiences, and be able to read and write grant proposals effectively. For Alexandra, it is the ability to formulate effective economic arguments to support your advocacy that distinguishes a mere idealist from one who is able to outline practical social and economic policy recommendations for implementation.
Conducting the job search:
5. Know the Advantages and Limits of the NGO Framework and the UN System
The UN system has an incredible breadth of reach and access to diplomatic power. Yet, as Alexandra makes clear, its fundamental role is to support organizations on the ground, and to help them get the work done. This can be frustrating sometimes, but the UN functions as a diplomatic institution, meaning that issues of political sensitivity often result in a limited ability to make provocative media statements or host subversive campaigns.
Know, therefore, what kind of work you want, and what you are willing to do. Do you want to work on the ground? Or would you rather work in an organization that has much more reach, but is also slower and perhaps less instantly effective?
6. Conduct Informational Interviews
The human rights field is big! Conduct informational interviews to get a feel for different kinds of jobs and organizations. Justin particularly encourages knowing exactly what various positions entail before embarking on the process of application and selection.
Make use of the tips offered in the Columbia Career Planning Guide for help with this.
7. Utilize Your Network
Leverage the network of classmates, professors, and alumni that Columbia offers. Use your LinkedIn profile effectively, and make contacts in the field of your interest. By keeping your current and previous supervisors and mentors up to date on your progress, you can create and maintain relationships that may benefit you much further down the road.
8. Know How to Brand Yourself
Ask yourself: What am I looking for in this job? What skills do I have to showcase and emphasize?
Allison encourages starting to work on research and job applications several months before graduation. Keeping an Excel spreadsheet with job openings, turnover rates, and other data on organizations helped her decide which organizations to target, how to approach them, and most importantly, how to brand herself and what skills to include on her resume so that she could match up past experience with her job search.
9. Apply Right Away!
Don't wait to make your application materials perfect – apply ASAP for job postings, regardless of how late the deadline is.
10. Convey Your Passion and Ability to Effect Real Change.
Happy career hunting!
~ The Editors