By Maria Hengeveld, graduate student of human rights at Columbia University
_____________________________________________________________________________
Sexual violence is usually not covered as a human rights issue.  As the archetypical normalized, invisible, overlooked and structural human right violation, it is more often treated as an everyday, normal problem rather than a violation of women's rights to health, life, bodily integrity, education, and more. The culture of impunity that surrounds sexual violence, and the fact that rape is notoriously underreported, can hardly be detached from the media's failure to communicate to people that they actually can report these as crimes.
It is a missed opportunity, and a troubling one, because the way the media chooses to frame sexual violence influences how people think about rape. They can shape, challenge and perpetuate dominant perceptions or illuminate harmful misconceptions and shed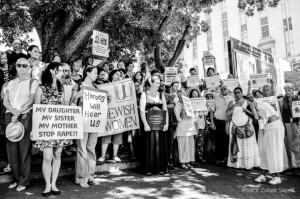 a light on the contestations and anxieties that surround the topic. Moreover, they can channel the outrage and disgust towards, for example, child-rapists into anger and calls for accountability towards our governments.  Making sexual violence newsworthy as a human rights violation, rather than something that happens to happen as long as bad men are around, matters.
Making rape newsworthy is not where the media's responsibility ends. Exposing power-relations that underlie human rights violations also counts. As feminists have long demonstrated, rape is about power. Coverage of sexual violence shouldn't end with a narrow description of what has happened to whom and how, but should also contextualize the events with an explanation of gendered power relations. Sexual violence should be seen as a violent performance of patriarchy and an enactment of masculinity; both pervasive and structural forces, but also fluid and therefore changeable. Focusing on the violent masculinities doesn't mean identifying it as the sole cause; the blame must still be placed on the perpetrator. But not without mentioning the power structures that enabled or encouraged him to commit this crime; and the responsibility of the government to take action and show political will to fix these pervasive social ills. If the media would educate us all a bit better around patriarchy and masculinity, we might actually tell our governments to put political will behind their human rights talk.
The media's ability to either encourage or discourage rape survivors to report their crimes to the police matters as well. Reading about arrests, trials and convictions and the laws that are violated with an act of nonconsensual sex is more likely to incline women to report rape to the police than grim media narratives that simply describe place, time and brutality.
The media have a responsibility to make sexual violence a human rights issue. Human rights education, then, should also include an education of the educators. Both editors and reporters need to know and understand what human rights are if a 'rights culture' is to be built.
This article previously appeared in Women in and Beyond the Global on February 14, 2014.