By Erica Bower, student at Columbia College
____________________________________________________________________________
The following Photo Essay is an excerpt from a post I wrote on my blog while studying abroad through Cornell Nepal Study Program (CNSP) in the spring of 2013.
 Our stay in Chitwan National Park was truly a once in a life time experience—a scene straight from the discovery channel.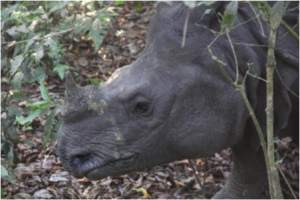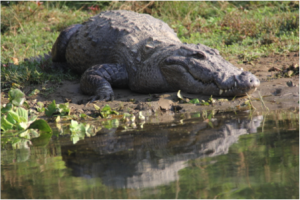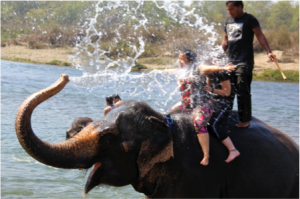 However, as incredible as this experience was from the perspective of a tourist, as a student of Human Rights and environmentally-induced displacement, Chitwan has an incredibly dark side.
In many ways, the case of Chitwan is the inverse of most instances of the environment-displacement under study in Nepal given that efforts for environmental protection, rather than environmental degradation, have caused massive displacement.
The brutal reality is that in order to create such a pristine National Park, the Nepali government has forcibly removed all of the Indigenous communities in the district.
The Tharu peoples have lived in the Chitwan region for hundreds of years, and have a rich cultural history tied to the jungle and physical location of Chitwan.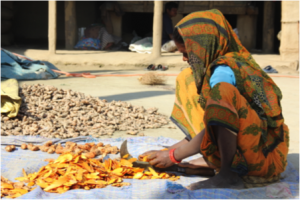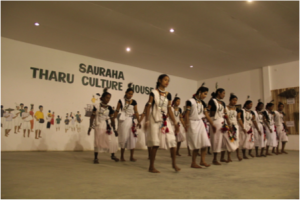 In fact, Tharu peoples are known throughout Nepal as "Son of the Earth."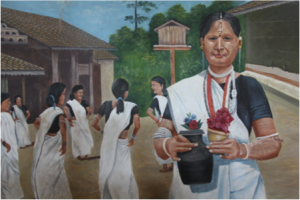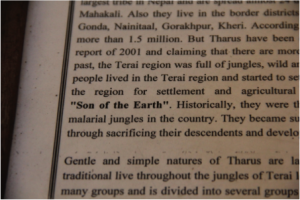 However, upon King Mahendra's decision to make the park "protected," the Tharu peoples were told they had to leave behind the land of their ancestors and every facet of their livelihoods.
During a visit to a Tharu museum, I was captivated by an exhibit about individual experiences of the Tharu peoples living outside of the National Park in "Buffer Zones."  There are accounts of houses being burned and army officials dragging mothers and children away in extremely violent ways.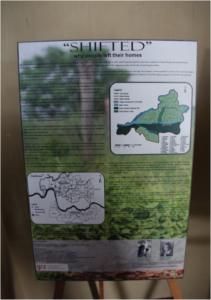 Today, there are efforts to incorporate Indigenous perspectives into conservation, as well as to ensure that displaced peoples retain their livelihoods and benefit from the increased tourism and income that is generated by the national park. For instance, the following photograph is a portrait of a Tharu family-owned business selling local honey.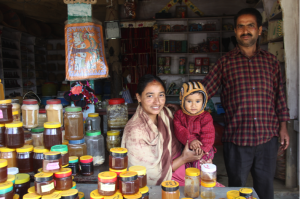 I left the Tharu village and Chitwan Park with an immense sense of conflict.  As an environment appreciator, I am so amazed at the biodiversity and natural beauty of Chitwan, yet as a human rights activist, there is something deeply unsettling about this violation of rights and disruption of livelihoods.
While the discourse surrounding Climate Induced Migration and displacement considers the indirect anthropogenic contributions to Climate Change as a driver of movement to be a Human Rights violation, the parallel discourses surrounding the more direct development and conservation induced displacement must not be ignored.
As I kept finding again and again throughout my semester in Nepal, circumstances are far more complicated and deeply rooted in complex cultural histories than the surface "skin" that appears obvious to the naked eye.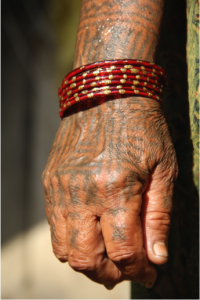 Erica Bower is a senior at Columbia College majoring in human rights and sustainable development.  Her research interests focus on the nexus of environment and mobility, both in the context of climate-induced displacement in the mountainous communities of Manang and Mustang districts and the contrasting example of conservation-induced displacement in Chitwan National Park that reaffirms the inherent complexity in the displacement discourses.