By Amy Sall, graduate student of human rights at Columbia University
 ___________________________________________________________________________
On September 17th, The Institute for the Study of Human Rights (ISHR) hosted their annual Fall Reception where human rights advocates, scholars, and students gathered to welcome the new school year. Hosted on the top floor of Columbia University's School of International and Public Affairs (SIPA), the backdrop of the New York City skyline was a befitting scene for the diverse crowd of current and future human rights practitioners. The attendees included incoming and returning human rights students and professors from across Columbia, as well as scholars and fellows at the ISHR.
The reception was a great way to meet students, professors, human rights advocates and fellows. Hedayt Selim, a first-year student from Cairo in the Master of Arts in Human Rights Studies program, was among many of the guests attending the ISHR Fall Reception. "It's a great opportunity to branch out and meet professors and fellow students that you wouldn't otherwise meet." Selim, like many other first-year students, ws drawn to Columbia's human rights program for many reasons.  "What I liked about this program was its interdisciplinary character and I think New York is a great place to be studying human rights."
Yasmine Ergas, the Associate Director of the ISHR, and the Director for Gender and Human Rights addressed the crowd with a warm welcome and introduced a group of human rights leaders participating in the Human Rights Advocates program. Elazar Barkan, the Director of the ISHR, and Professor of International and Public Affairs at SIPA, introduced this year's participating fellows in the Alliance for Historical Dialogue and Accountability program. Then the advocates and fellows each introduced themselves and spoke about the work they do in their respective countries. Coming from countries around the world, the advocates and fellows represent a diverse group with a collective common goal to raise awareness of human rights issues affecting their countries in order to push for peace and justice.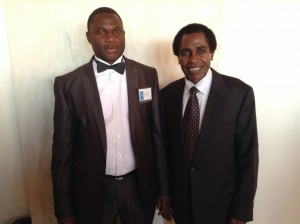 Geoffrey Mayamba, an advocate from Zambia participating in the Human Rights Advocates program, represented Prisoners Future Foundation which is an organization he founded that aims to improve the welfare of current and former prisoners in Zambia. "Our vision is to see a society in which the rights and other needs of prisoners and ex-prisoners are understood, respected and upheld." Prisoners Future Foundation has been running for five years but has only been funded for two. Mayamba, having been a prisoner in his home of Zambia for over 10 years, was inspired to create the organization based on his own experiences. "Having seen the sufferings that prisoners are subjected to, I felt I could form an organization to address these issues and be a voice for the voiceless." Some of the main priorities of the organization include working with the Zambian government in an effort to establish ways to decongest the prisons, provide access to adequate health care in the facilities, and find ways to improve prisoners' access to justice. Mayamba's organization also works with the Minister of Justice to develop judicial reform policy.
Another advocate who discussed his work that evening was Biel Boutros Biel from South Sudan. Biel is the Executive Director of the South Sudan Human Rights Society for Advocacy (SSHURSA). "I'm learning a lot in the program and it is helping me do far better in my work in South Sudan." Part of the work he does is inform people on human rights issues, as well as working to educate women, youth, local government officials and local authorities on human rights.
Serhat Rasul Cacan, one of the Alliance for Historical Dialogue and Accountability fellows introduced at the event, is a historian from Turkey that specializes in oral history. As part of his work and research in oral history, he works on projects that analyze narratives and life stories of Turkish people. Cacan focuses mainly on Kurdish narratives, and analyzes how Kurdish people have memorized events in the past. "There is a motto 'we cannot change the history, but we can change our memory about the history.'" During his time at Columbia, Cacan plans to create a project which incorporates historical dialogue within Turkish and Armenian communities.
Isaiah Chabala, a former ambassador of Zambia to the United Nations and the European Union, was also among the distinguished, global leaders and advocates. After his career as an ambassador, Chabala became president and founder of a non-profit called Visionary Empowerment who's mission is "to empower women and girls of under-served communities in Zambia, and to teach them how to sustain and enable themselves." This in turn helps to combat poverty, gender inequality, and vulnerability. Visionary Empowerment was founded in 2005, and has successfully trained more than 600 women and girls by providing skills and vocational training.
The work of the ISHR's advocates and fellows, as well as human rights students under the guidance of accomplished and enthusiastic professors was greatly recognized at the Fall Reception. The room was full of human rights actors and was an inspiring way to set the tone for the academic year.
Amy is a first year graduate student at Columbia University's M.A. in Human Rights Program.  Her interest is in human rights in Africa, with a special focus on children's rights and youth development in the continent.